Beef Braciole is an Italian recipe made by rolling thin slices of beef that have been stuffed with prosciutto, basil, garlic, bread crumbs, EVOO and Pecorino Romano cheese.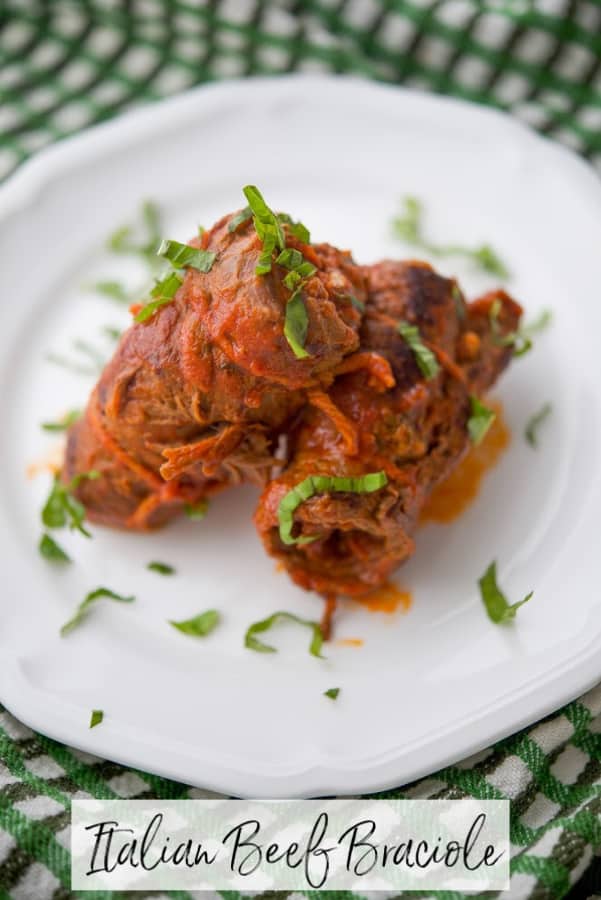 First off all, my husband has been suffering with diverticulitis for quite a while and eating red sauce seemed to bother him even more.
So when he recently underwent a full colon resection this month, his first meal request after he felt better was for me to make a big pot of my sauce with this Italian Beef Braciole.
Did you ever have one of those years where everything around you is a challenge; whether it be a situation or a loss? This has been one of those years for us and it's been pretty hard to push through and function in daily life.
I won't go into full details in this post because it will probably bore you all to death, but let's just say 2020 can't come quick enough!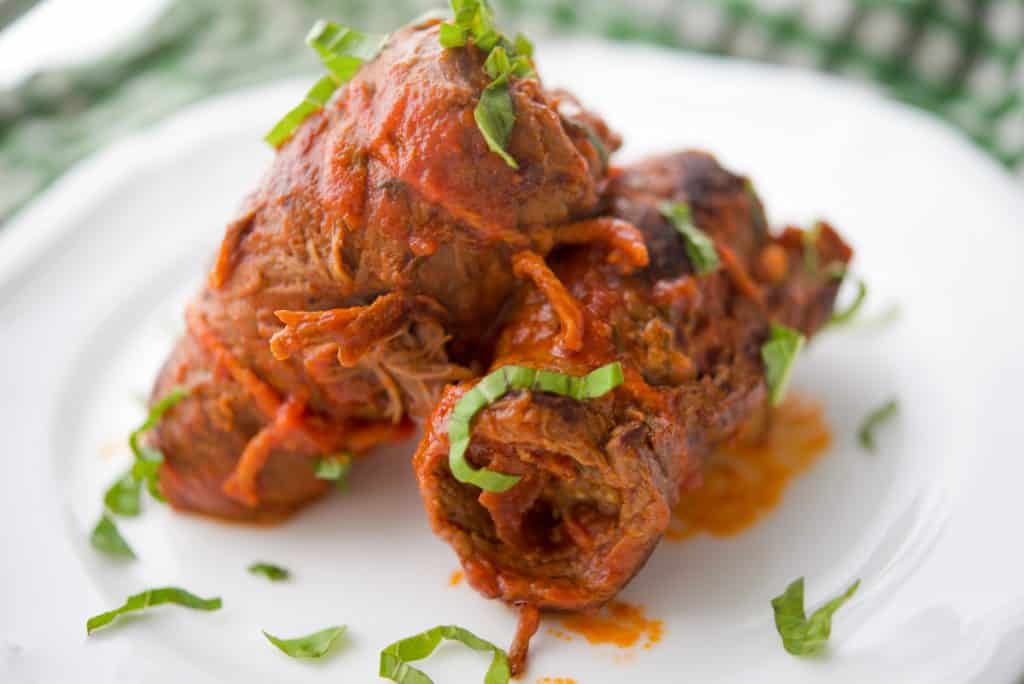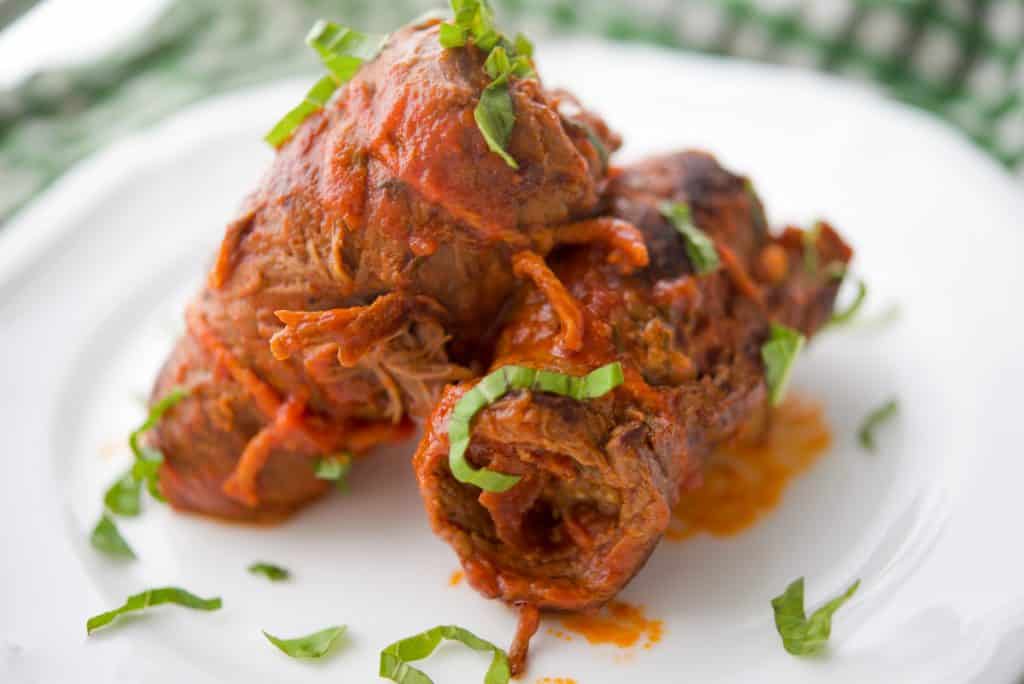 My husband had several bouts of severe diverticulitis this year which prompted the doctors to perform surgery. During the surgery, they removed the entire left side of the colon, a large mass and lymph nodes.
Thankfully the mass and lymph nodes were not cancerous; though he now has a nice 47 staple scar running down his abdomen.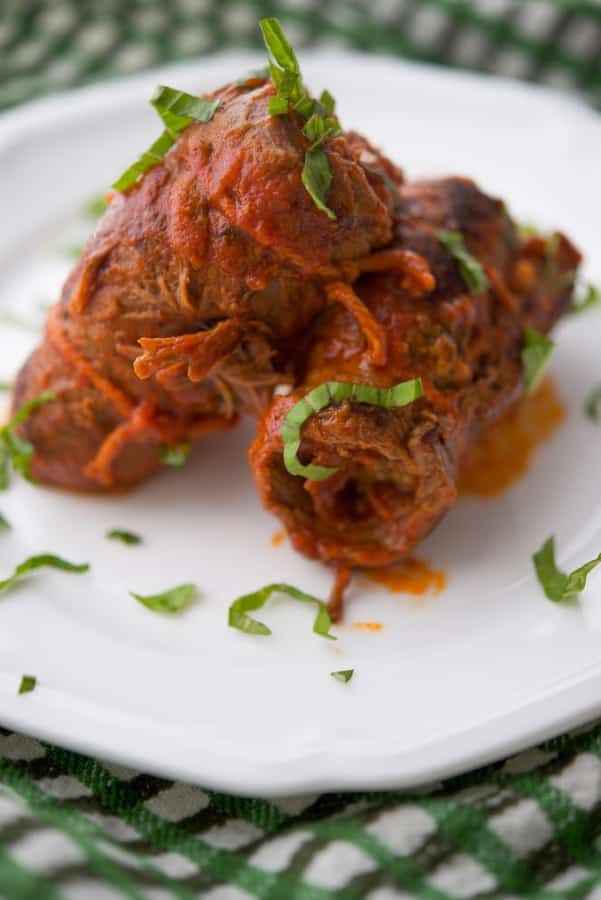 Since he's had a lot of stomach issues over the years, I haven't made my big pot of Sunday ragú sauce in a LONG time. In fact, the last time I made it was when I posted it here about 8 years ago.
After all, I grew up eating Sunday pasta dinners for most of my life and we all really have missed it.
What is Italian Ragú?
Our idea of a typical Italian ragú sauce consists of adding whole pieces of meat like Italian sausage, meatballs, bone in pork chops and braciole that have been browned before adding it to your tomato based sauce.
It then cooks low and slow for hours until all of the flavors get incorporated and the sauce turns a deep, dark red.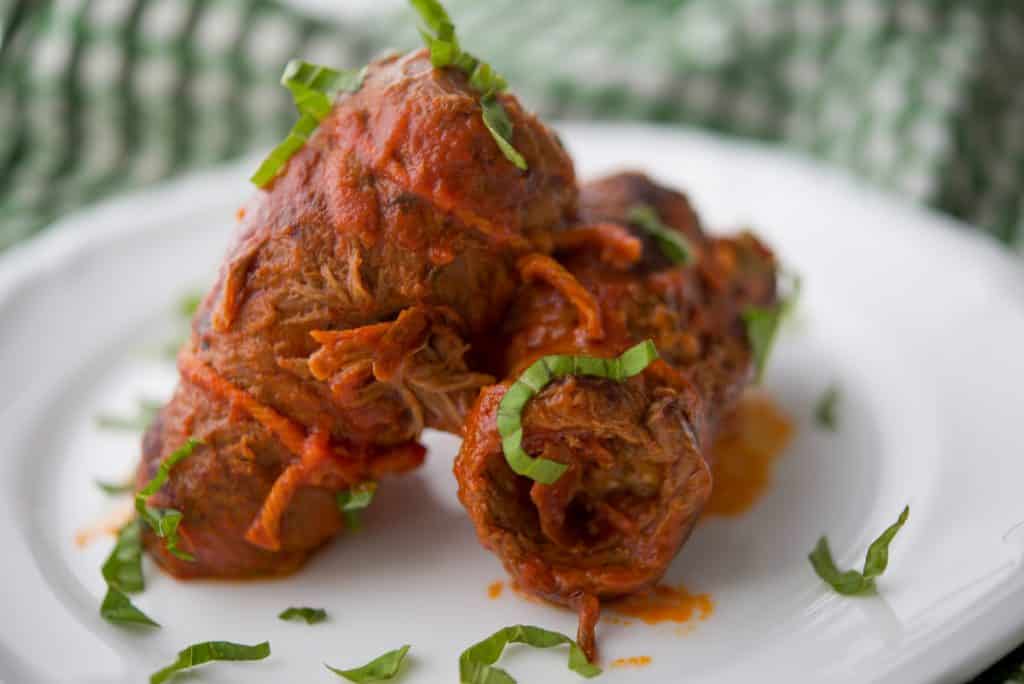 It's fabulous and makes so much, we can freeze it for future meals like another pasta dish or even meatball parmesan sandwiches. I haven't made braciole in a long time. Even when I did, I never added prosciutto to it.
However, I decided that since it's my husbands favorite, it would add some to give it a little extra layer of flavor.
What is braciole?
Braciole (pronounced bra-jole) in Southern Italy means 'meat that has been rolled around a stuffing filled with herbs and cheese'. It's generally made from pounded slices of beef rump, top round, or bottom round that has been stuffed, rolled; then tied with kitchen string before browning and adding to a sauce.
However, in Northern Italy, braciole means pork or veal chops, commonly grilled or seared. Since my family originated from Calabria and Sicily, the Southern version is how I make my braciole.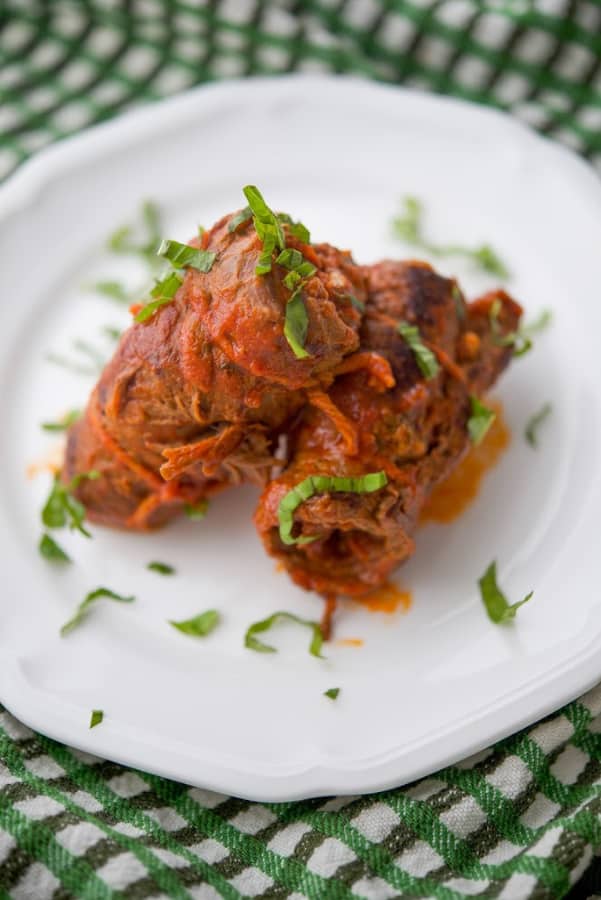 How do you make Italian Beef Braciole?
For this recipe, you'll need thin slices of beef, prosciutto, fresh basil, garlic, Pecorino Romano cheese, bread crumbs and EVOO. For the meat, I used top round of beef; then sliced it ¼-inch thick.
You can often find the meat pre-sliced at your grocer. Or you can ask your local butcher to slice it for you. In a small bowl, combine the basil, garlic, cheese, bread crumbs and EVOO; then mix together to form a paste.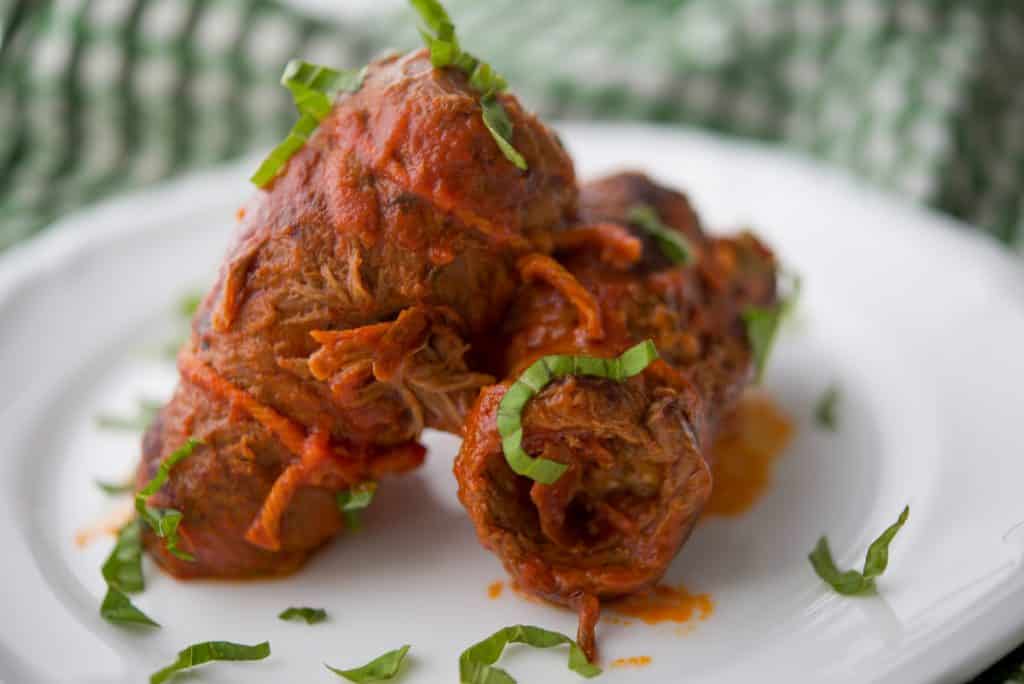 Lay one piece of the beef on a flat surface, like a cutting board; then spread one tablespoon of the mixture onto the beef and top with one slice of prosciutto.
Roll up the meat, tie together with kitchen string in two places to hold it together; then repeat for the remaining pieces of beef until all have been rolled and tied.
In a large skillet, heat one tablespoon of EVOO over medium high heat. Once hot, add the braciole and brown on all sides; approximately 5-7 minutes.
Add the meat to your favorite red sauce; then allow to simmer on low for at least 30 minutes.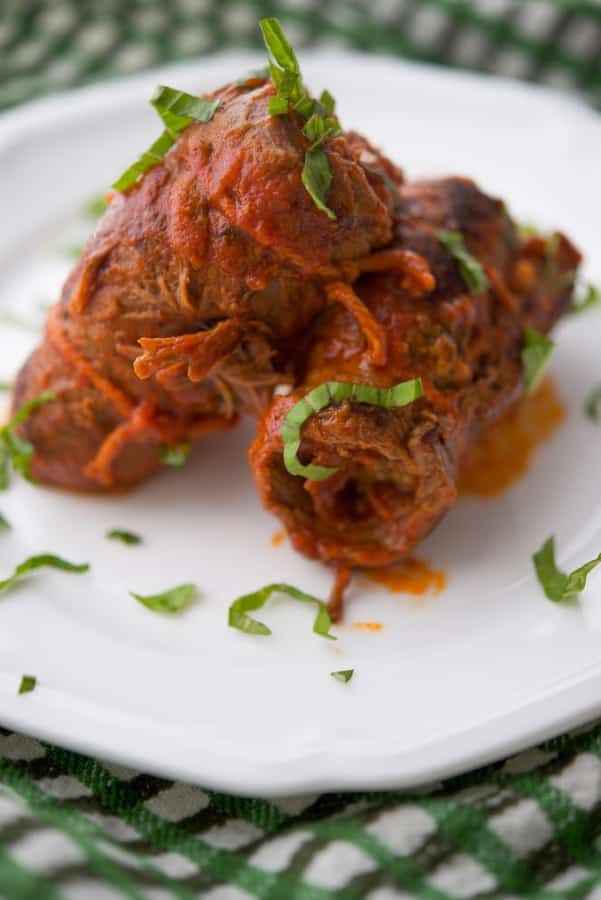 Like I mentioned earlier, I added my braciole to a larger pot of sauce and cooked it for 2 hours over a low heat. Italian Beef Braciole is incredibly flavorful and my husband said it was definitely worth the wait.
Also, don't forget to snip the string off of the meat before serving or at least tell your guests to be cautious before taking a bite.
As a side note, my husband is on week 3 of his 6-8 week recovery and feeling better by the day. Our oldest daughter having her gall bladder and appendix removed this week, well that's another story! ~Enjoy!
VISIT THE

RECIPE INDEX

TO SEARCH FOR MORE RECIPES BY CATEGORY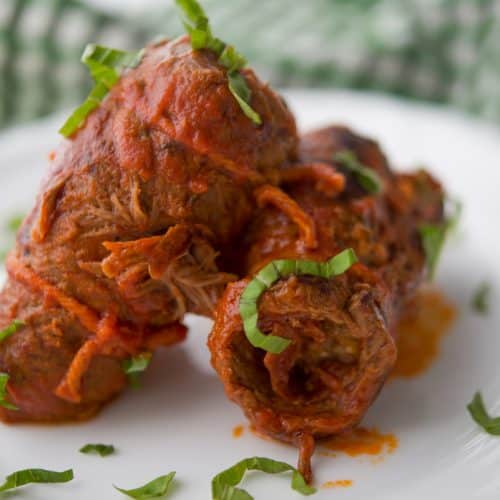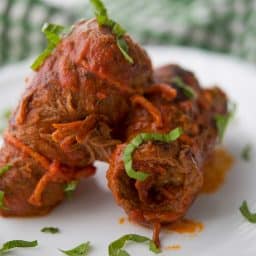 Italian Beef Braciole
Beef Braciole is an Italian recipe made by rolling thin slices of beef that have been stuffed with prosciutto, basil, garlic, bread crumbs, EVOO and Pecorino Romano cheese. 
Instructions
Slice your beef about ¼-inch thick; then use a meat mallet to pound it out evenly.

(Sometimes you can even find the meat already sliced thin at your grocer or ask your local butcher to slice it for you.)

In a small bowl, combine the basil, garlic, cheese, bread crumbs and 3 tablespoons of the oil; then mix together to form a paste. 

Lay one piece of the beef on a flat clean surface; then spread one tablespoon of the mixture onto the beef and top with one slice of prosciutto. Roll up the meat; then tie together with kitchen string in two places to hold it together. Repeat for the remaining pieces of beef until all have been rolled and tied. 

In a large skillet, heat the remaining oil over medium high heat. Once hot, add the braciole and brown on all sides; approximately 5-7 minutes. Add the braciole to your favorite sauce; then allow to simmer on low for at least 30 minutes. (I added my braciole to a larger pot of sauce and cooked it for 2 hours over a low heat.)
Nutrition
Calories:
315
kcal
Carbohydrates:
4
g
Protein:
28
g
Fat:
20
g
Saturated Fat:
5
g
Polyunsaturated Fat:
2
g
Monounsaturated Fat:
11
g
Trans Fat:
0.02
g
Cholesterol:
76
mg
Sodium:
277
mg
Potassium:
434
mg
Fiber:
0.3
g
Sugar:
0.3
g
Vitamin A:
85
IU
Vitamin C:
1
mg
Calcium:
81
mg
Iron:
2
mg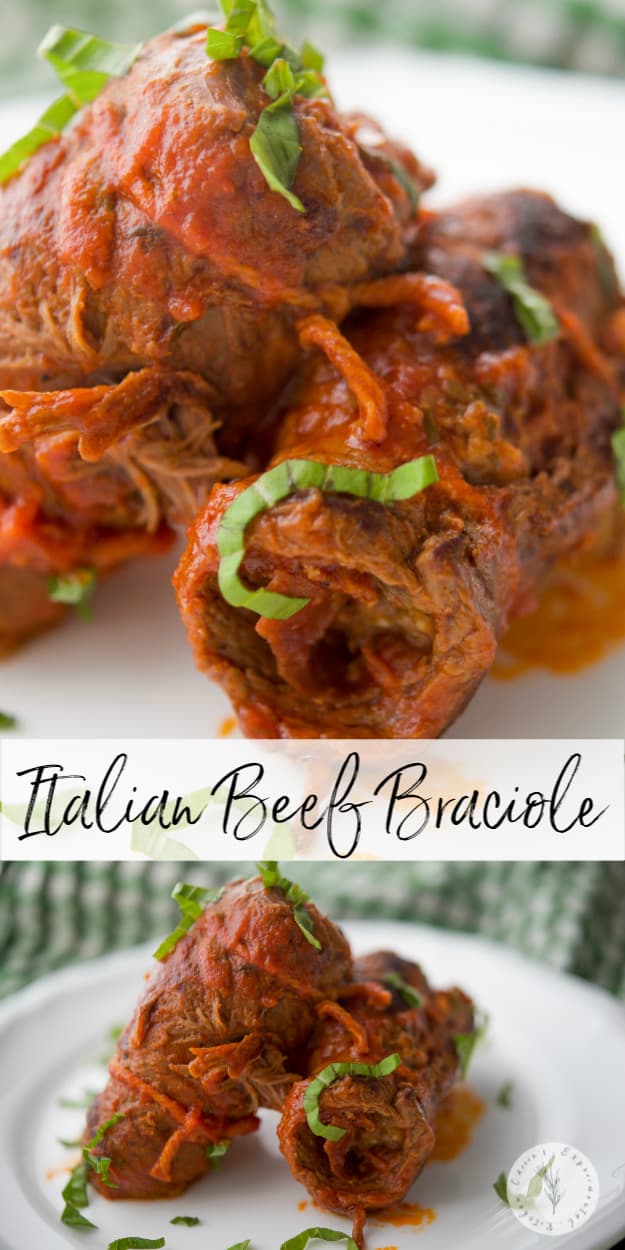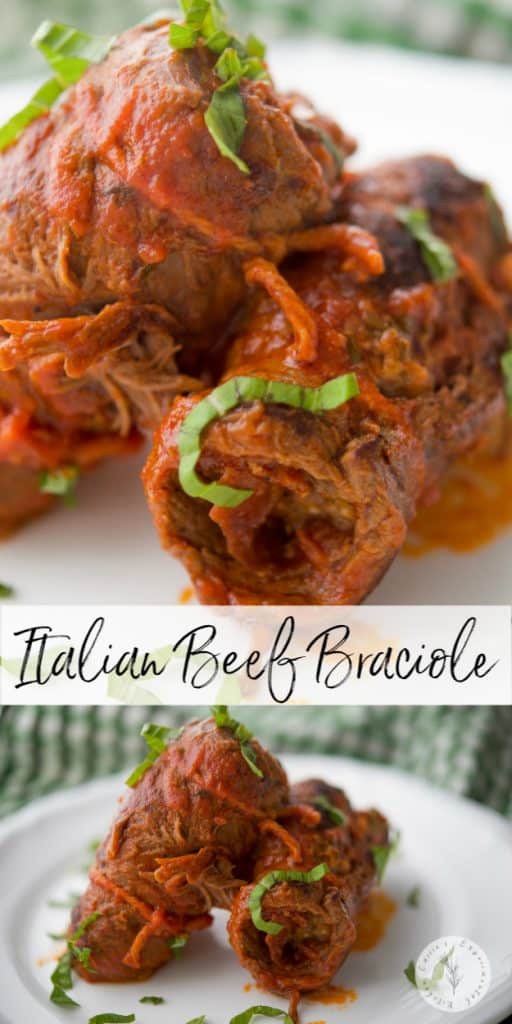 Related Recipes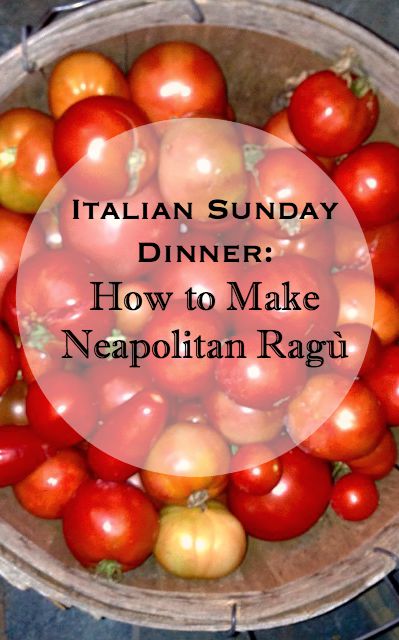 Italian Sunday Dinner: How to Make Neapolitan Ragù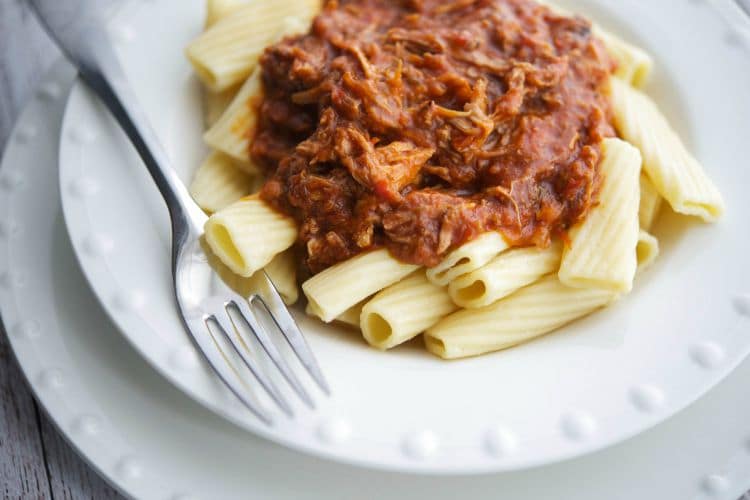 CONNECT WITH ME ON SOCIAL MEDIA