Chicken Cutlet Sandwich made with with Campari Tomatoes, Buffalo Mozzarella and Basil topped with Aged Balsamic Vinegar.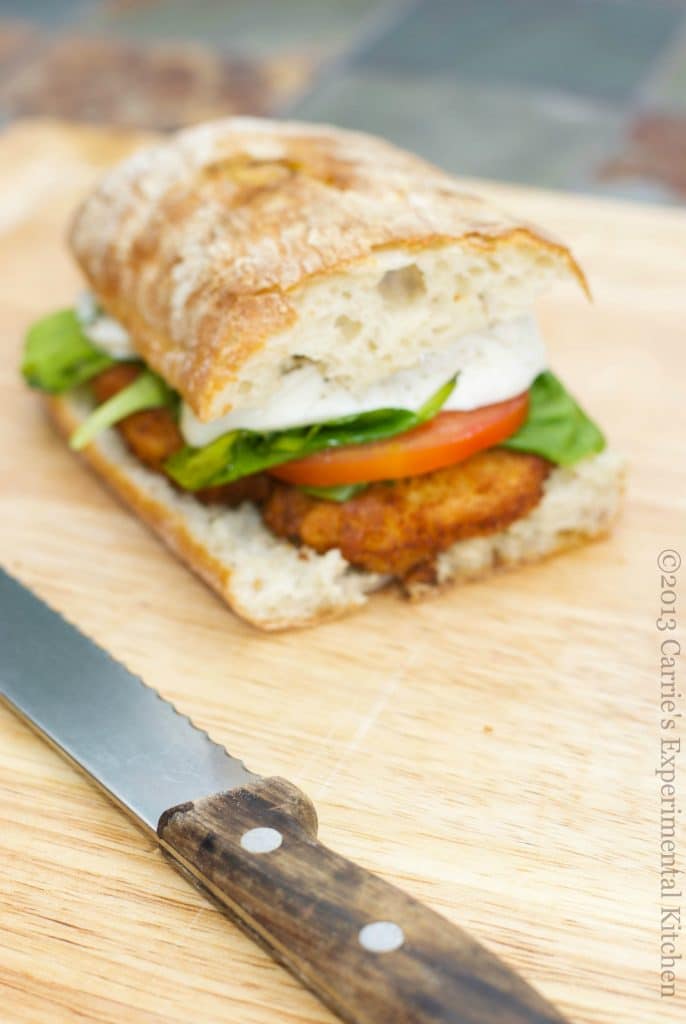 Chicken Cutlet with Fresh Spinach, Campari Tomatoes & Buffalo Mozzarella is one of my families FAVORITE sandwiches to make. I first posted this recipe under another post I wrote for the "New Jersey's Stronger Than the Storm Campaign" a few years ago after Hurricane Sandy hit.
The post was entitled "Tips for Picnicking Down the Shore" and I shared some helpful tips for bringing the right things to the beach for a successful picnic including the basic beach necessities, food and entertainment.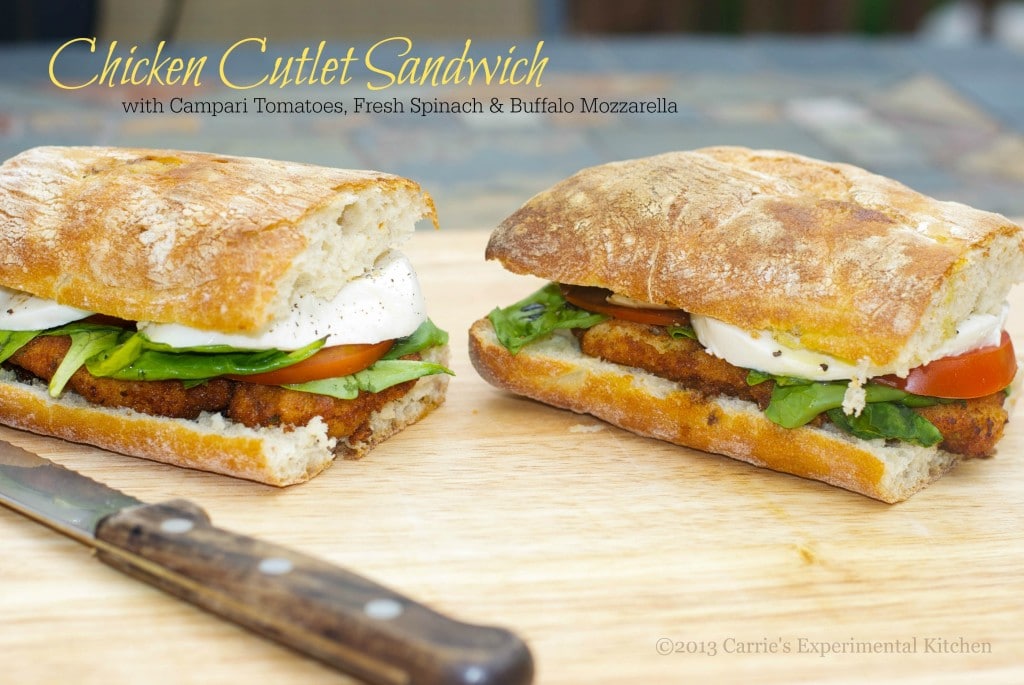 I also shared a few of my experiences growing up in NJ and the right of passage of going "down the shore" (as us Jersey folk refer to going to the beach) after the prom.
So it's only fitting that I give my favorite sandwich it's own post today as my own daughter is going to her Senior Prom tonight; then heading down the shore tomorrow with her friends and classmates for the weekend.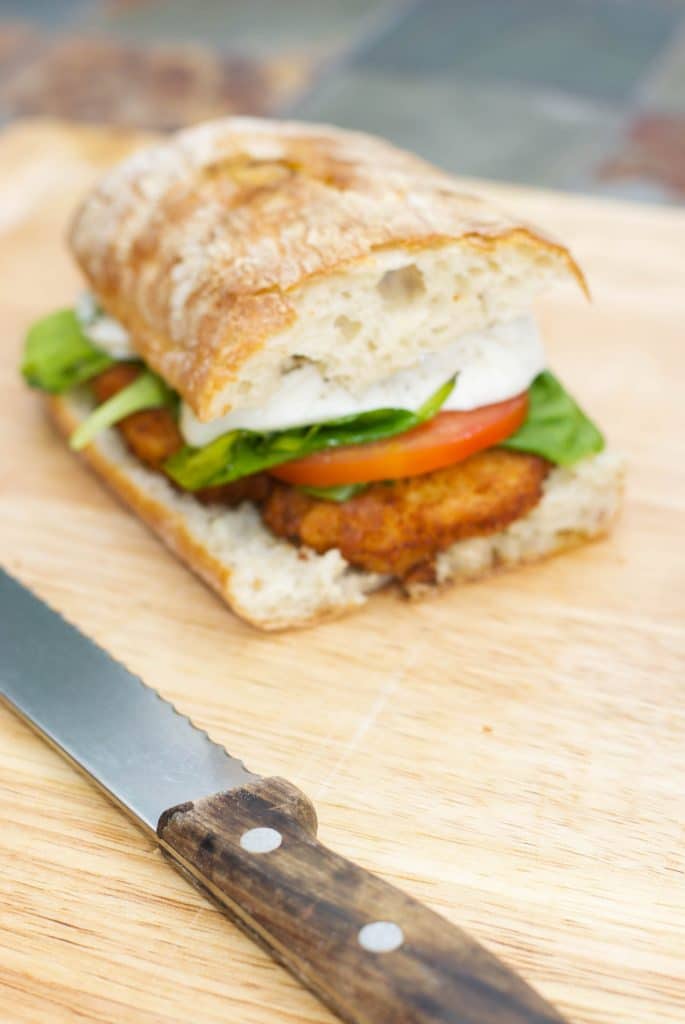 This Chicken Cutlet Sandwich made with breaded chicken cutlets, vine ripened Campari tomatoes, fresh spinach, and silky Buffalo mozzarella cheese on top of crunchy ciabatta bread topped with aged balsamic vinegar and extra virgin olive oil is also our go-to sandwich on long road trips.
These Chicken Cutlet Sandwiches were SO good and wouldn't you rather eat this sandwich than fast food? I know I certainly would! ~Enjoy!
Sign up for my weekly newsletter
and receive
a FREE eBook!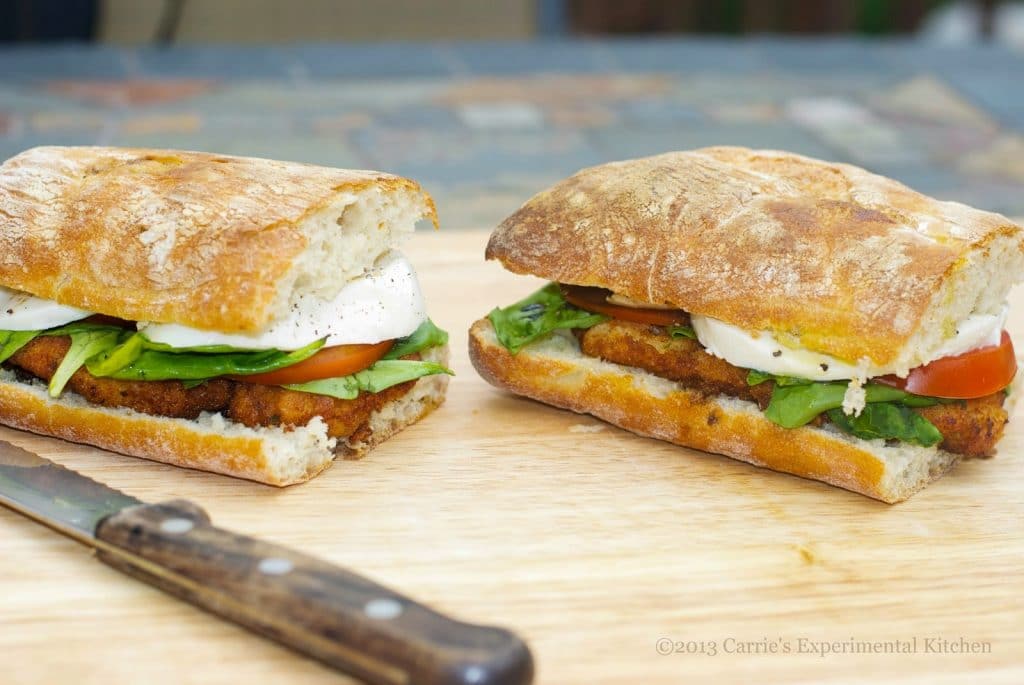 Ingredients
For the Chicken Cutlets
2-

(6-ounce)

boneless chicken breasts

, cut in half horizontally

1

cup

all purpose flour

2

large

eggs

(plus splash of water)

1

cup

Italian seasoned breadcrumbs

3/4

cup

Canola oil
For the Sandwich
4

precooked, breaded chicken cutlets

2-

(8-inch)

ciabatta rolls

,cut in half horizontally

2

cups

fresh spinach

,rinsed and stems removed

2

campari tomatoes

,sliced into ¼" thick slices

1/2

pound

buffalo mozzarella

,sliced into ¼" thick slices

4

tablespoons

aged balsamic vinegar

4

tablespoons

extra virgin olive oil

1/2

teaspoon

kosher salt

1/4

teaspoon

black pepper
Instructions
For the Chicken Cutlets
Slice the chicken in half vertically forming four pieces; then using a meat mallet, pound the chicken flat until it is even in thickness.

Prepare three bowls. One with the flour. One with the egg and a splash of water. One with the breadcrumbs.

First dip the chicken into the flour, then the egg wash and then the breadcrumbs. Repeat for all pieces.

Heat the oil in a large sauté pan over medium heat; then add the chicken. Cook the chicken approximately 3-5 minutes per side until they are golden brown and cooked through. Drain on paper towels to remove excess oil.
For the Sandwich
Slice the bread in half vertically forming eight halves.

Drizzle 1 tablespoon vinegar and oil on both the top and bottom halves for each sandwich.

Place one chicken cutlet on the bottom half of the bread, then top with fresh spinach leaves, tomato and mozzarella slices. Season with salt and pepper; then place the top of the bread on the sandwich. Cut in half and serve.
Notes
*If you like your bread on the crusty side like we do, bake the bread in a 425 degree oven for about 5-7 minutes, then allow to cool before cutting the bread in half.
Nutrition
Did you make this recipe?
Share a comment on the blog or mention @CarriesExpKtchn on Instagram!
Visit the

recipe index

to search for more recipes by category.

Related Recipes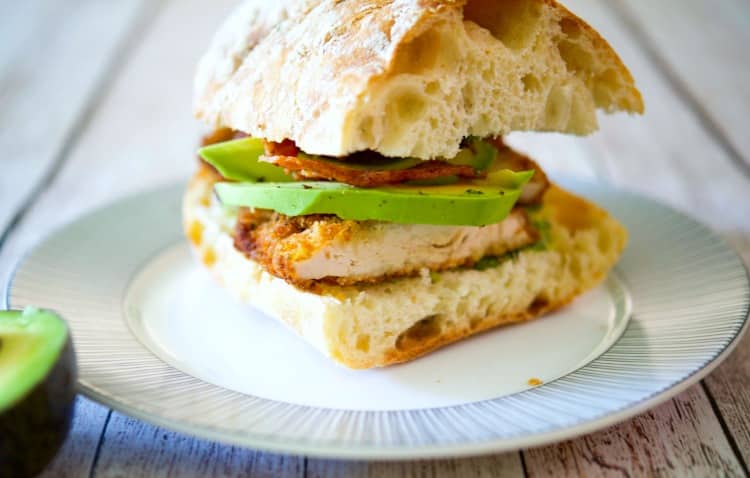 Chicken Cutlet Sandwich with Bacon, Avocado & Pesto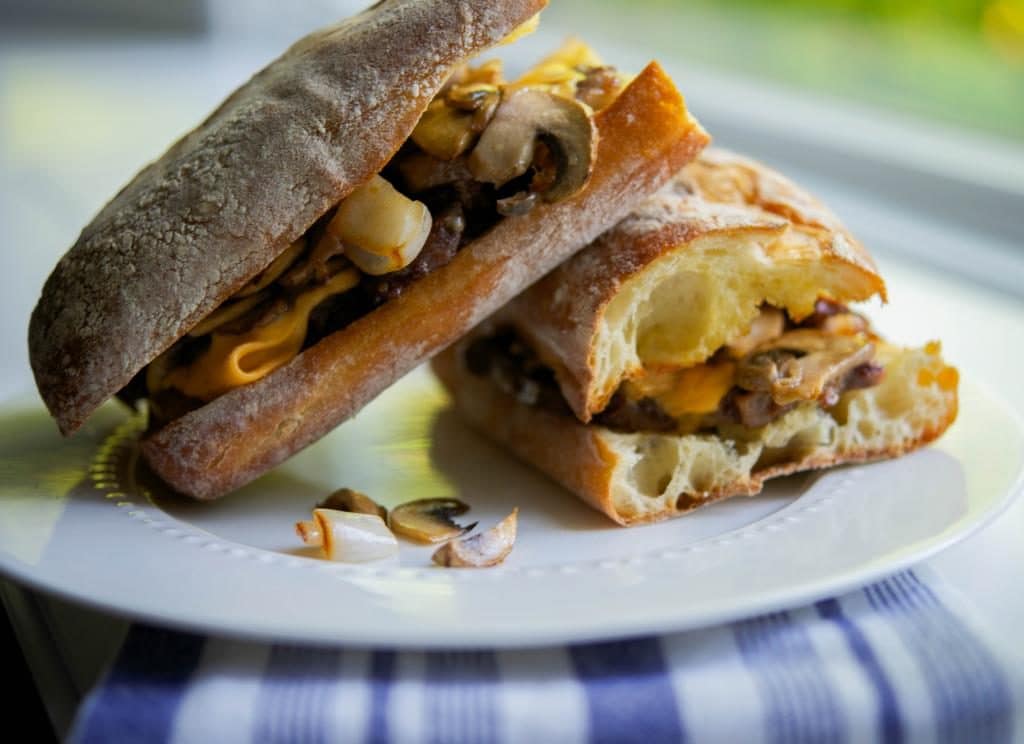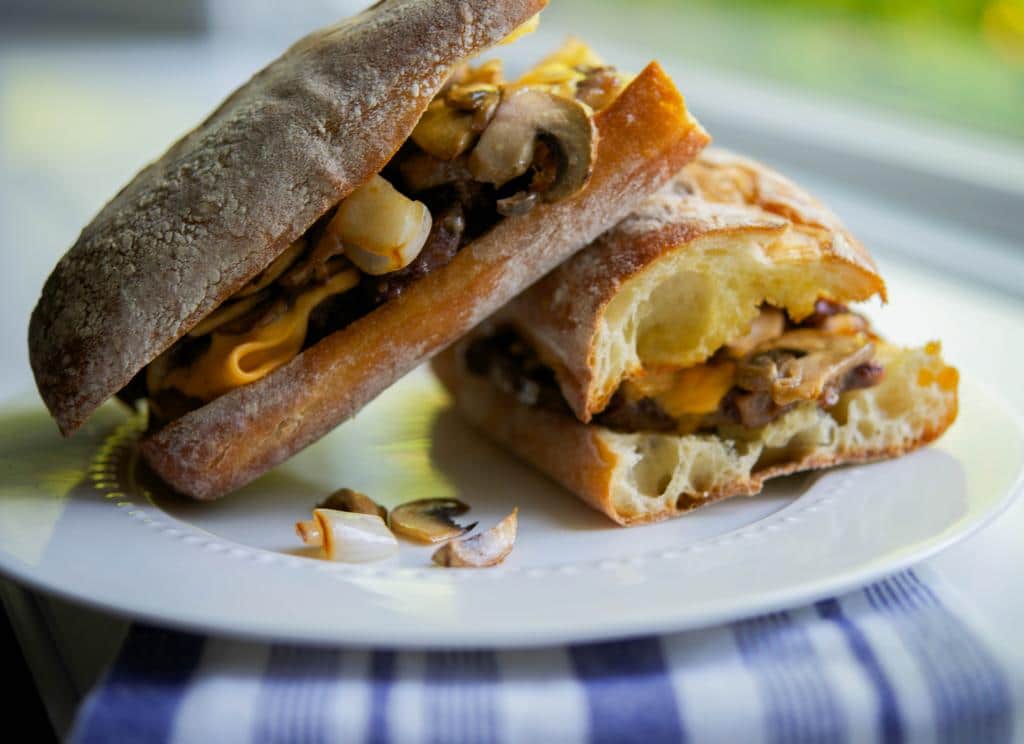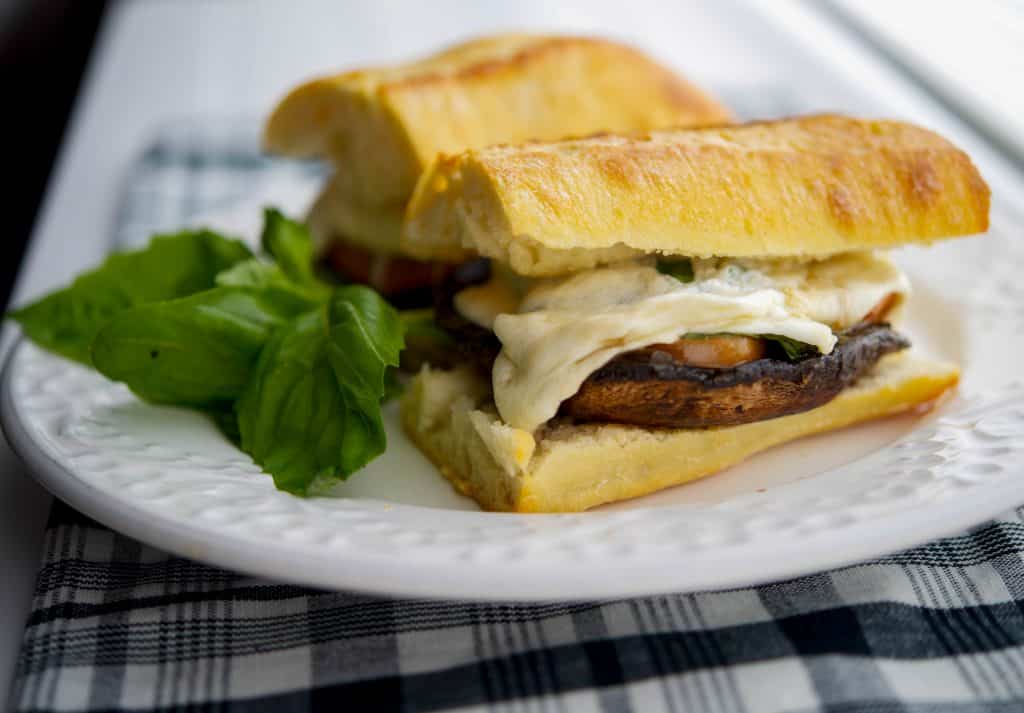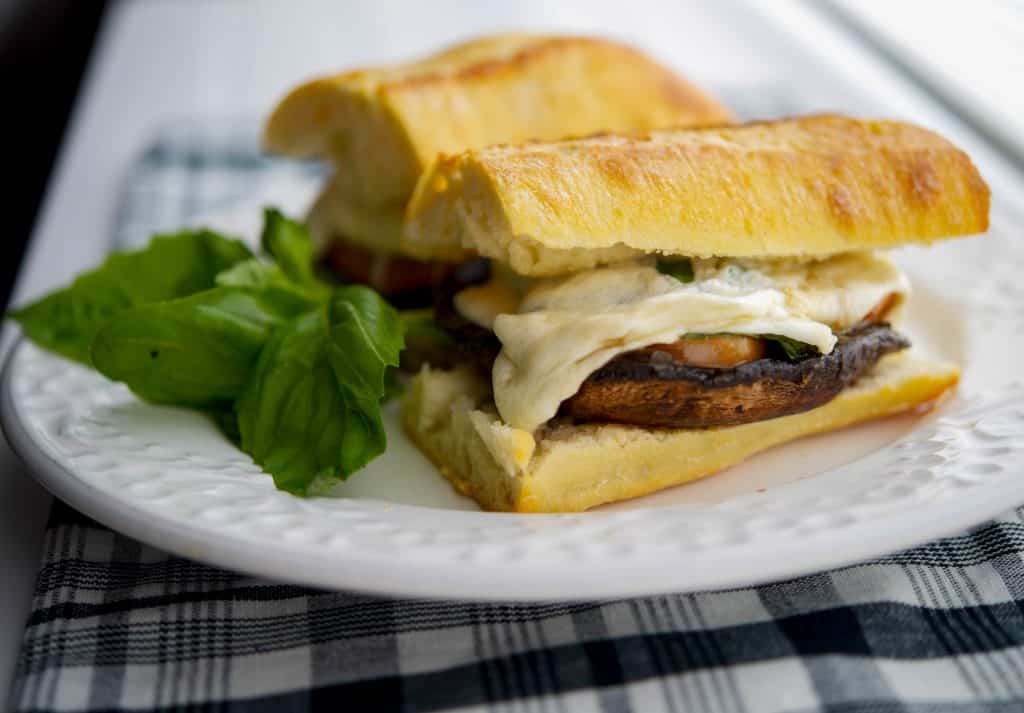 Portobello Mushroom Sandwiches with Fresh Mozzarella, Tomato & Basil
Connect with me on Social Media