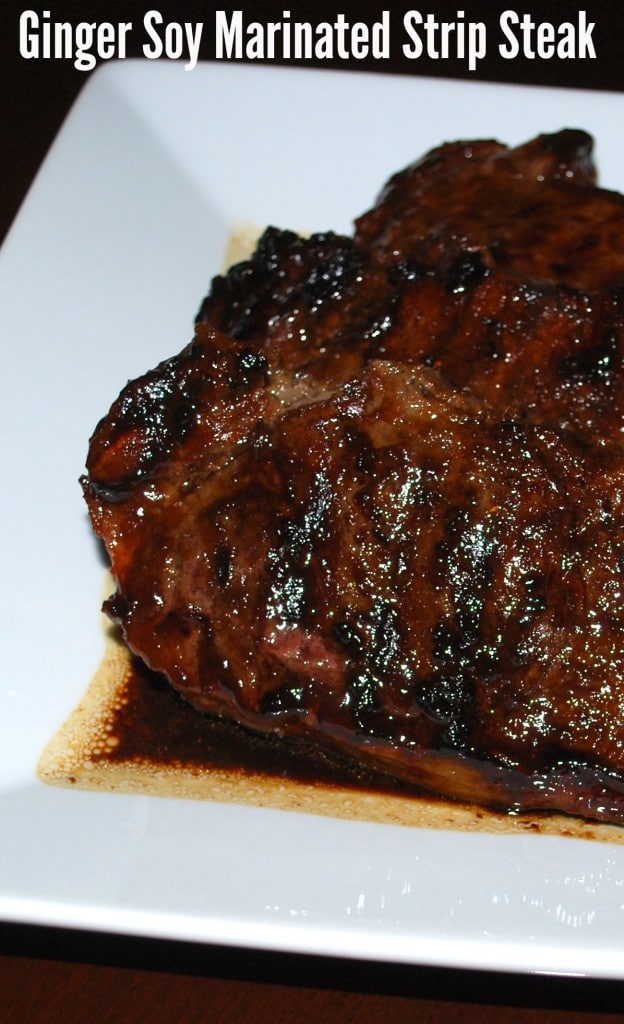 Ginger. Another item I've had many times before but never cooked with it until now. It adds a great depth of flavor to marinades, salads and prepared meals. Fresh ginger has a very thin, light brown skin that must be removed before using. Simply cut off as much as you think you will need from the root, then peel off the skin using a thin teaspoon or knife. Fresh ginger will keep for several weeks in the refrigerator or several months in the freezer. I marinated these steaks that we received from
Omaha Steaks
 last week and let the flavors combine for about 4 hours before grilling them.  These steaks were juicy and tender and since they were so large (at least for us), I only used three of them and still had some left over to top salads with afterwards.
Ginger Soy Marinated Strip Steaks
3-4 Strip Steaks, fat trimmed

Ginger Soy Marinade
1/2 c. Low Sodium Soy Sauce
1/2 c. Honey
1 tsp. Fresh Ginger, grated
1/4 c. Canola Oil
1 tsp. Garlic Powder
1/2 tsp. Fresh Ground Black Pepper
Directions:
Whisk all ingredients together until well blended. Add the marinade and steaks to a resealable plastic bag and refrigerate for at least 4 hours. Remove steaks, discard the marinade and grill until desired doneness.