This Homestyle Pot Roast made with bottom round beef, potatoes and vegetables is moist, tender and a definite cold weather favorite.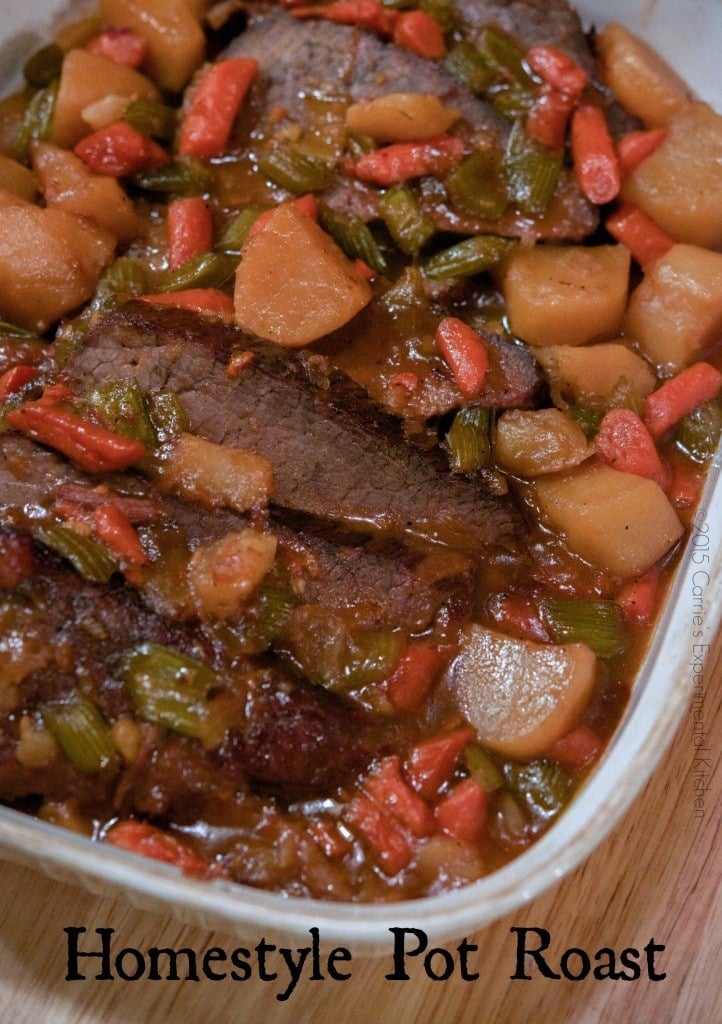 I haven't made this recipe for Homestyle Pot Roast since I first posted this recipe back in 2011 and subsequently added it to my cookbook. In fact, when my niece said she was making this recipe herself a few weeks ago, I realized how long it had been since we had one.
So I decided to make it myself for dinner one Sunday afternoon. I just love making comforting meals on Sundays, especially in the winter months.
The first couple of times I made pot roast early on in my marriage (20 years ago), my pot roast would come out horrible. The meat was tough and it barely had any flavor.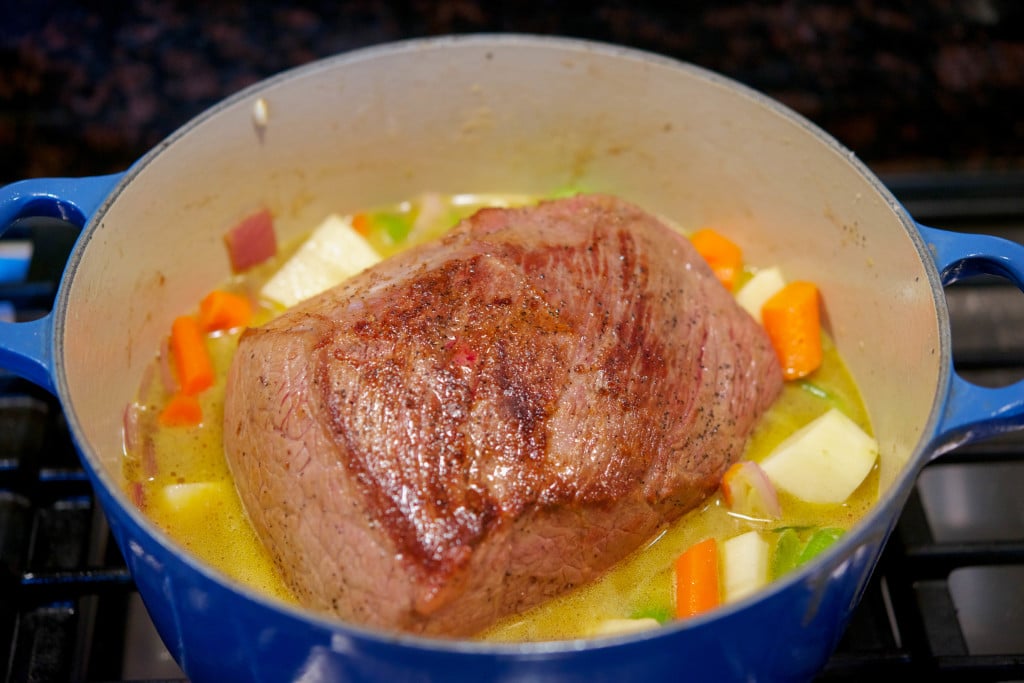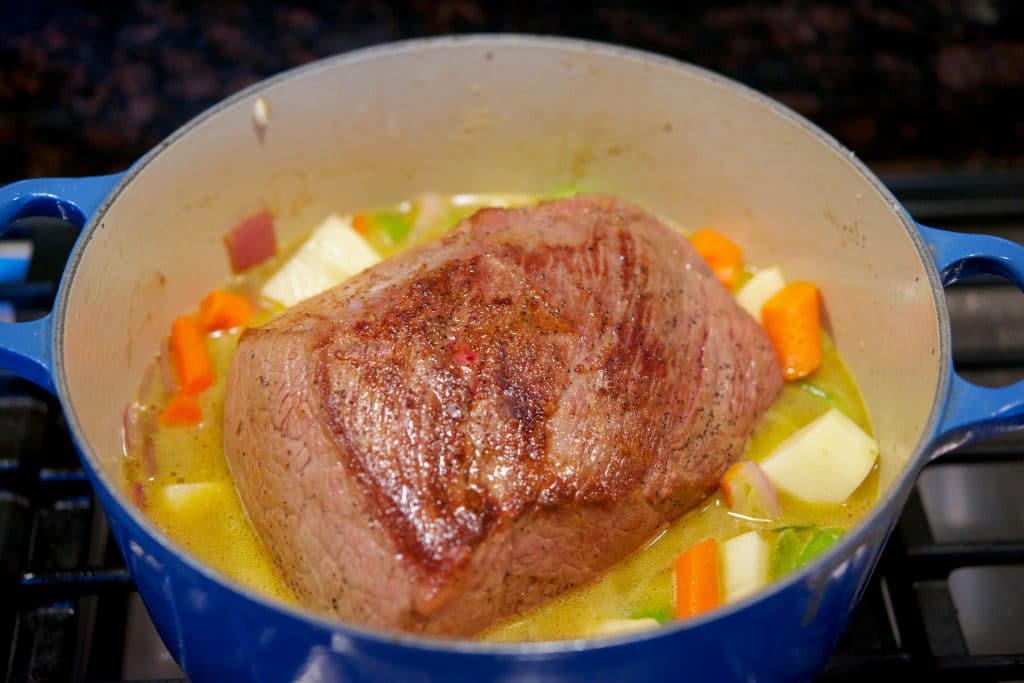 How do you make Pot Roast?
That is, until I experimented with this recipe and it came out perfectly. I used my Dutch oven and browned the meat on all sides first.
Next I added the vegetables and sautéed them a bit; then added some brown sugar and beef broth before letting it simmer for several hours. I originally put the entire covered Dutch oven in the regular oven to cook, but this time left it on top of the stove and it worked just fine.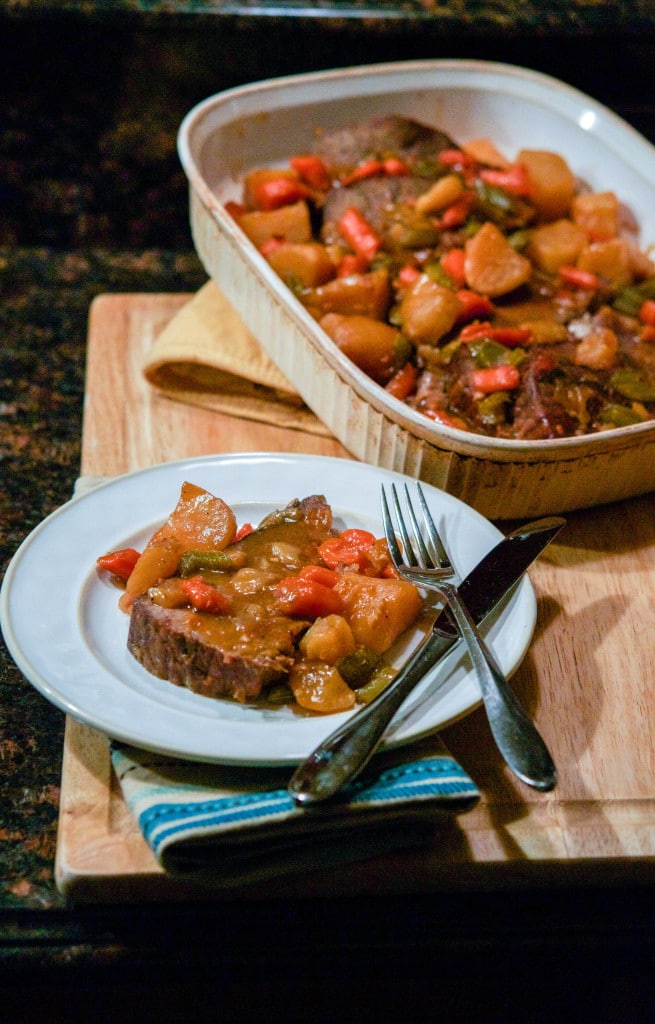 After the roast was done, I then sliced the meat into 1/2-inch thick slices, covered it with the vegetables and sauce; then baked it for another 30 minutes. It was delicious!
I served ours 'as is' since there are potatoes in this recipe, but you could also make some buttered egg noodles or dinner rolls to lop up all of that gravy goodness. ~Enjoy!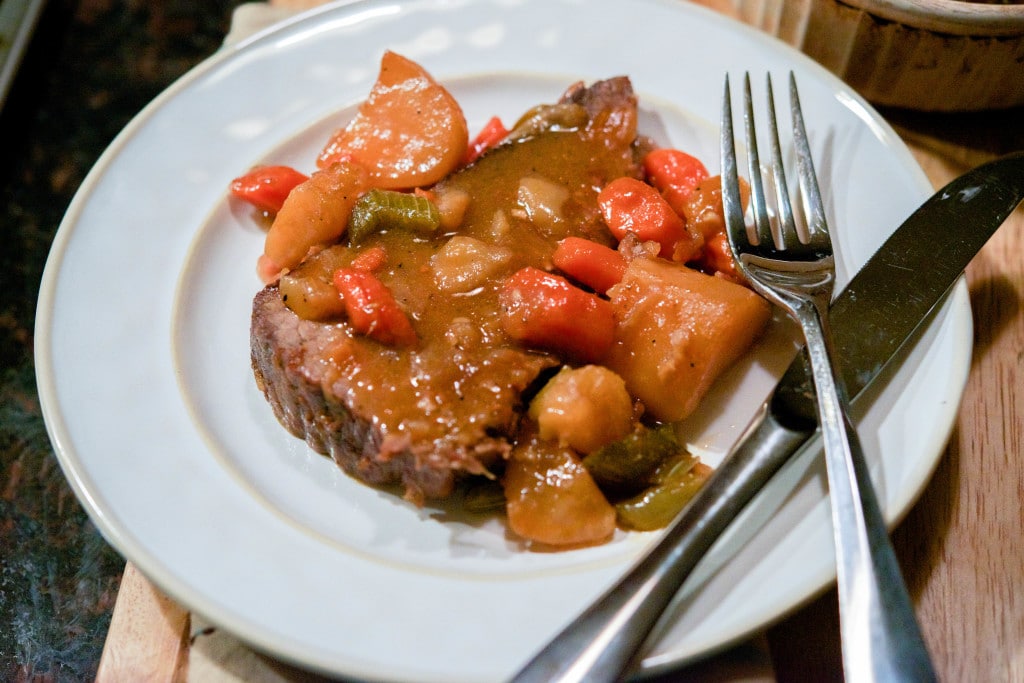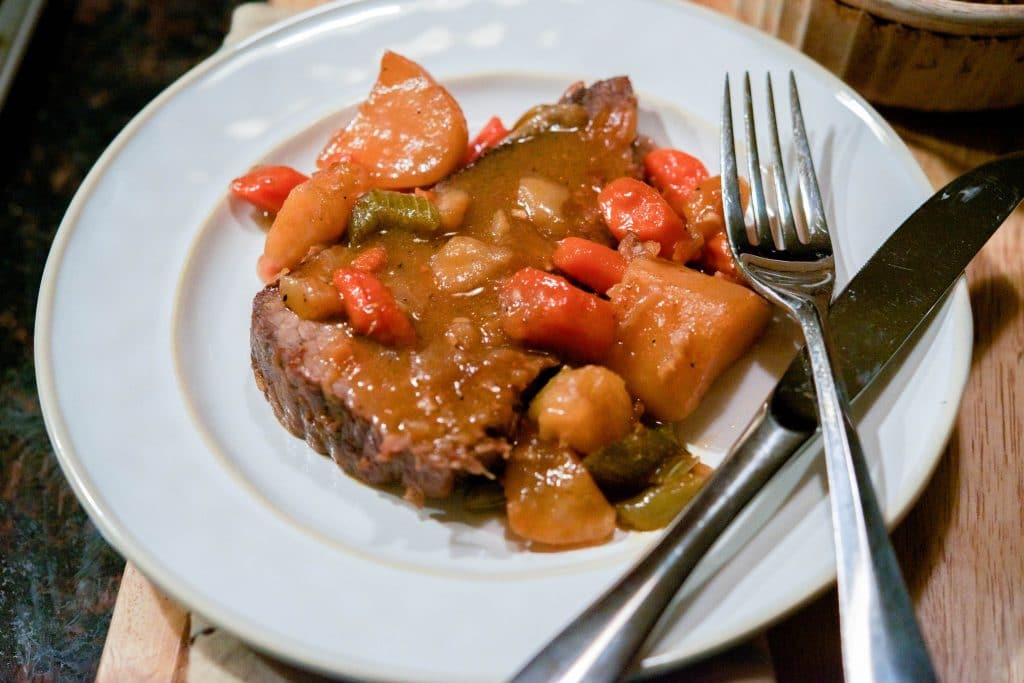 Sign up for my weekly newsletter
and receive
a FREE eBook!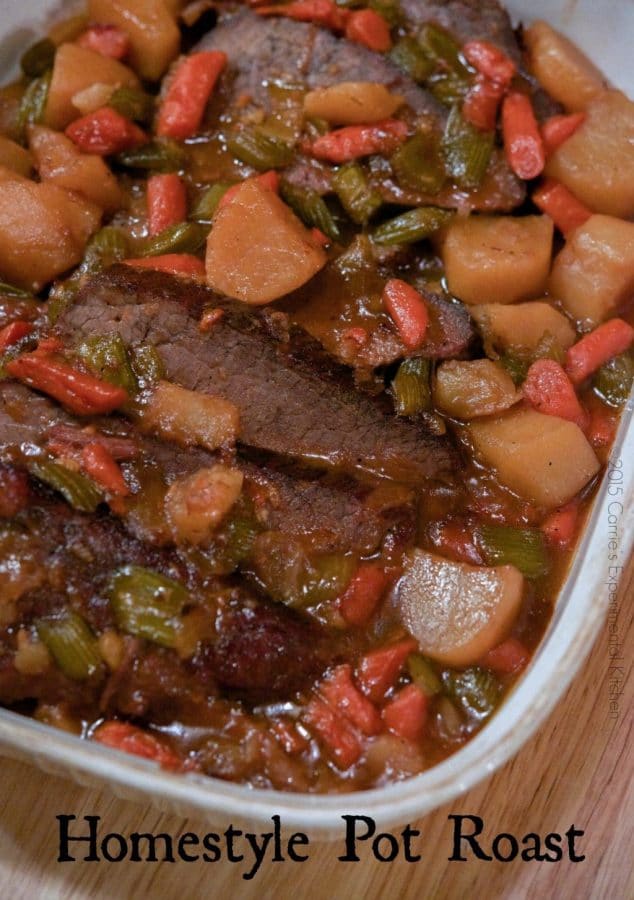 Instructions
Heat oil over medium heat in a Dutch oven. Season the meat with salt and pepper, place it in the pot and sear all sides of the meat until it is browned on all sides. Remove and set aside.

Add onions, garlic, celery, and carrots to the pot and sauté 5 minutes until the vegetables start to soften; then add the potatoes.

Whisk in the flour; then add the beef broth and brown sugar. Mix well.

Next, add the meat back to the Dutch oven on top of the vegetables. Cover and allow to simmer for 3-4 hours; ladling the broth over the meat every 30 minutes.

Preheat oven to 350 degrees F.

Remove the meat from the Dutch oven and slice into eight, 1/2-inch thick pieces and place in an oven-safe baking dish.

Remove the vegetables using a slotted spoon and surround the meat.

If you need to thicken the broth, combine the cornstarch and water until smooth; then pour over sliced meat.

Place the casserole dish back in the oven for an additional 30 minutes.
Did you make this recipe?
Share a comment on the blog or mention @CarriesExpKtchn on Instagram!
Related Recipes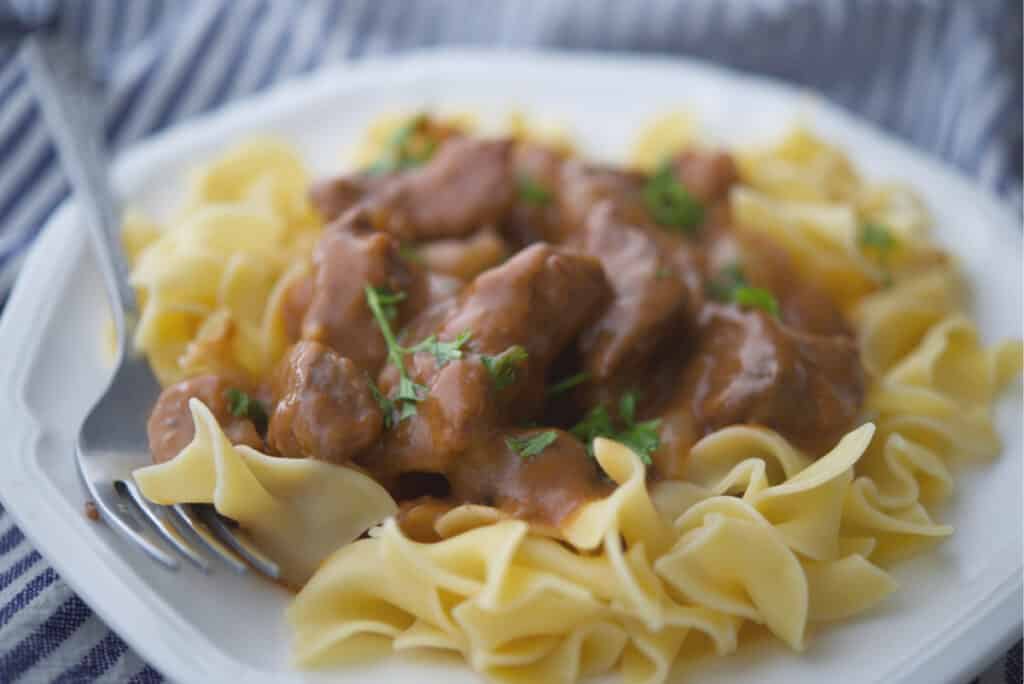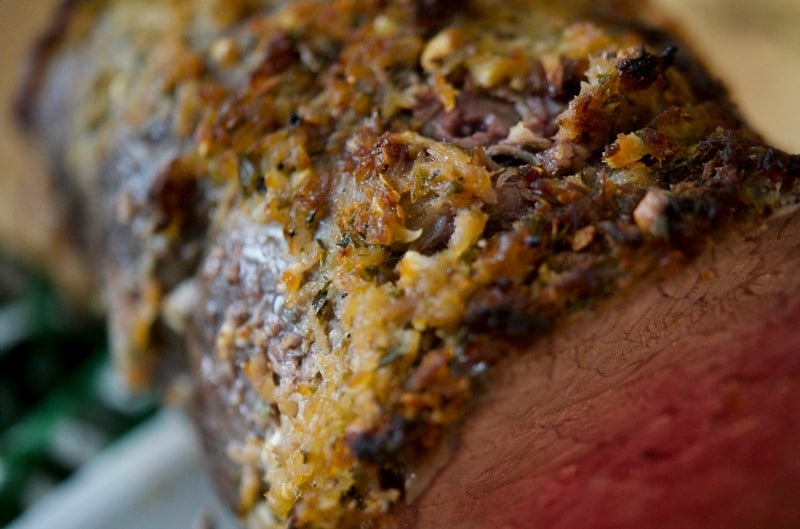 Horseradish, Garlic and Rosemary Roast Beef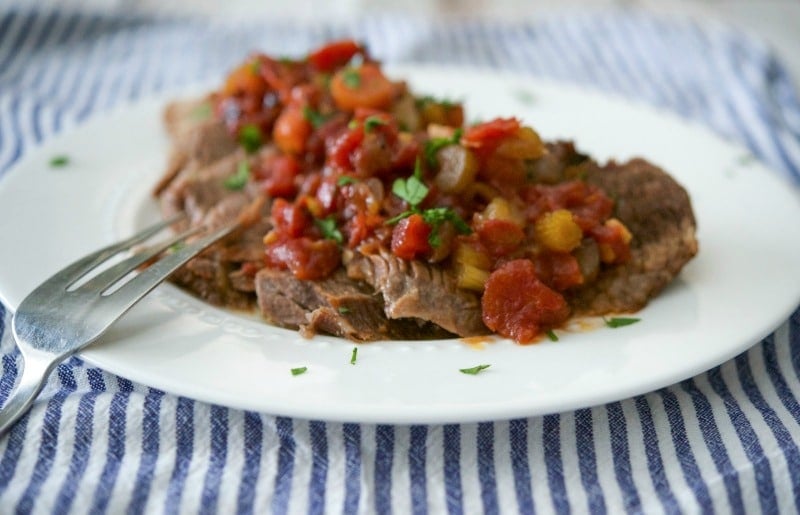 Braised Cinnamon Whiskey Beef Brisket
Connect with me on Social Media