This Spinach & Asiago Mini Quiche made with spinach and fresh Asiago PDO cheese is perfect for breakfast or as an appetizer.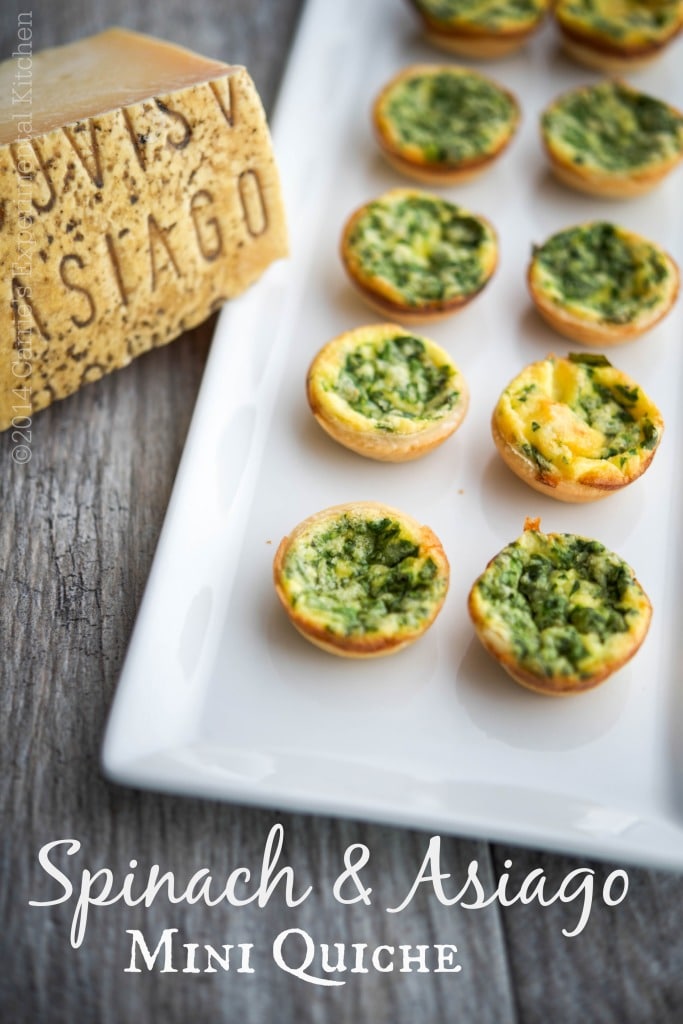 Welcome to Day 2 of Asiago Cheese PDO week! Today I'm sharing a new recipe for Spinach & Asiago Mini Quiche. This recipe wasn't originally going to be on my "to make" list this week; however, the weekend before last my 12 year old was in the mood for mini quiche. I don't know why.
She gets something in her head that she is craving and then talks about it nonstop until I make it. I think she likes the mini quiche better than larger quiches because she can just pop them into her mouth one by one and they're fun to eat.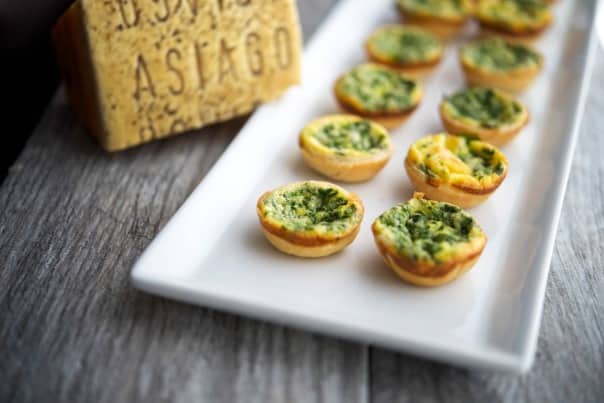 I asked her if she thought she would like a version made with spinach and some of that aged Asiago cheese I had just received and she said it sounded good to her so that's what we set out to do. The entire recipe process took about 30 minutes and she was one happy little girl.
This mini quiche made with spinach and fresh Asiago PDO cheese is perfect for breakfast or as an appetizer.
Click To Tweet
I made a slight change to a recipe I posted last year for Pumpkin & Brie Mini Quiche and decided to not bake the pie crust before filling it with the egg mixture and it came out much better. So if you check out that recipe, I've updated the instructions as well.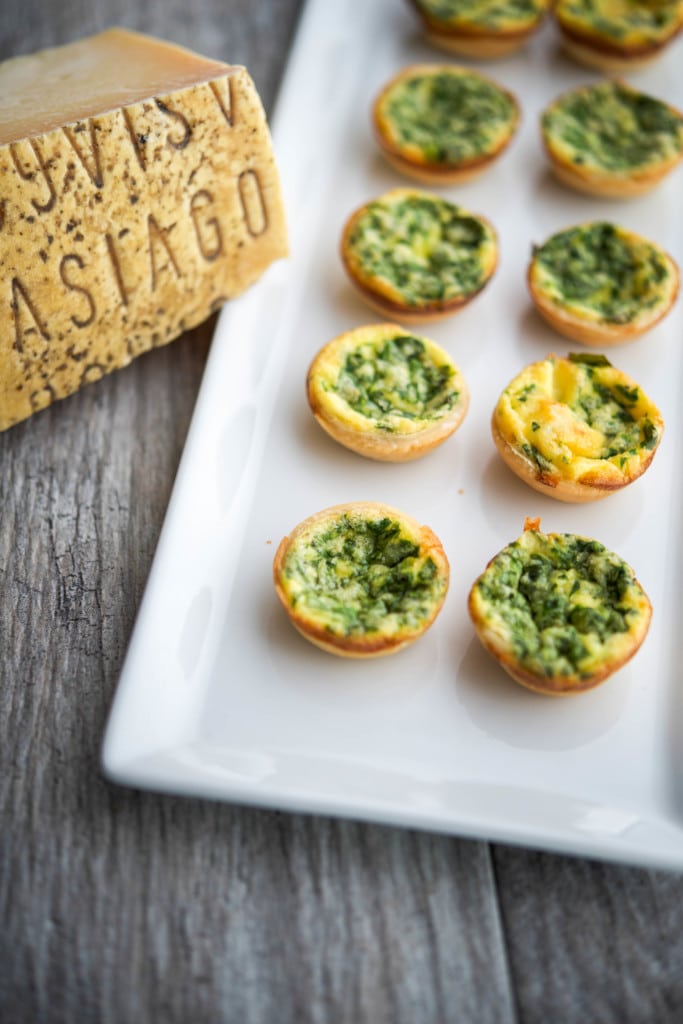 I prefer to use pre-made, refrigerated pie crusts, but please allow for extra prep time if you prefer to make the crust yourself. I just could never get the knack of making homemade pie crust and store bought tastes good enough for me. I love fresh spinach and the combination of that with the sharp, aged Asiago cheese was fantastic.
Quiches in general can be eaten for breakfast, lunch or dinner, but by making them smaller, you then open them up for a tasty appetizer or kid friendly menu option. Aren't they cute?!  ~Enjoy!
Sign up for my weekly newsletter to get
 the latest recipes and receive
 a FREE eBook!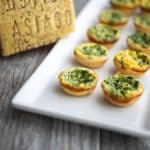 Spinach & Asiago Mini Quiche
This mini quiche made with spinach and fresh Asiago PDO cheese is perfect for breakfast or as an appetizer.
Course:
Appetizer, Breakfast
Ingredients
1

Pie Crust

2

Large Eggs

1/2

c

. Heavy Cream

1/4

c

. Shredded Aged Asiago Cheese PDO

1/2

c

. Fresh Spinach, chopped

Kosher Salt & Black Pepper, to taste

Cooking Spray
Instructions
Preheat oven to 350 degrees.

Gently roll out the dough so that it's uniform in thickness; then cut out small circles using a shot glass or small mouthed glass (you want to make sure it fits in a mini muffin tin). You may need to re-roll the dough several times.

Generously spray a nonstick mini muffin tin with cooking spray and place each circle in each section of a and press down along the bottom and sides. (I use my mini tart shaper from Pampered Chef).

In a medium sized bowl, whisk together the eggs, heavy cream, Asiago cheese, spinach, salt and pepper.

Pour the egg mixture into the crust lined muffin tin until it reaches the top. (I found it easier to add the egg mixture to a measuring cup and pour it in that way).

Place the muffin tin in the oven and bake 15-20 minutes or until the egg mixture puffs up and is lightly brown. Remove from oven and serve while hot. If needed, use a plastic knife to help loosen the quiche from the pan.
Visit the 

recipe index

 to search for more recipes by category.

Connect with me on Social Media
 Related Recipes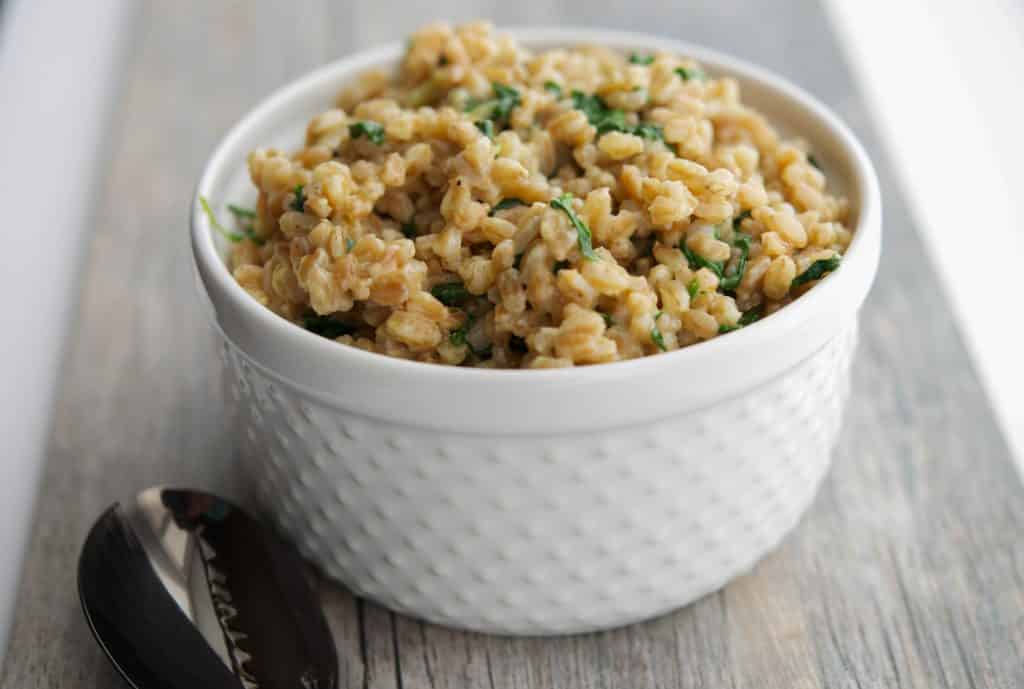 Creamy Farro with Spinach, Garlic & Asiago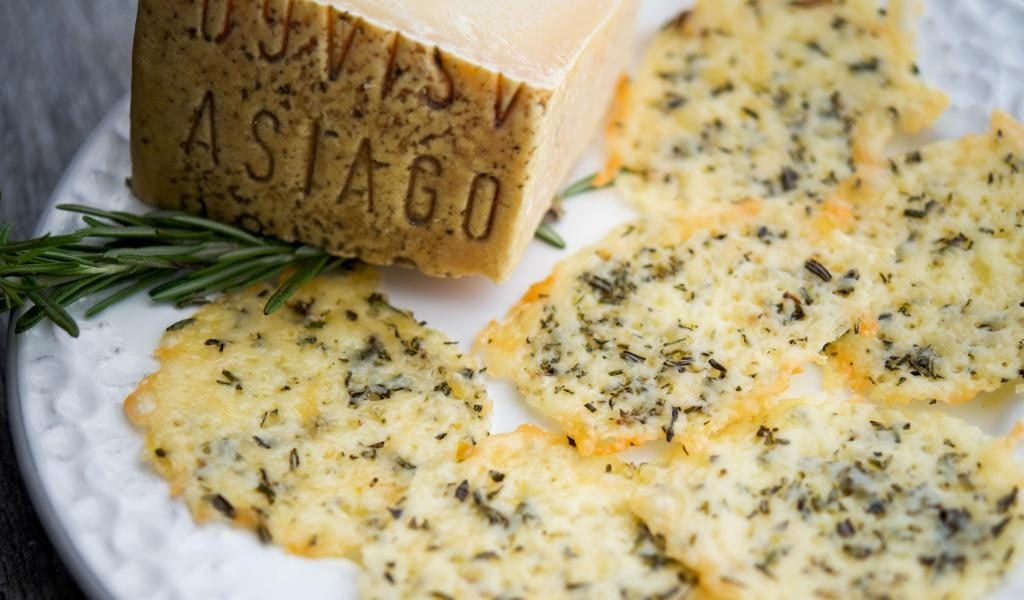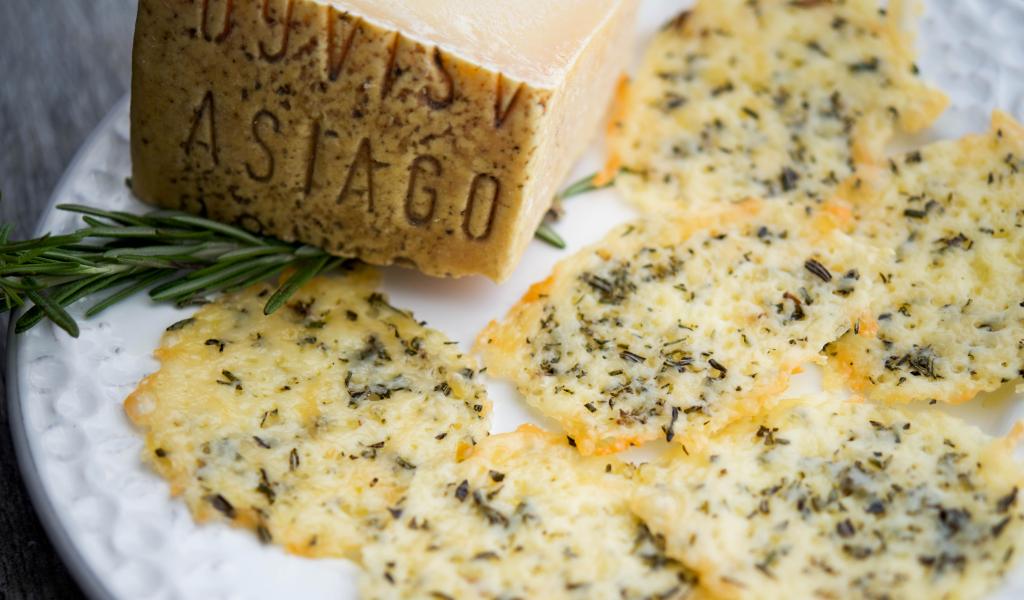 Asiago & Rosemary Cheese Crisps