Linguine tossed with a light and lemony Limoncello Asiago Cream Sauce makes the perfect, quick and delicious weeknight meal.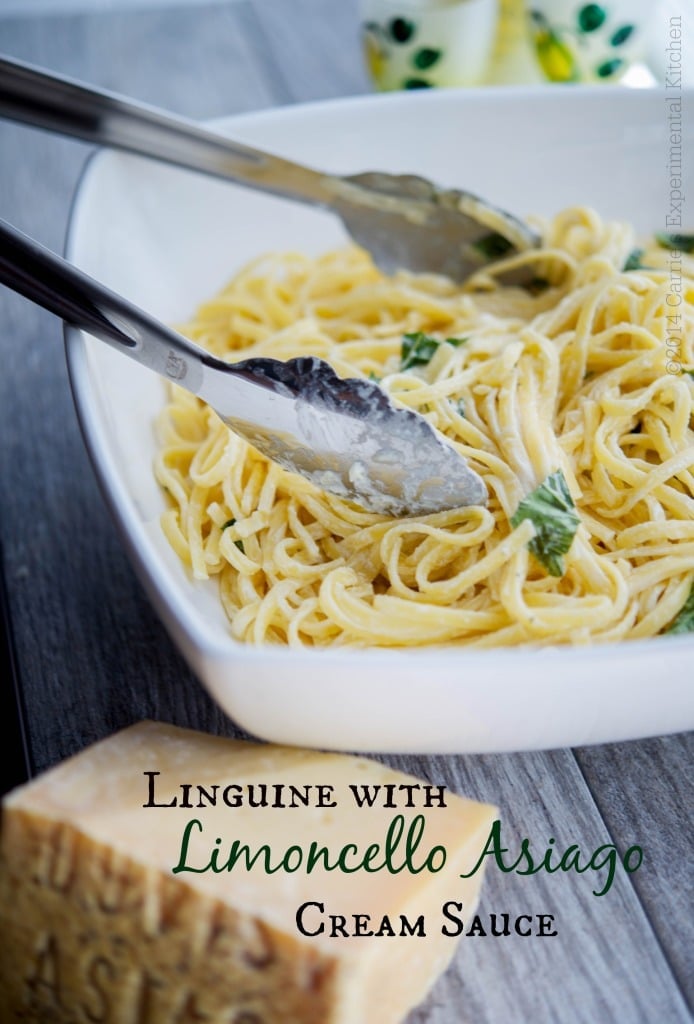 When I was contacted a few months ago by the Asiago Cheese Consortium to sample some of their Authentic Asiago Cheese PDO I was thrilled. If you've been following my blog for a while, you would know that I use Asiago cheese in my recipes quite frequently and I couldn't wait to get my sample to make something fabulous with it.
I came home one day and found four very large boxes sitting by my front door. I opened them up and found wheels of cheese. Yes, not pieces... 30 lb. and 18 lb. wheels of cheese! I notified my contact right away and he told me it must have been an error, but that I could keep the cheese.
Since the Consortium was so generous, I felt it fitting that I at least make the most of their gift and am going to be sharing five new Asiago cheese recipes this week, starting with this Linguine with Limoncello Asiago Cream Sauce.
Don't worry about the excess cheese, it didn't go to waste. I donated most of it to my local food pantry to help out some local families. I just love paying it forward!
I'll get to this new pasta recipe in a second, but first, let me explain a little bit about the history of asiago cheese, what the Consortium does and what Authentic Asiago Cheese PDO means.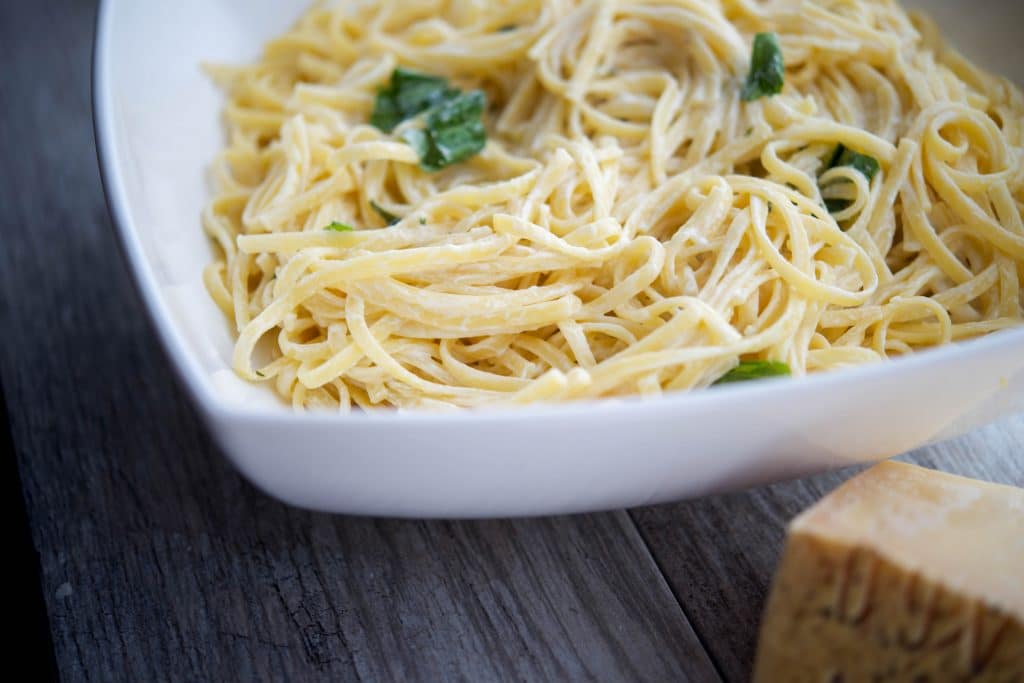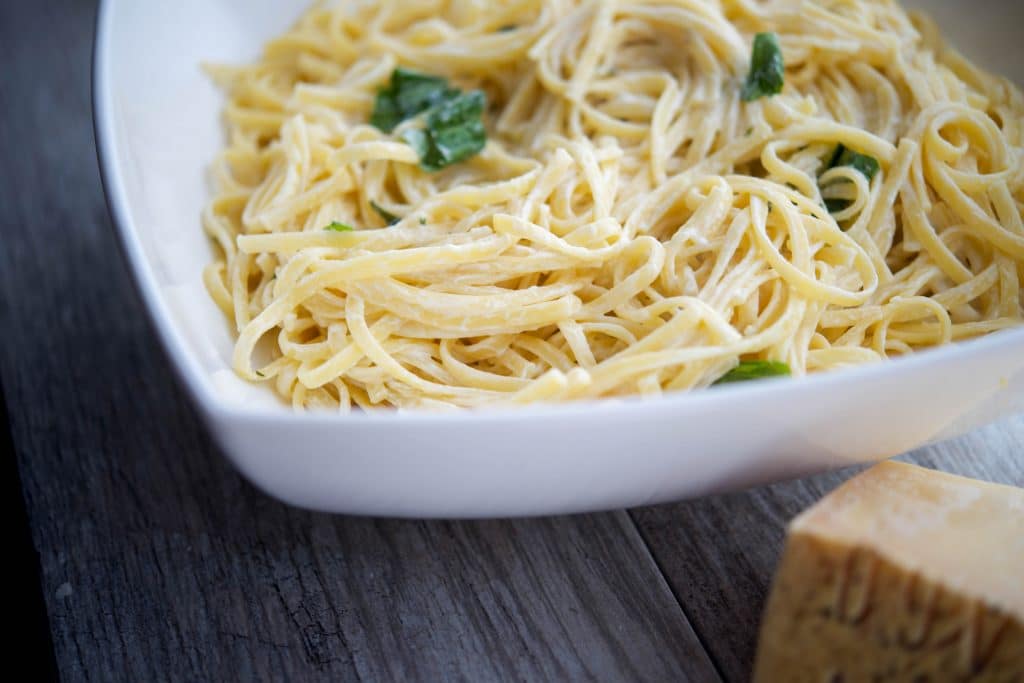 What is the History of Asiago Cheese?
In the Asiago Plateau of Italy, from which Asiago cheese takes its name, a tasty cheese has been produced ever since the year 1000. Initially sheep's milk was used, but from the 1500s, with the gradual increase of cattle farming on the plateau, cow's milk became the raw material used.
The cheese making technique developed, and, during the early seventeenth century, production expanded into the neighboring areas of the Asiago Plateau: the foothills, the surrounding plains and the nearby Alpine huts of Trentino.
The oldest version of Asiago, most faithful to the traditions of the plateau's cheese makers and with the fullest, most intense flavor, is the Seasoned cheese.
In the early twentieth century, Fresh Asiago was born from the traditions of the DOP region combined with innovative cheese making technology. The flavor of this cheese, sweet and mild, has led to its international popularity.
What is the Asiago Cheese Consortium?
The Consortium for the Protection of Asiago Cheese is an association composed of dairy producers, cheese makers and seasoners. It is tasked with protection, promotion, development and consumer information with regard to Asiago DOP cheese.
Specifically, the Consortium:
Monitors the product, from incoming raw material through production in dairies to packaging, labelling and sale, verifying compliance with the rules of production.
Promotes the brand, denomination and product of Asiago cheese in Italy and abroad.
Spreads knowledge and accurate information about the specific nature of this great DOP production, an important heritage for Italy's agricultural and food industry.
Safeguards the denomination from improper or illegal use, in Italy and abroad.
Every wheel of Asiago DOP cheese is therefore guaranteed to be in total compliance with the Production Rules and the traceability of its production process is guaranteed by the Consortium itself. See more: Asiago Cheese Consortium
What is Asiago Cheese PDO?
Protected Destination of Origin status (DOP in Italian, standing for Denominazione di Origine Protetta) is the best guarantee of excellence in a European agri-food product.
In the case of Asiago cheese, this indicates that the product's qualities come principally from the geographical environment in which it is made, including natural and human factors, and that its production, processing and preparation take place exclusively in the area of origin.
This means that only cheese which is produced, matured, packaged and distributed in compliance with the Asiago DOP Cheese Production Regulations is "Asiago Cheese". All the rest is just "cheese". See more: Asiago Cheese DOP Mark
What are the different Types of Asiago cheese?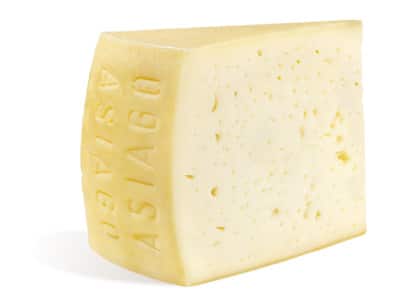 Fresh Asiago is a cheese with a young flavor and a taste of milk fresh from the cow, melting in the mouth to release sweet and slightly sour notes.
The cheese's digestibility and palatability, and the presence of live lactic ferments, are qualities appreciated by nutritionists who recommend Fresh Asiago for a good, healthy diet.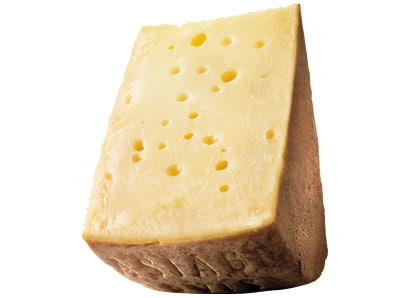 Aged Asiago is a flavorful cheese with a strong personality. It should be chewed slowly until its aromatic notes explode in the mouth. It can be "Mezzano" (medium seasoned), "Vecchio" (mature) or "Stravecchio" (extra mature) depending on the seasoning.
Aged Asiago is a product much appreciated for its uniqueness and its flavor, whose strong personality differentiates it from any other seasoned cheese. It can contribute up to 50% of daily protein requirements, with a protein content of high nutritional value.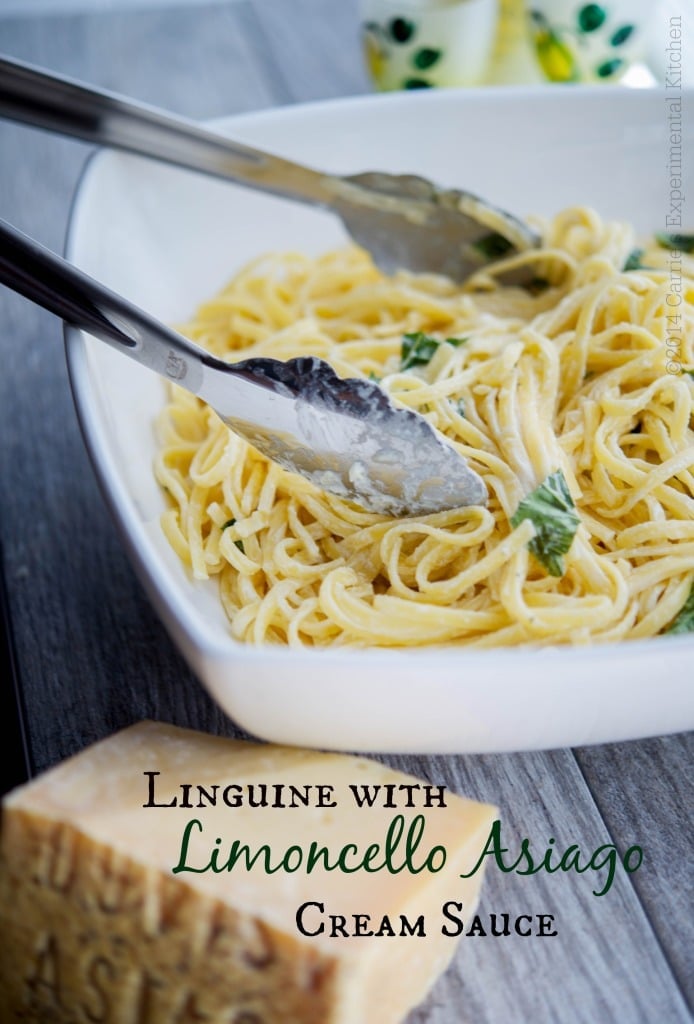 Alright, I can't hold back the suspense any longer and HAVE to share this recipe for Linguine with Limoncello Asiago Cream Sauce with you!
When I was deciding on what new recipes I would create using the Asiago Cheese PDO, my first thought went right to pasta. I mean really, who doesn't love a good pasta dish?!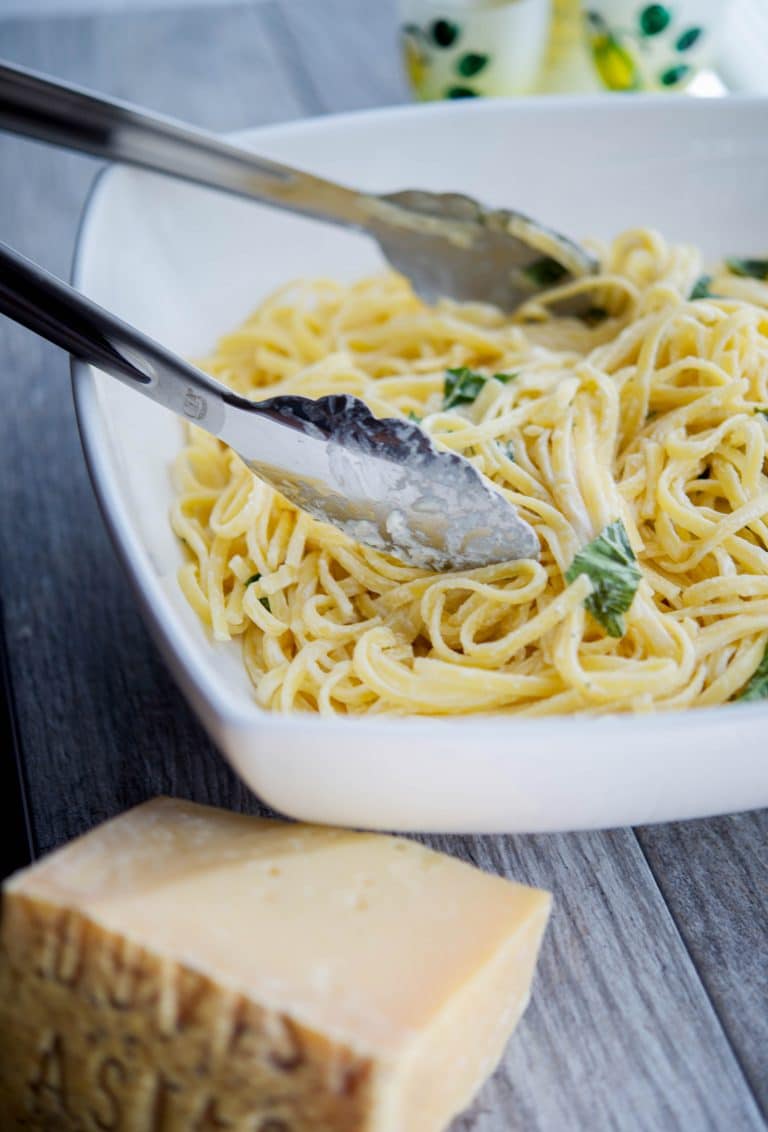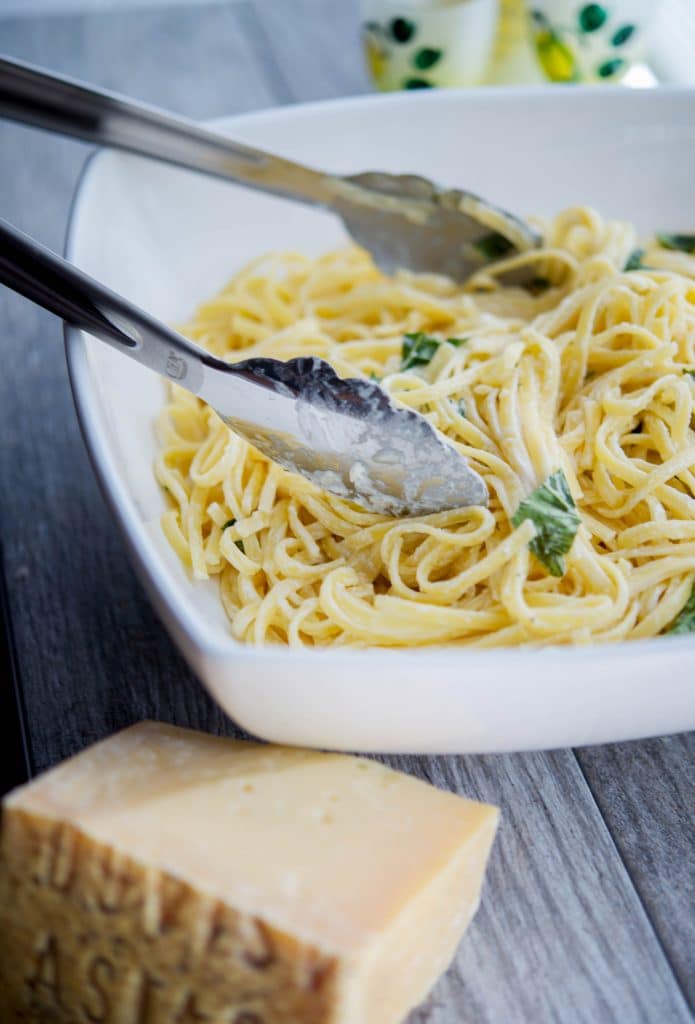 I opted to use the Fresh Asiago for this dish and combine it with another familiar Italian flavor, Limoncello; which is a lemon liquor made in Italy. The flavor of lemon paired with fresh basil and the sweet, creamy flavor of the fresh Asiago was wonderful!
The entire meal only took 30 minutes to make and can be served as a main entree or used as a side dish. I also used half and half instead of heavy cream as I didn't want the sauce to be too heavy.
This Linguine with Limoncello Asiago Cream Sauce transported me back to our trip to Italy we took a few summers ago and really made me want to visit again. It's amazing how food can make you nostalgic and put you in a completely different state of mind. ~Enjoy!
Sign up for my weekly newsletter
and receive
a FREE eBook!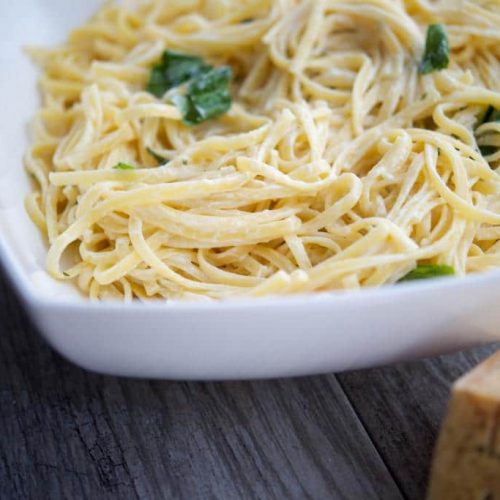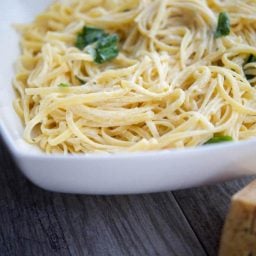 Linguine with Limoncello Asiago Cream Sauce
Linguine tossed with a light and lemony Limoncello Asiago Cream Sauce makes the perfect, quick and delicious weeknight meal.
Ingredients
1

lb.

Linguine

2

c.

Half and Half

2

tbsp.

Butter

2

Cloves

Garlic, minced

¼

c.

All Purpose Flour

¼

c.

Limoncello Liquor (or lemon juice for a nonalcoholic version)

6

oz.

Fresh Asiago Cheese

¼

c.

Fresh Basil, torn into smaller pieces

Kosher Salt & Black Pepper, to taste
Instructions
Cook pasta according to package directions; drain.

While the pasta is cooking, heat the half and half in a small saucepan over medium heat. Remove from heat and set aside.

Melt the butter in a medium saucepan over medium heat, add the garlic and saute for 1 minute.

Add the flour forming a roux; then whisk in the Limoncello and warmed half and half until it's smooth.

Next, add the cheese, reduce heat to low and stir until the cheese is melted; set aside.

Pour the sauce over the cooked pasta, add the basil and season with salt and pepper. Mix well.
Visit the

recipe index

to search for more recipes by category.

Related Recipes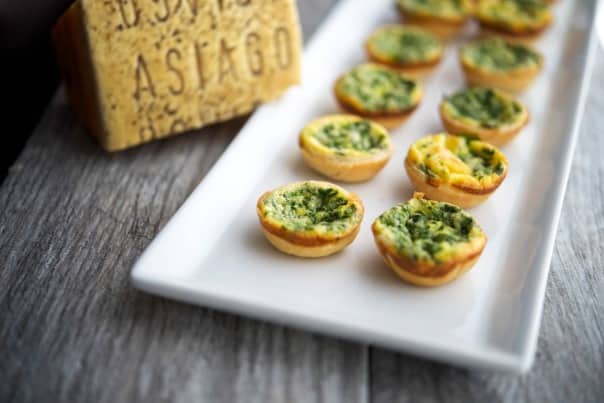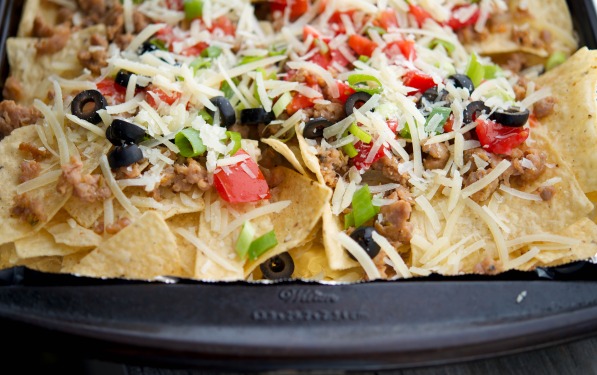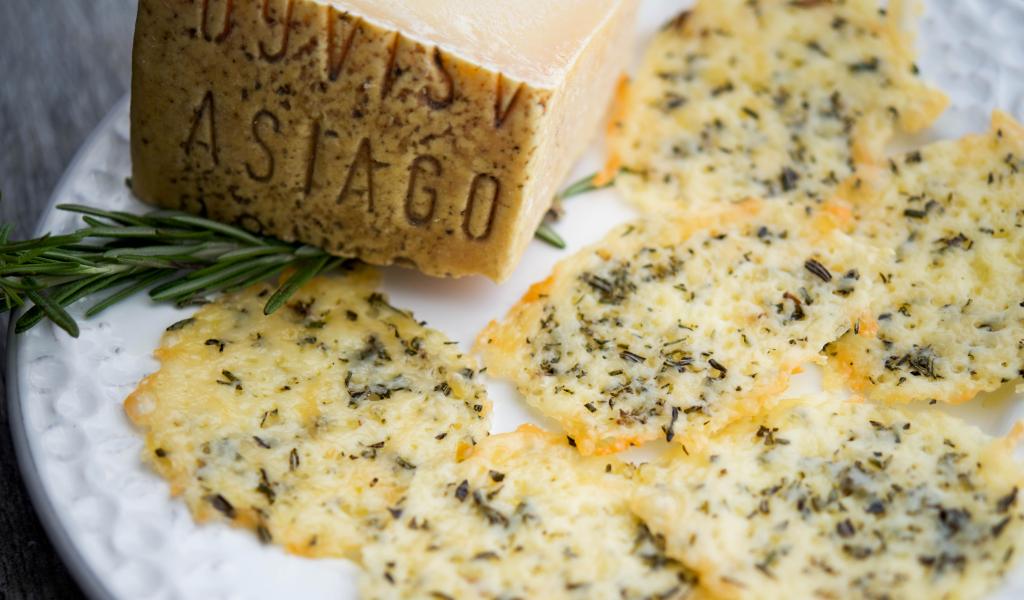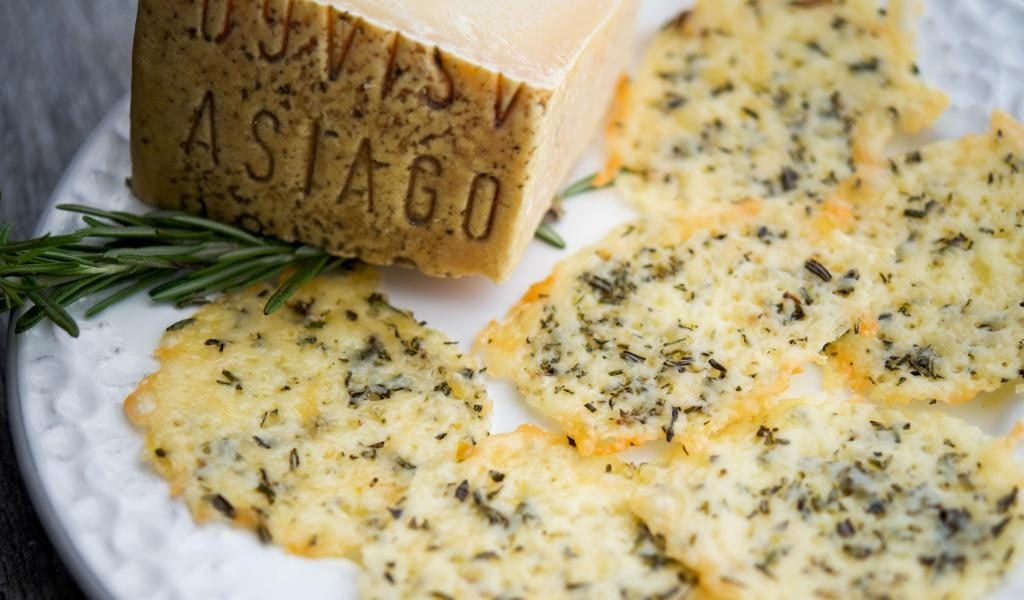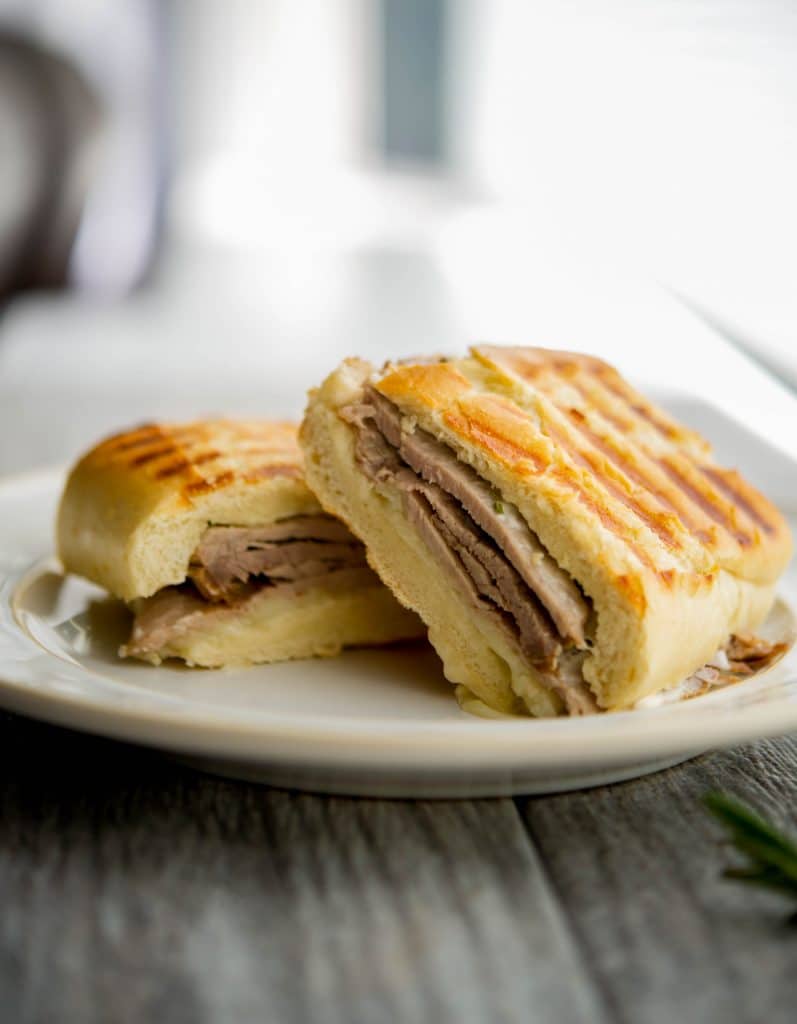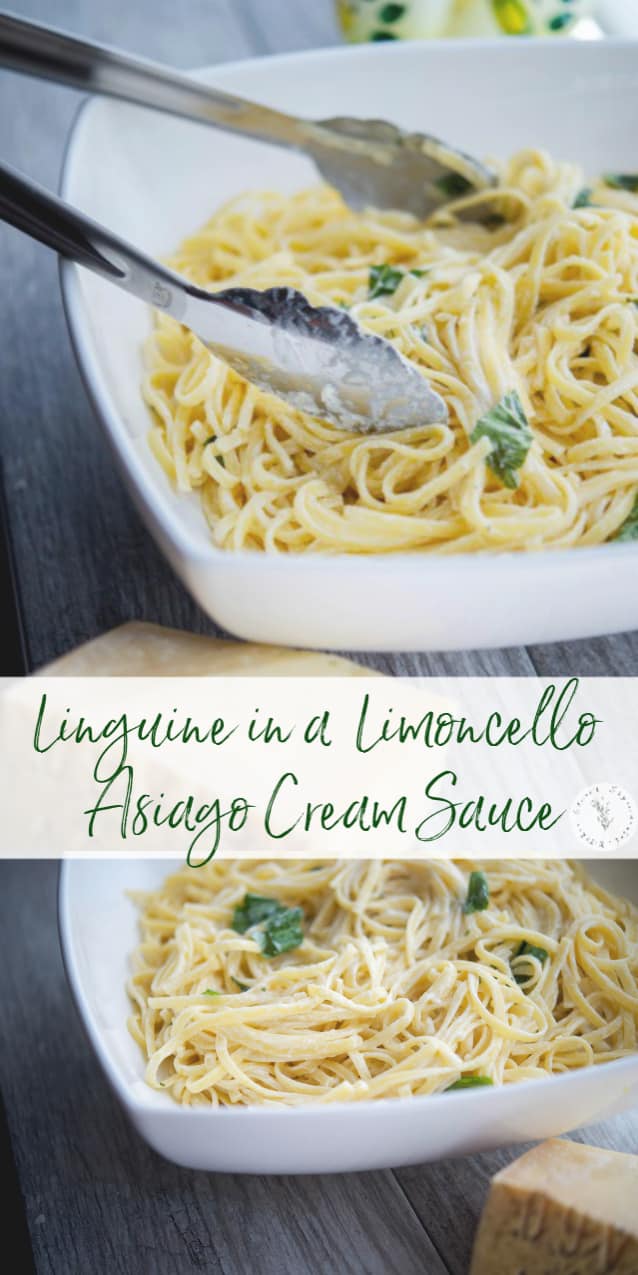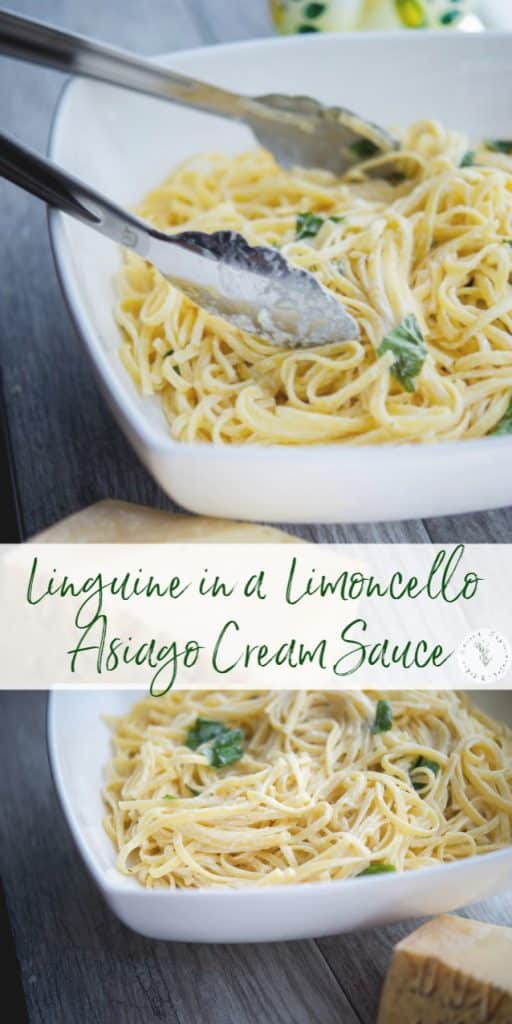 Connect with me on Social Media