Homemade Limoncello, a lemon flavored liquor, is easy to make at home; though does require a bit of resting time. It also makes a nice hostess gift during the holidays.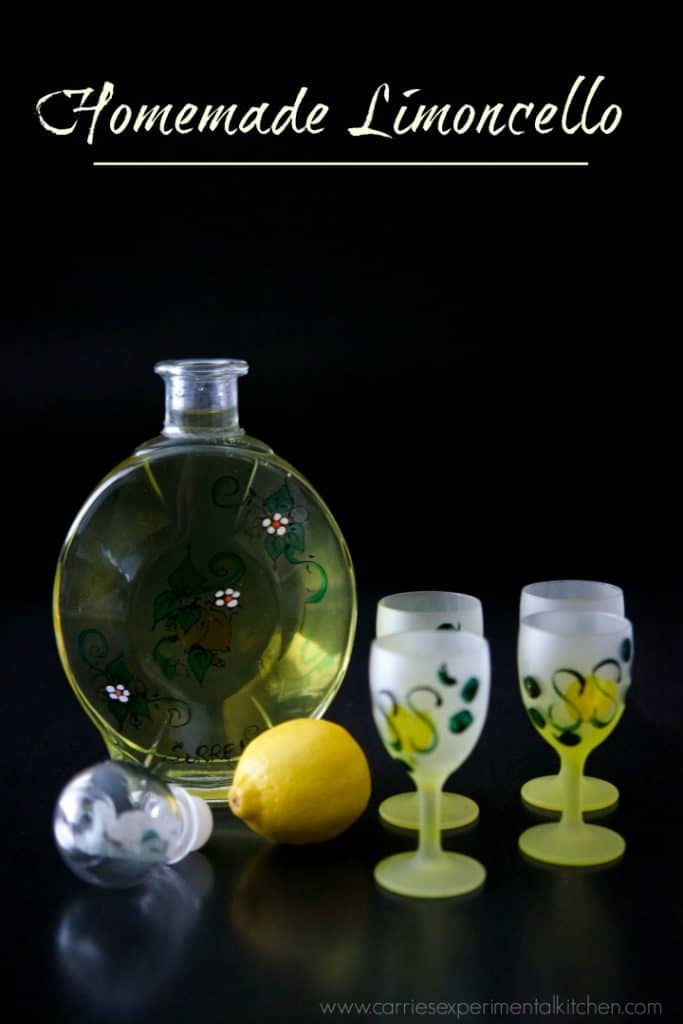 As I mentioned a few months ago, we visited a farm in Sorrento, Italy this past summer where they made their own mozzarella. Not only did they make their own cheese, but they also made their own Limoncello. In fact, according to my husband, it was the best he's ever tasted. So we brought home two bottles of it and now…it's gone.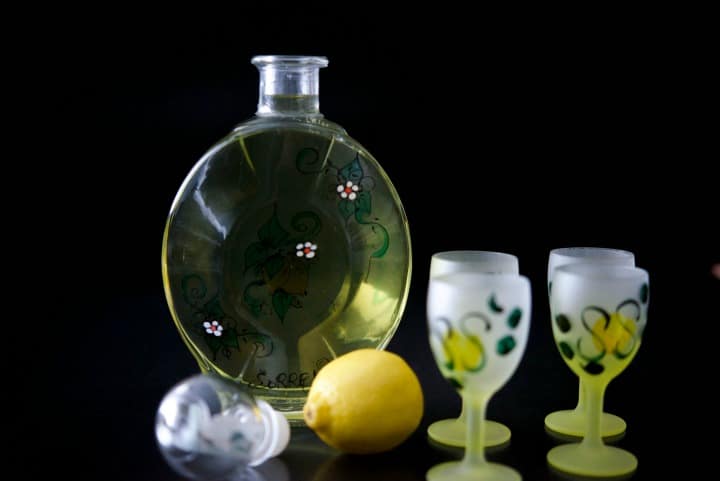 Since our trip, I purchased three different kinds of limoncello at our local liquor store and even though they were all made in Sorrento, none of them tasted like the kind we bought from La Sorgente Farm. I even tried to see if they had a website, but apparently, we're not alone. I found out through some comments on Trip Advisor that they don't publicize their products to keep demand low. I guess shipping some to NJ would be out of the question. So, I did the next best thing…I made some myself!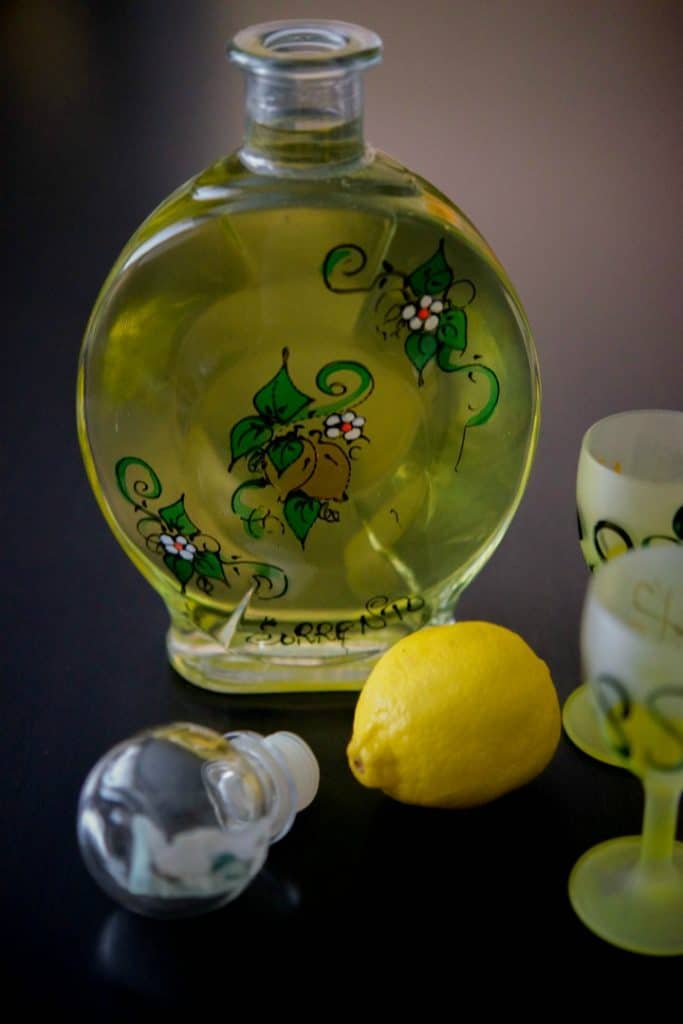 I did a little research online and they all called for the same 4 ingredients though some used Everclear instead of vodka. This is REALLY easy to make but you have to be patient because it needs some time to ferment. The end product was a hit and even better when you keep it in the freezer.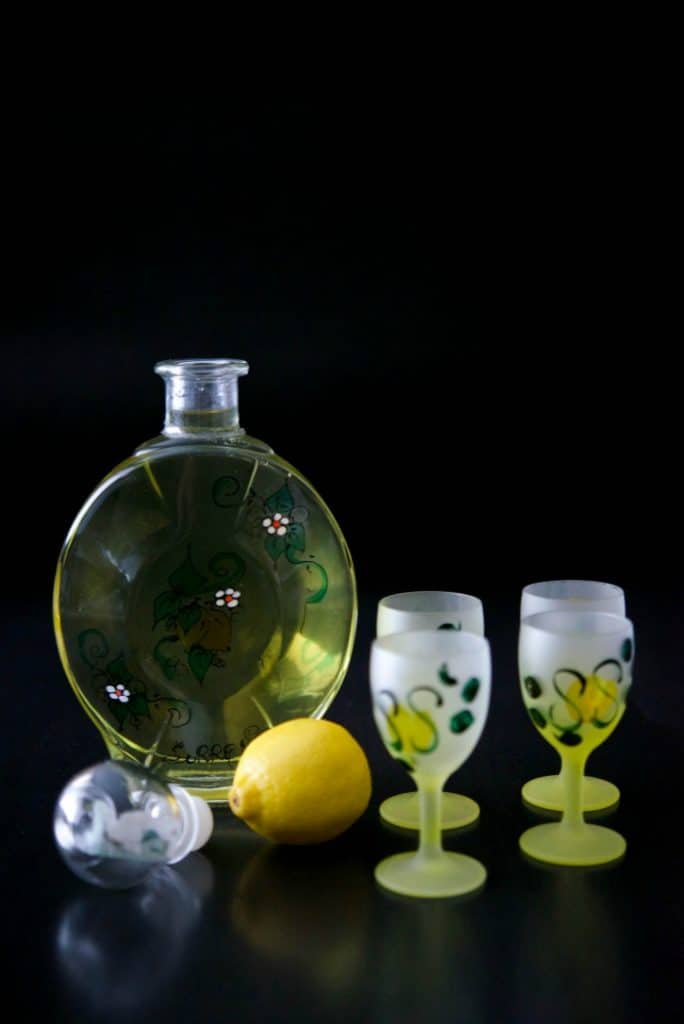 Now I can cook with as much Limoncello as I want (YEAH!) because I can just make more! BTW, if you haven't followed me for a while, I LOVE to cook with Limoncello. Some of my favorite recipes include Linguine with Limoncello Asiago Cream Sauce, No Bake Limoncello Pie, and this one we really like in the warm Summer months.
Homemade Limoncello makes a great hostess gift around the holidays.
Click To Tweet
Homemade Limoncello would also make a nice, unique gift for that special someone on your list who has everything during the holidays. I saved my bottle from Sorrento; however, you can find decorative cork bottles on
Amazon
or in your local craft store. If you like to make your own DIY gifts, visit the
Holiday Baking and Gifts
category, but if DIY cocktails are your thing, check out how to make your own
Bailey's Irish Cream
and
Kahlua
!

Stay up to date on all of my latest recipe experiments by signing up for my weekly newsletter!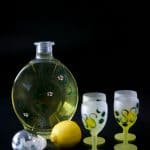 Homemade Limoncello
Homemade limoncello, a lemon flavored liquor, is easy to make at home; though does require a bit of resting time. It also makes a nice hostess gift during the holidays.
Ingredients
2

c.

Grain Alcohol or Good Quality Vodka

2

Lemons, zest only

1 1/4

c

. Water

1

c

. Granulated Sugar
Instructions
In a glass bottle or jar that can be sealed airtight, add 1 cup of the grain alcohol or vodka and the lemon zest. Seal the bottle/jar and let sit for 7 days.

On the seventh day, make the simple syrup. In a small saucepan, add the water and sugar. Whisk together until all of the sugar has dissolved. Remove from heat and let cool. Once cooled, add the syrup to the alcohol and lemon mixture and add the remaining 1 cup of alcohol . Seal the bottle/jar once again and let it sit for another 5 days.

Strain out the lemon zest with a small strainer or cheesecloth. Add the mixture to a decorative bottle.
Recipe Notes
Allow 12 days from start to finish to make this limoncello. Best when served chilled.
This post includes links to my affiliate account at 
Amazon.com
 where Carrie's Experimental Kitchen earns a few cents on the dollar when readers like yourself purchase the items I recommend. Thank you for supporting Carrie's Experimental Kitchen when you shop at Amazon!