See, you had to know this was coming after I made the Oven Dried Sun Dried Tomatoes didn't you? 🙂  I just love the flavor of them mixed with basil and of course, mushrooms…I tend to use mushrooms in everything! This meatloaf was so delicious and flavorful. I've said it before, but I really prefer to use the 99% Fat Free Ground Turkey. It is much lighter in color and doesn't have that "gamey" taste like the 93% sometimes does. This meatloaf was so good and full of flavor.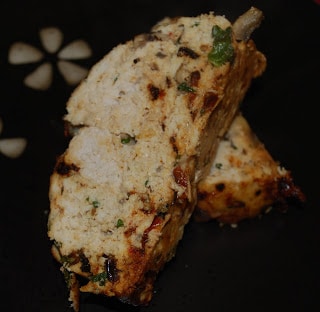 Sun Dried Tomato Turkey Meatloaf
1 lb. 99% Fat Free Ground Turkey
4 White Mushrooms, sliced
1 tbsp. Red Onion, minced
1 Clove Garlic, minced
1 tbsp. Extra Virgin Olive Oil
1/4 c. Sun Dried Tomatoes(in oil), chopped
(I used the homemade version but store bought is also fine)
2 tbsp. Fresh Basil, chopped
1/4 c. Pecorino Romano Cheese, grated
In a small frying pan, heat oil and add mushrooms, onion and garlic. Sauté for a few minutes until the mushrooms soften. Remove from heat and let cool slightly. In a bowl, add your turkey basil, cheese and mushroom mixture. Mix well until all ingredients have been incorporated.  Form into a rectangular shape, place in an oven safe dish and bake 350°F for approximately 1 hour or until internal temperature of 170°F. Serves 6.
Nutrition Facts per Serving
Calories 140, Carbs 2.7g, Fat 5.7g, Protein 19.4g, Fiber .8g, Sugar 1.5g
*Calculations based on ingredients entered into Calorie Count and may not be 100% accurate.
Enjoy!