Baked Chicken Tzatziki Meatballs made with ground chicken, Greek yogurt, cucumbers, garlic, mint, and dill are a deliciously healthy dinner alternative.
Click Here to Pin this Recipe for Later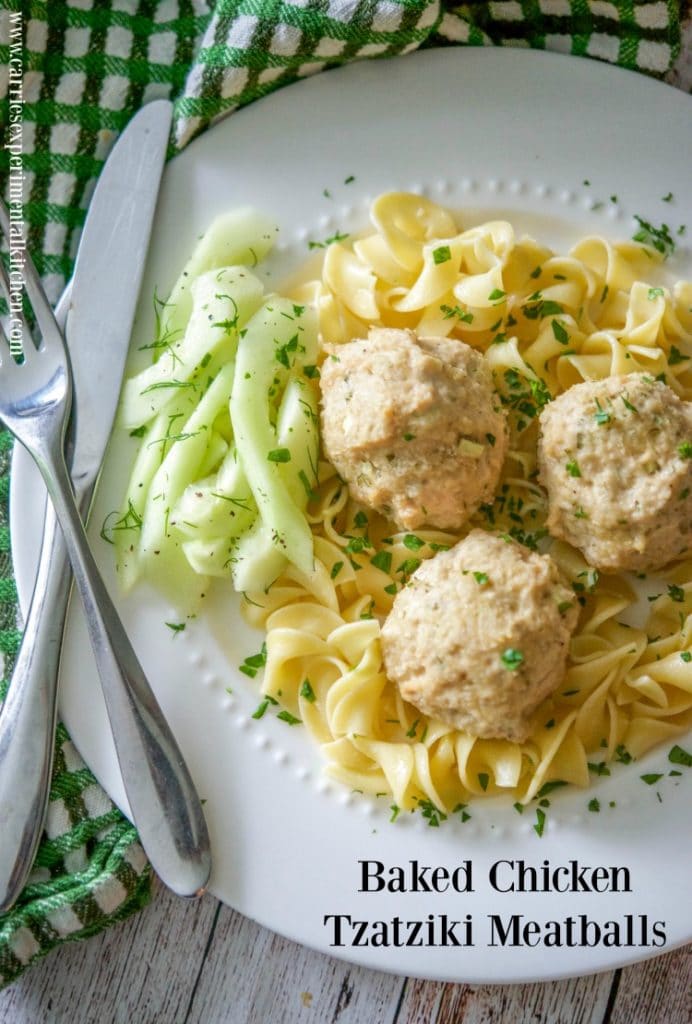 I have been focusing on eating healthier and exercising more frequently over the last several weeks so I've been trying to come up with tasty new recipes that don't break the bank with unwanted extra calories and these Baked Chicken Tzatziki Meatballs are one of my favorite recipes so far.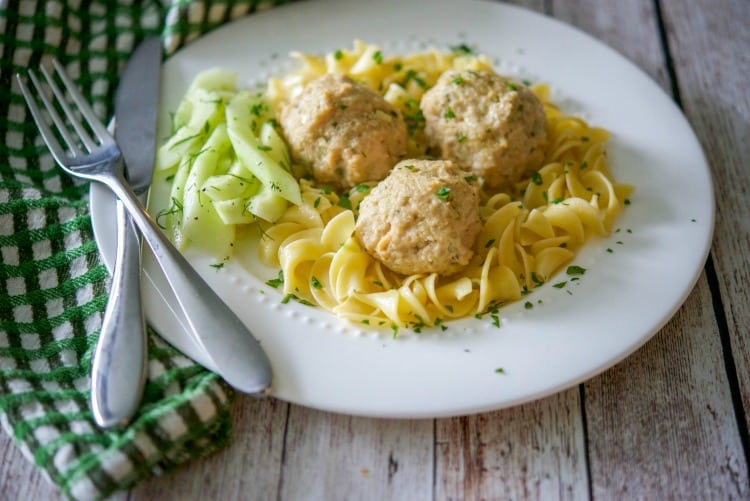 I have a long way to go, but in the three weeks I've been doing this, I've managed to lost 13 lbs. When I first started, I decided that I didn't want to be a slave to a specific "diet". Instead, I enlisted the help of my physician who prescribed me medication to take once a day that prohibits me from feeling hungry. Since I was a good candidate due to my weight and medical issues and going for any type of gastric surgery in the future is not an option for me, this seems to be the right choice for me. Slow and steady wins the race right?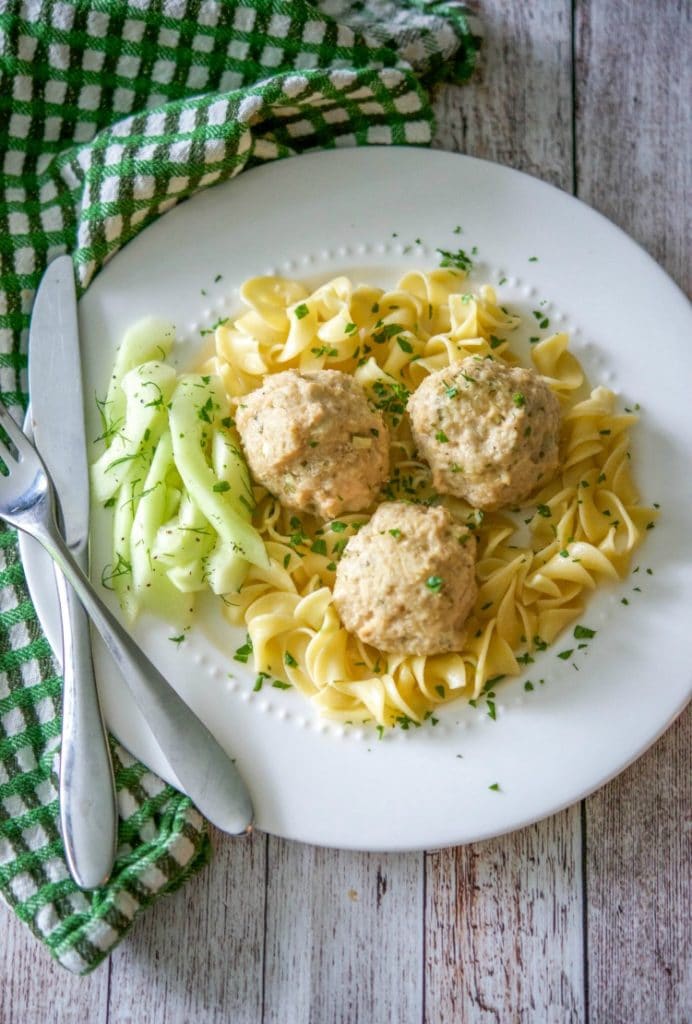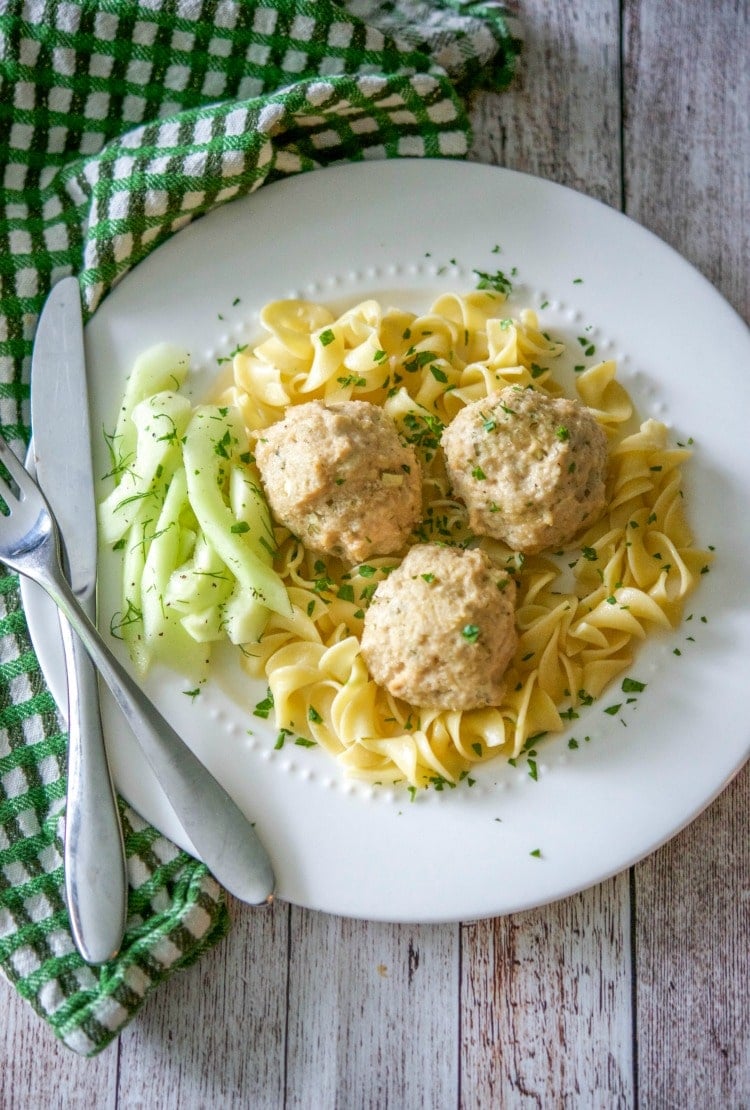 I try to stick to a 1200 calorie diet by keeping track on the free app My Fitness Pal and eat mostly protein, fruits and vegetables. I swapped out white bread for rye, have reduced most carbohydrates and fats and have cut down on the consumption of red wine; which I try to save for the weekend. Whatever I consume, I track everything. For exercise I walk 2-3 miles either on our high school track, around my neighborhood or on the treadmill about 4-5 times per week; which usually takes about an hour. When I do exercise, I don't add those calories back onto my daily calorie quota; it's like getting bonus points. I'll keep you updated on my progress, but for now let's get back to these meatballs.
Baked Chicken Tzatziki Meatballs
Click To Tweet
For these meatballs, I added all of the flavors I love in a traditional Greek tzatziki sauce and added it to ground chicken. To start, combine the chicken (or turkey), Greek yogurt ( I prefer to use Fage Total 0% because it's so thick and creamy), cucumbers, mint, dill, garlic, extra virgin olive oil and Panko breadcrumbs in a bowl and mix well. Form the mixture into meatballs and place on a foil lined baking sheet. Spray with cooking spray (I prefer either Pam Olive Oil or Coconut Oil spray) and bake in a 350 degree oven for 30 minutes. I used 2 lbs. of ground chicken for this recipe and got 16 meatballs (approx. 2 1/2″ diameter).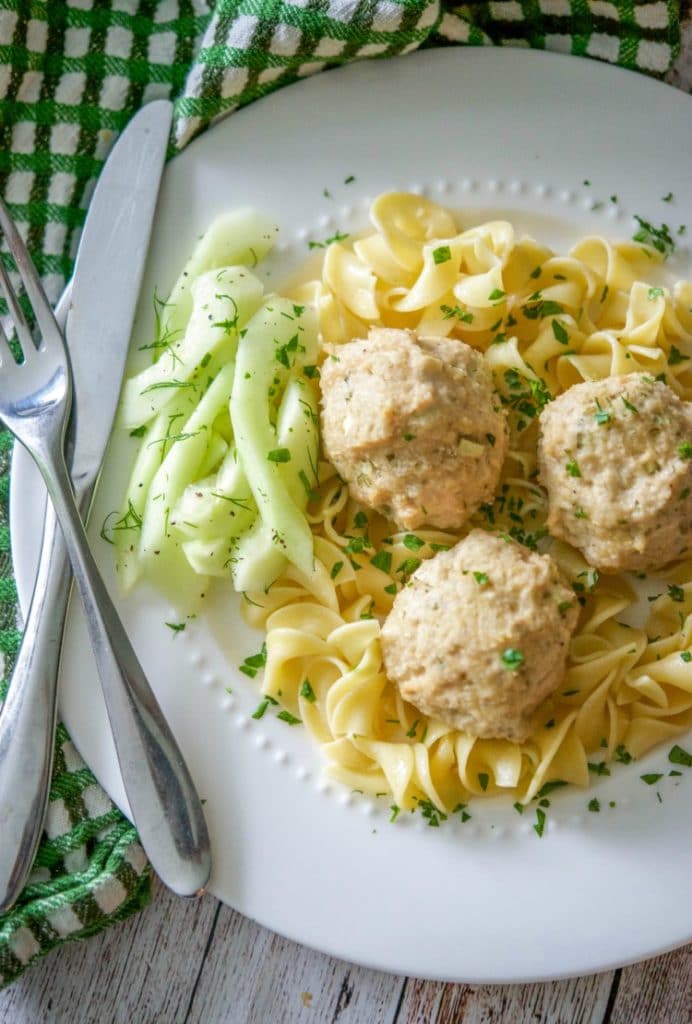 Not only are these Baked Chicken Tzatziki Meatballs simple and quick to make; they're also only 115 calories per meatball and taste amazing!  Serve them over egg noodles (which is how my daughter wanted them) or with a side of cucumber salad. ~Enjoy!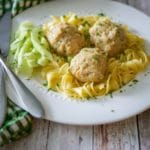 Baked Chicken Tzatziki Meatballs
Baked Chicken Tzatziki Meatballs made with ground chicken, Greek yogurt, cucumbers, garlic, mint, and dill are a deliciously healthy dinner alternative.
Ingredients
2

lb

. Ground Chicken

1/4

c

. Plain Greek Yogurt

(I used Fage Total 0%)

1/4

c

. Diced Cucumbers,

peeled and seeded

1

tsp

. Fresh Mint,

chopped

1

tsp

. Fresh Dill,

chopped

2

Cloves

Garlic,

minced

1/2

c

. Panko Breadcrumbs

1

tbsp

. Extra Virgin Olive Oil

Cooking Spray
Instructions
Preheat oven to 350 degrees F.

In a large bowl, combine all of the ingredients and mix well.

Form the mixture into 16 meatballs; approximately 2 1/2" in diameter and place on a baking sheet lined with aluminum foil.

Spray the top of the meatballs with cooking spray and bake for 30 minutes or until internal temperature is at least 165 degrees F.
Recipe Notes
You can also substitute lean ground turkey for the chicken. 
Nutrition Facts
Baked Chicken Tzatziki Meatballs
Amount Per Serving (1 g)
Calories 115
Calories from Fat 63
% Daily Value*
Total Fat 7g 11%
Cholesterol 43mg 14%
Sodium 91mg 4%
Total Carbohydrates 3g 1%
Protein 11g 22%
* Percent Daily Values are based on a 2000 calorie diet.

Here are some other uses for ground chicken:
If you want to stay up to date on all of my latest recipe experiments, sign up for my weekly newsletter or you can visit the recipe index and search for more recipes by categories. And don't forget to visit me on Facebook,Twitter,Pinterest and Instagram too!
This post includes links to my affiliate account at Amazon.com where Carrie's Experimental Kitchen earns a few cents on the dollar when readers purchase the items I recommend. Thank you for supporting Carrie's Experimental Kitchen when you shop at Amazon.