This healthy, fruit smoothie made with bananas, strawberries and peaches, help get you moving in the morning and is also perfect for an afternoon pick me up.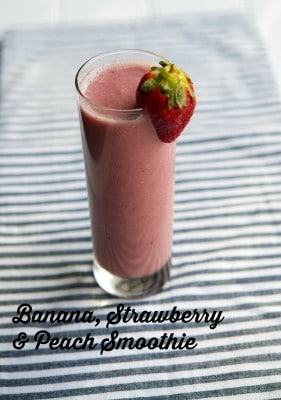 I've been drinking a lot of smoothies lately; however, they tend to be the same flavor combinations. Hence the reason why I haven't posted that many lately here on the blog. I'm a creature of habit in the morning and don't like to change up my breakfast offerings.
For the most part, I only eat three things for breakfast except for the weekly two eggs over medium with either toast or an english muffin.
Egg white omelet with fresh spinach and mushrooms
Oatmeal with honey
A smoothie
Like many of you, I'm just too darn busy in the morning to get everyone up and out of the house with breakfast and lunches in hand, let alone photograph a new recipe this time of day. However, I happened to make this Banana, Strawberry & Peach Smoothie using Vanilla Almond Milk and flaxseed meal during recently for a quick, healthy afternoon pick me up. It was delicious and quite filling!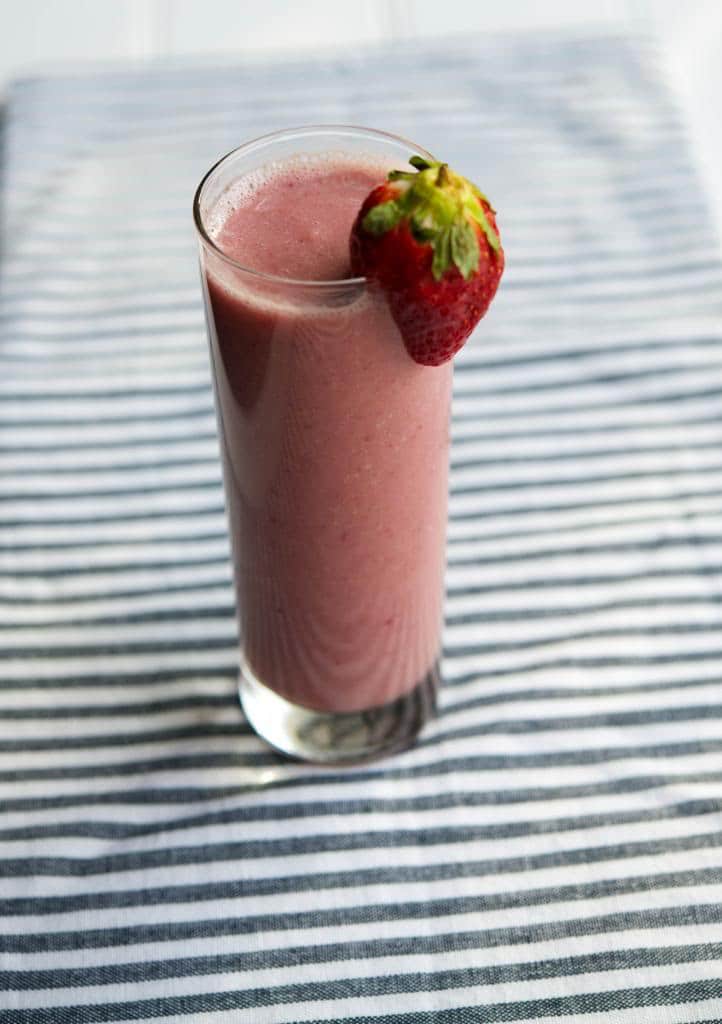 On another note, June is CRAZY BUSY for me as this is our last month of school here in NJ. Yes, us East Coast folk have school until June 25th due to our lovely winter! Couple that with the usual end of year school festivities with 6th grade promotion ceremonies, Spring concerts, Senior Prom, High School Graduation and party, and entertaining out of town guests will leave little time for blogging.
I'll try to share as many new recipes and post as much as I can this coming month, but hang in there. I have a FABULOUS giveaway in the works starting June 30th so STAY TUNED! ~Enjoy!
Sign up for my weekly newsletter to get
 the latest recipes and receive
 a FREE eBook!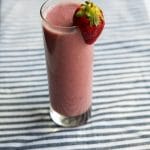 Banana, Strawberry & Peach Smoothie
*TIP: If you have fresh fruit (berries, bananas, peaches, etc) that may start to turn before you get a chance to eat them; rinse them off, remove any unwanted peels or skins and place in a resealable plastic bag in the freezer. They make great smoothie ingredients!
Ingredients
1/2

c

. Sliced Strawberries

3-4

1/2

Peach

or 4 slices frozen

1/2

Banana

1

c

. Unsweetened Vanilla Almond Milk

2

tbsp

. Flax Seed Meal

Ice

if desired
Instructions
Add all ingredients into your blender and pulse until smooth.
Recipe Notes
Calories 198, Fat 7.9g, Carbs 30.5g, Fiber 9.1g, Sugar 16.2g, Protein 5,6g, Points+=5
Connect with me on Social Media