Grilled Iceberg lettuce wedge salad topped with whole pecans and crumbled Goat cheese; then drizzled with a balsamic vinaigrette.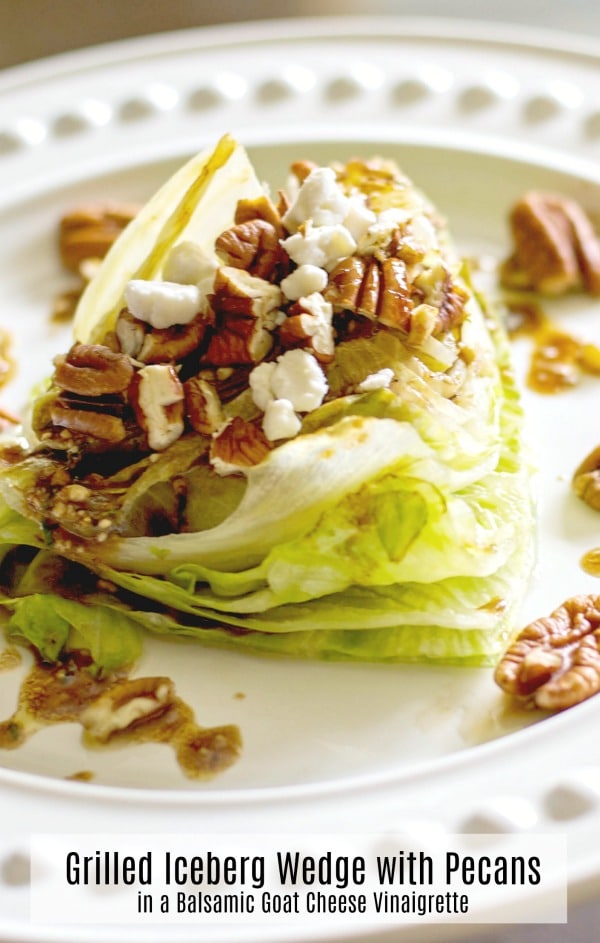 I can't remember the last time I ate Iceberg lettuce, but it used to be the only kind my mother purchased while we were growing up. Somewhere along the way, I started using Romaine as my go-to lettuce and will also use the mixed baby green variety.
So while I was out shopping recently, I decided to purchase a head of Iceberg lettuce and make this Grilled Iceberg Wedge with Pecans in a Balsamic Goat Cheese Vinaigrette.
What is the history of Lettuce?
Did you know that lettuce belongs to the sunflower family? Lettuce is a plant that grows year-round, is native to the Mediterranean area and is believed to have been first cultivated around 4500 BC.
Salad lettuce was popular with the ancient Greeks and Romans and primitive heads were loose and leafy.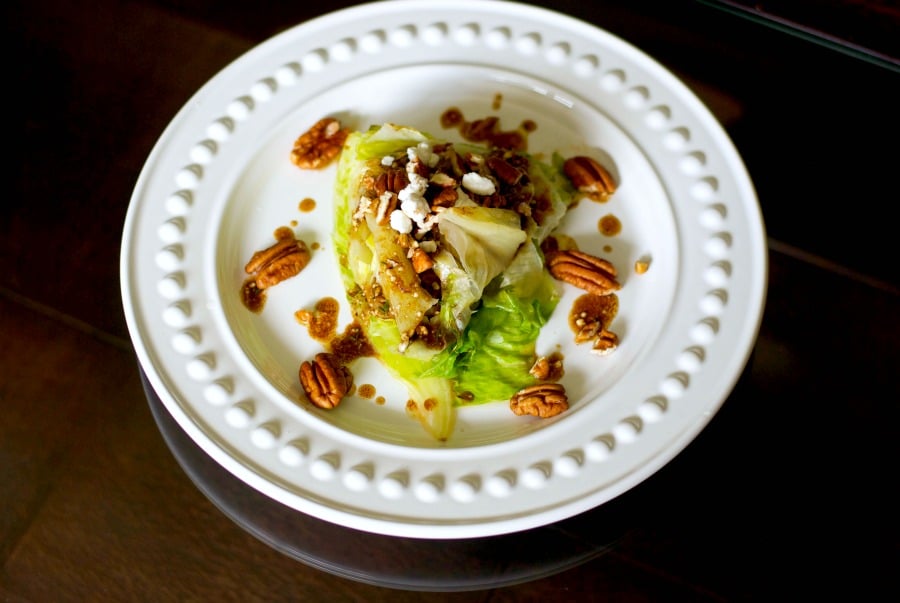 What are the different types of lettuce?
Today there are many different varieties which contain several nutrients such as Vitamin A and C and minerals like calcium and iron. The highest nutrients come in the darker green, outer leaves and all lettuce is low in calories.
Here are some favorite types of lettuce.
Arugula
Butterhead
Look for loose heads with wide leaves
Tastes delicate with a hint of sweetness
Iceberg
Look for large, compact heads of light green leaves
Has a mild flavor and pairs nicely with stronger flavors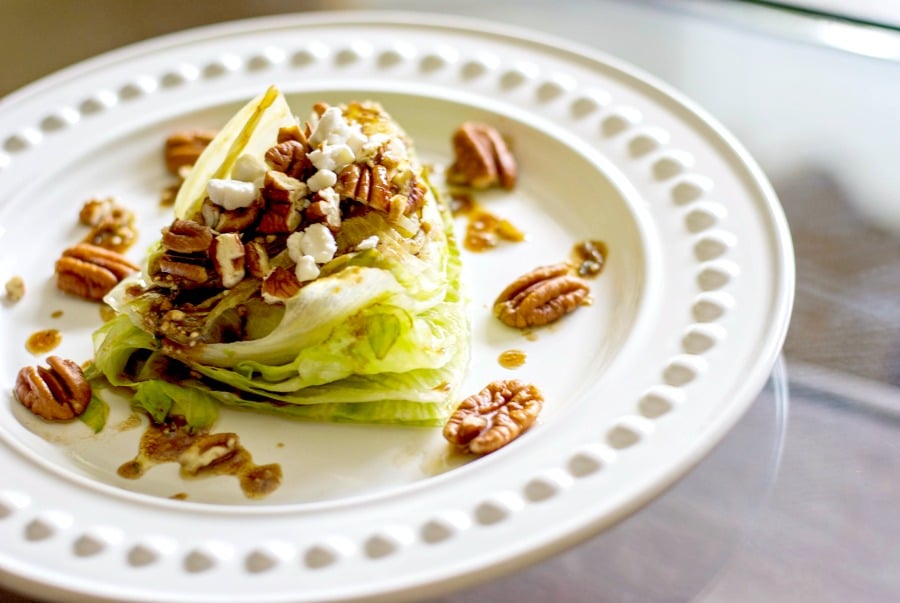 Leaf
Available in Red or Green leaf
Look for leaves that have curly edges and are loosely gathered around the stem
Has a crisp, mild nutty flavor
Can be used as a wrap with your favorite ingredients
Radicchio
Look for purplish leaves with white ribs on the small heads
Has a slightly bitter, crisp taste
You can grill or eat it raw and the sturdy leaves make a great substitution for a plate or bowl
Romaine
Look for large green outer leaves on a long head
This crunchy lettuce is mild and very versatile
Spinach
Look for flat, rounded dark green leaves with thin stems
Builds strong bones and better eyesight
Mild taste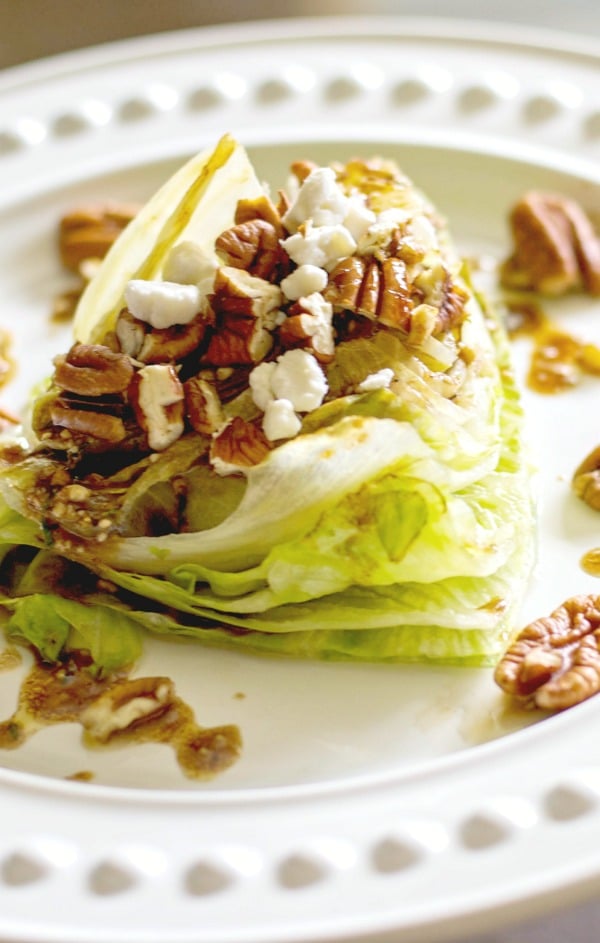 I have seen wedge salads on many menus over the years, but never tried them myself. So I came up with my own version for lunch one day by first quartering the head of lettuce, grilling it; then topping it with pecans and Balsamic Goat Cheese Vinaigrette.
It was deliciously filling and not only did it make a nice lunch, it would also make a lovely starter to a sit down meal. ~Enjoy!
Sign up for my weekly newsletter
and receive
a FREE eBook!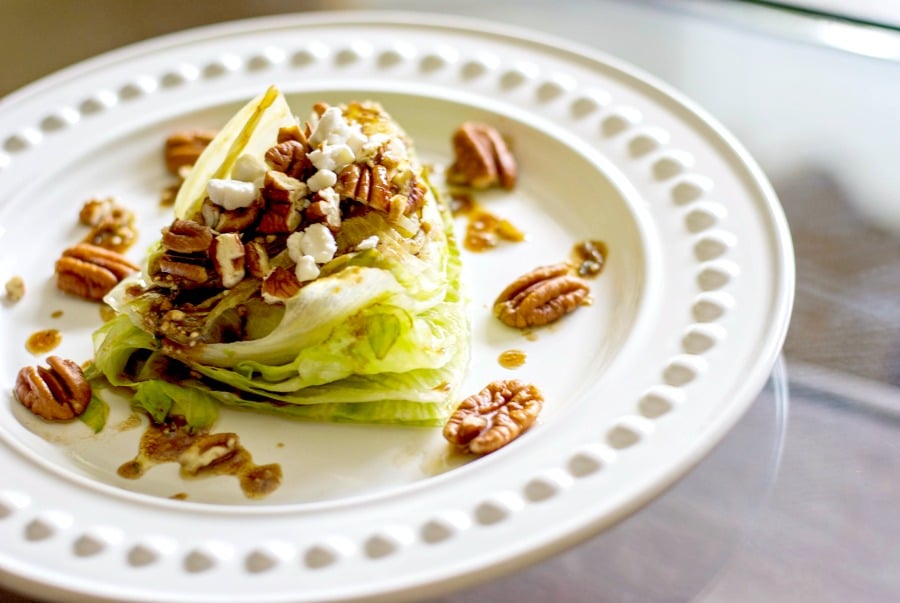 Ingredients
For the Salad
1

Head Iceberg Lettuce

1/4

c.

Pecans, whole

Prepared Balsamic Goat Cheese Vinaigrette
For the Balsamic Goat Cheese Vinaigrette
Instructions
For the Salad:
Remove the core from the lettuce by pounding the base on a flat surface; then pull out the core. Run cold water through the lettuce and allow to drain. Pat with paper towels to remove any excess moisture.

Cut the head of lettuce in half, then in half again. You should have four equal quarters.

Heat your grill (I used an indoor Cuisinart) and grill your lettuce approximately 4-5 minutes; until you have slight grill marks

Place the lettuce on a plate, drizzle about 1-2 tbsp. of dressing on top; then top with pecans.
For the Balsamic Goat Cheese Vinaigrette:
Add the vinegar, oil, garlic, thyme and goat cheese to a mini food chopper or blender and pulse until all ingredients are smooth. Season with salt and pepper.
Did you make this recipe?
Share a comment on the blog or mention @CarriesExpKtchn on Instagram!
Visit the

recipe index

to search for more recipes by category.

Related Recipes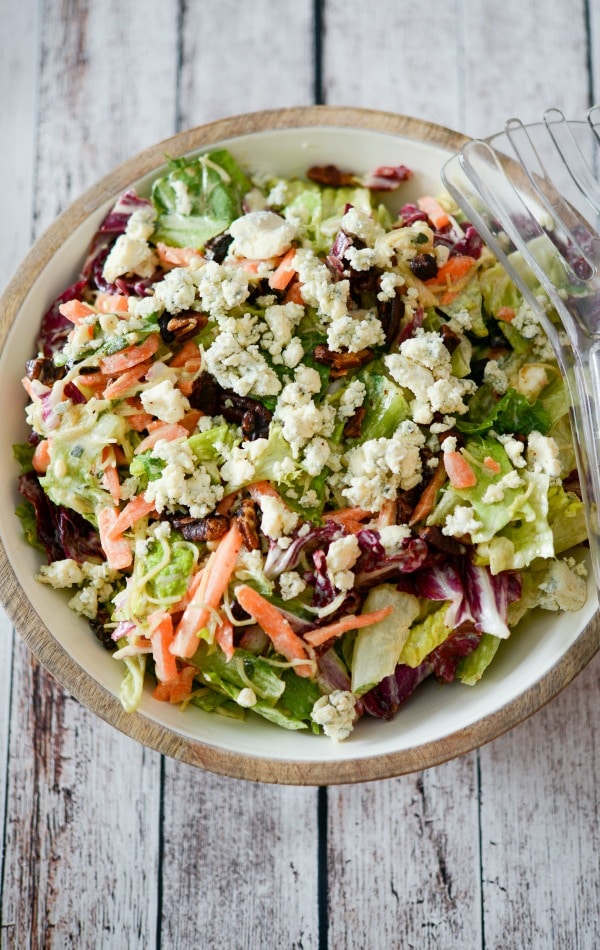 Bleu Cheese Pecan Chopped Salad (Outback Steakhouse Copycat)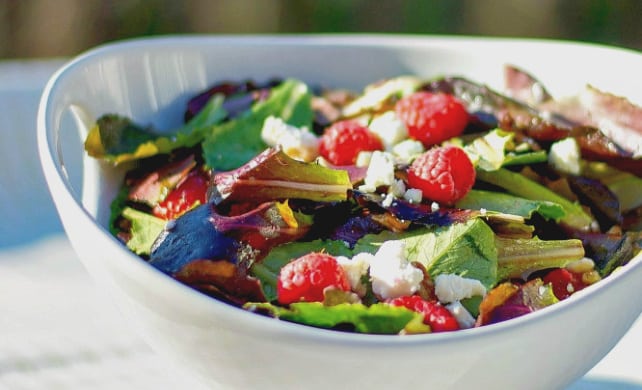 Mixed Greens in a Raspberry Vinaigrette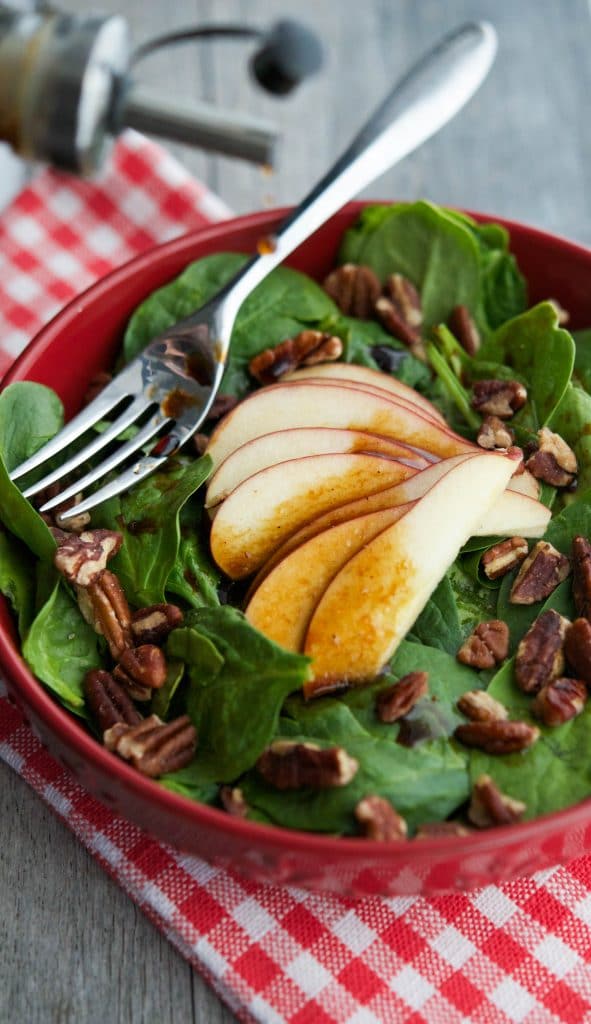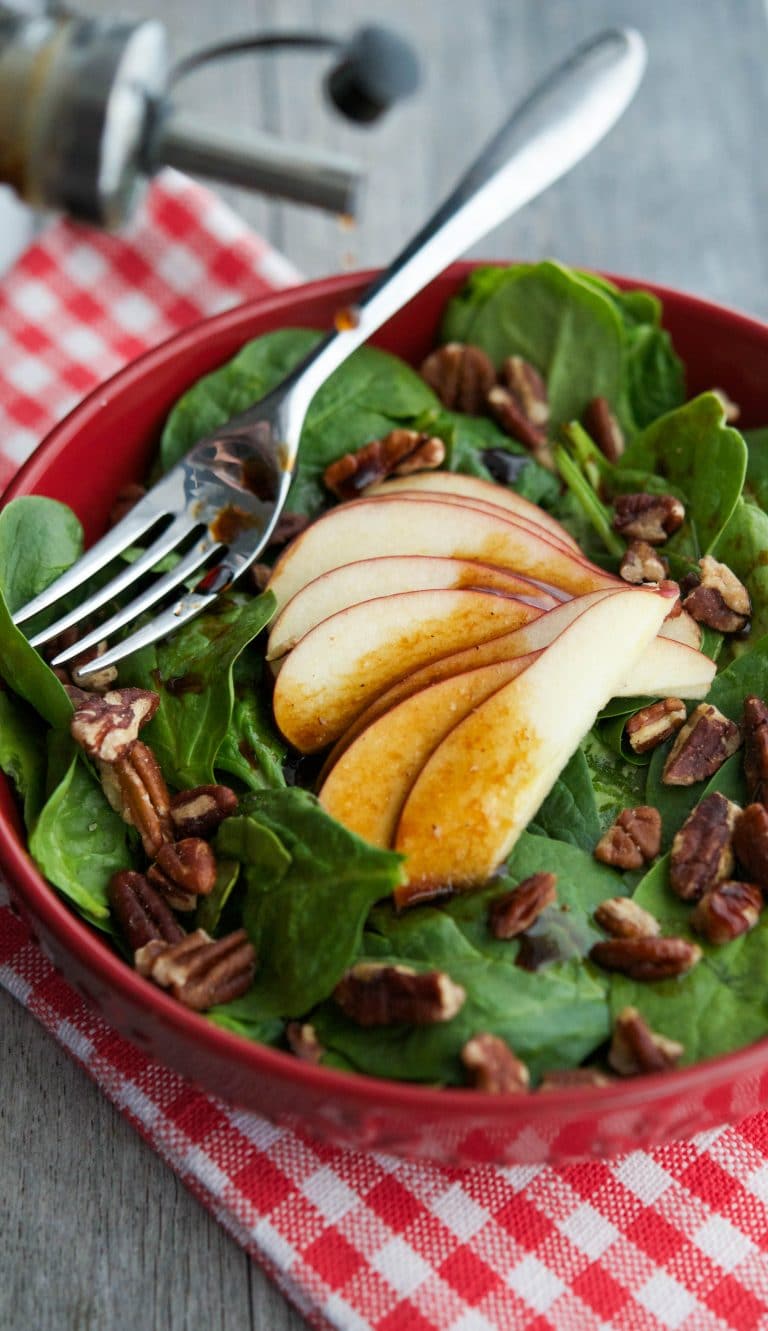 Spinach Salad with Apples and Pecans in an Apple Balsamic Vinaigrette