Can you tell the them of last week's menu items yet? Yes, it's lime and cilantro…again. I did, however, make this delicious cauliflower the same night I made the chicken thighs so this dish complemented my meal very well. I love roasting cauliflower, it gives it such a great flavor and for me, allows me to eat it as I won't any other way!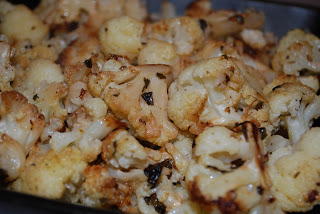 Lime & Cilantro Roasted Cauliflower
1 Large Head of Cauliflower, core removed and florets cut and rinsed under cold water
1 tbsp. Fresh Cilantro, chopped
1/2 Lime, zest and juice
1 tsp. Garlic Powder
3 tbsp. Canola Oil
1/4 tsp. Kosher Salt
1/4 tsp. Fresh Ground Black Pepper
Add all ingredients in to a bowl and mix well until all of the cauliflower has been coated. Place in a 9″x9″ baking dish and bake at 400°F for 45 minutes, turning occasionally. Serves 6.
Points+=3


Enjoy!