Roasted Fennel and Heirloom Tomato Panzanella Salad made with crusty Italian bread, roasted fennel and Heirloom tomatoes in a Balsamic Vinaigrette.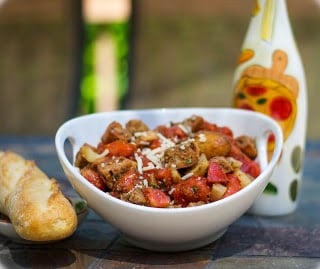 Did you ever go out to eat and have something several times over the years, but never thought to make it at home? Well, after the food bloggers conference last Friday, Lauren from Lauren Kelly Nutrition and Bia, from Rich and Sweet, and I headed out for some dinner at Supper in NYC.
We had originally planned to go to another restaurant but when we got there, there was a "B" sign in the window. Thanks to Bia, who lived and worked in the city for many years, for explaining the NYC Health Violation Codes to us and we went elsewhere.
Some food service establishments that require Health Department permits will receive and post letter grades that correspond to their sanitary inspection scores.
These establishments include most restaurants, coffee shops, bars, nightclubs, cafeterias, retail bakeries, and fixed-site food stands. This document uses the term "restaurants" to refer to all these establishments.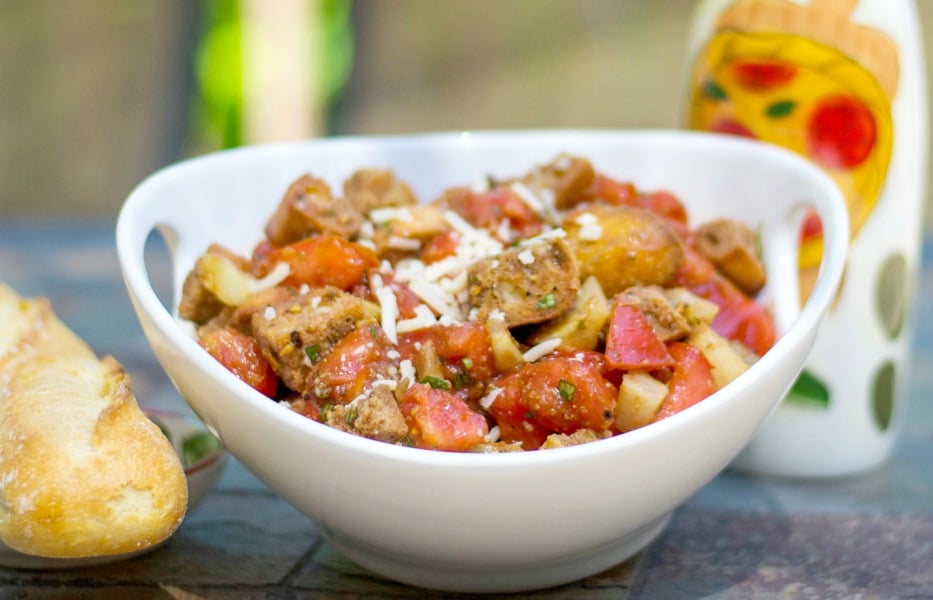 What does the NYC Restaurant Grading Mean?
Here is a more detailed explanation I found online on NYC Restaurant Grading and what the letters mean:
Grade A. 0 to 13 points for sanitary violations.
Grade B. 14 to 27 points for sanitary violations.
Grade C. 28 or more points for sanitary violations.
Grade Pending. A restaurant's B or C grade is not final until the restaurant has had the opportunity to go before the Office of Administrative Trials and Hearings Health Tribunal to contest the violations cited against it. Until then, the restaurant has the option to post either the preliminary grade or a card that says "Grade Pending."
Once the grade is final, the restaurant must immediately post the letter grade card and take down the Grade Pending card. that it was a health code sign and it probably wasn't very clean.
So the next time you head on into the city for dinner, look in the window first. I learn something new everyday! 🙂
What is Panzanella Salad?
We were still quite full from lunch so we opted for some wine and appetizers. One of the items we got was their version of Panzanella salad or Tuscan Bread Salad; which originated in the Florentine region of Italy.
It generally consists of soaked stale bread and chunks of tomatoes and is dressed with olive oil and vinegar and their version was delicious.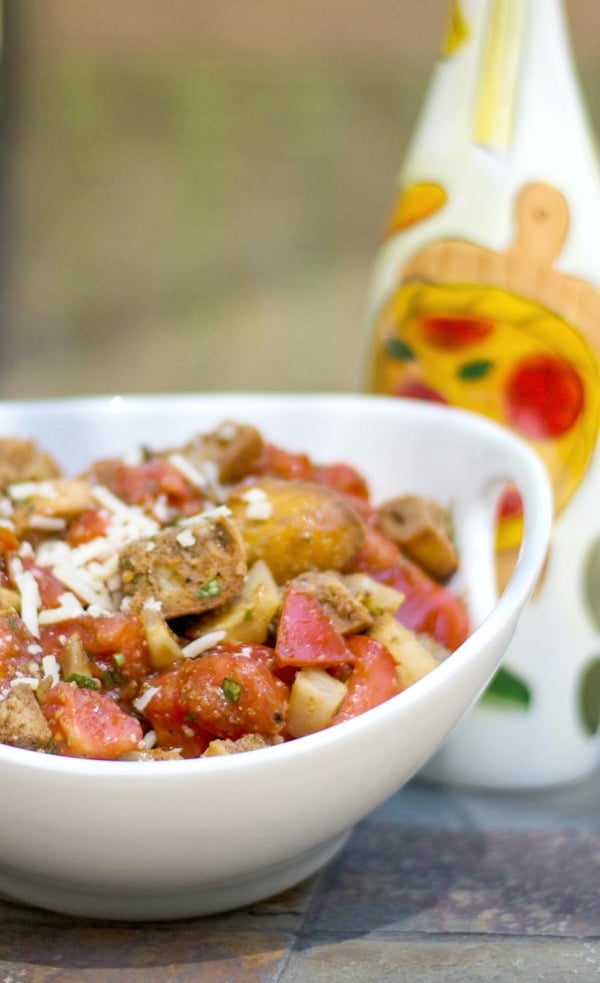 On Sunday, I was looking for something to make with a London broil I was going to be grilling and since it was a warm day, I wanted to make a salad to go with it. I had a Dove Chocolate Discoveries home party the night before and had an extra loaf of bread leftover.
I also had just purchased some beautifully ripe heirloom tomatoes (also known as "ugly" tomatoes) and some fennel that I thought would go nicely in here and boy was I right!
My daughter and her friend actually woke up to the smell of the fennel and garlic roasting (I guess that's one way to wake up teenagers!) and came out of the room ready to taste my latest creation.
It was a definite hit and we barely had enough for dinnertime as they kept taking "tastes" throughout the day. This salad was so good and I loved how colorful it was. ~Enjoy!
Sign up for my weekly newsletter
and receive
a FREE eBook!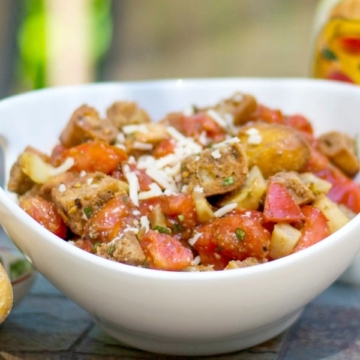 Roasted Fennel & Heirloom Tomato Panzanella Salad
Roasted Fennel and Heirloom Tomato Panzanella Salad made with talian bread, roasted fennel and Heirloom tomatoes in a Balsamic Vinaigrette. 
Ingredients
For the Salad
½

Fennel Bulb, chopped

1

tbsp.

Extra Virgin Olive Oil

3

cloves

Garlic, minced

½

loaf

Day Old Italian Bread

2

tbsp.

Fresh Basil, chopped

2

Heirloom Tomatoes, large dice

Kosher Salt & Black Pepper, to taste

Prepared Dressing
Instructions
For the Salad
Preheat oven to 425 degrees F.

Combine the fennel, garlic and oil in a bowl; toss to coat. Place on a baking sheet and roast for 10 minutes.

Cut the bread into cubes, place on a baking sheet and spray with cooking spray. Bake for 5-10 minutes.

Add the tomatoes, basil, fennel mixture and bread to a large bowl. Next, add the dressing and mix well. Refrigerate for at least 1 hour.
For the Dressing
Blend all ingredients together in a mini chopper or blender until smooth.
Visit the

recipe index

to search for more recipes by category.

Related Recipes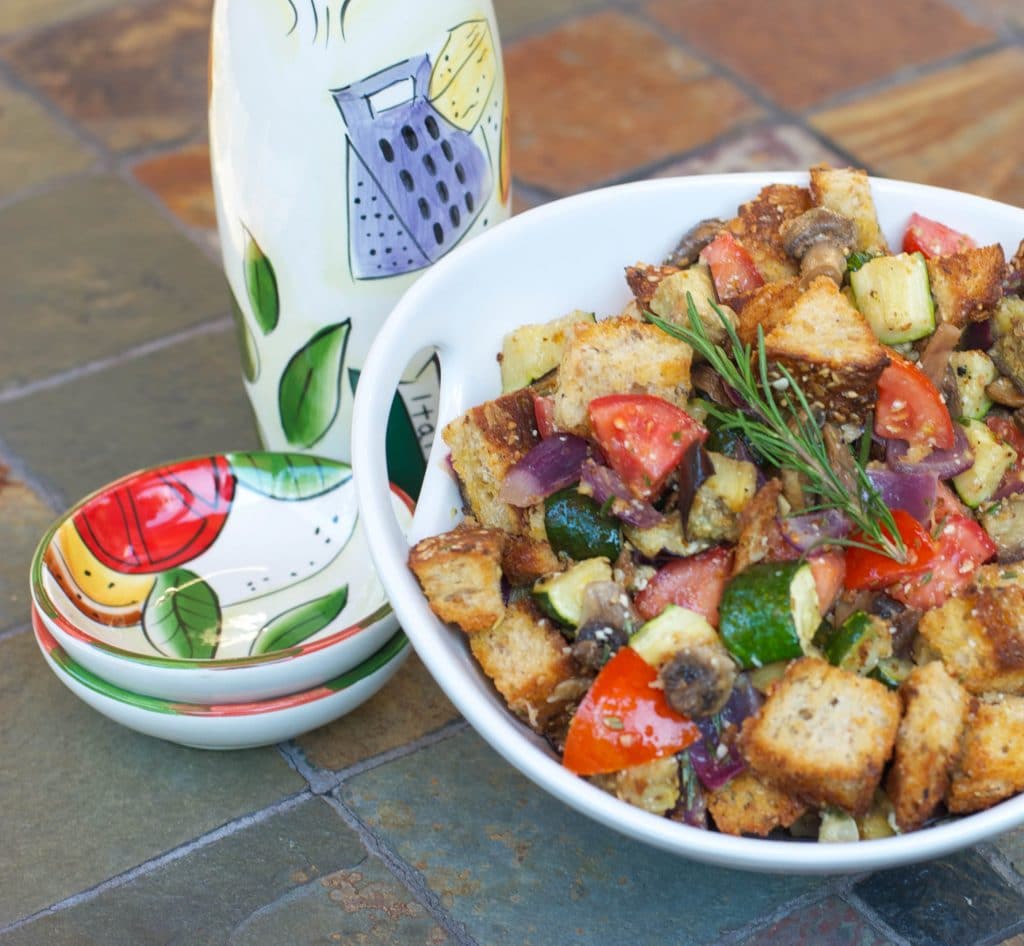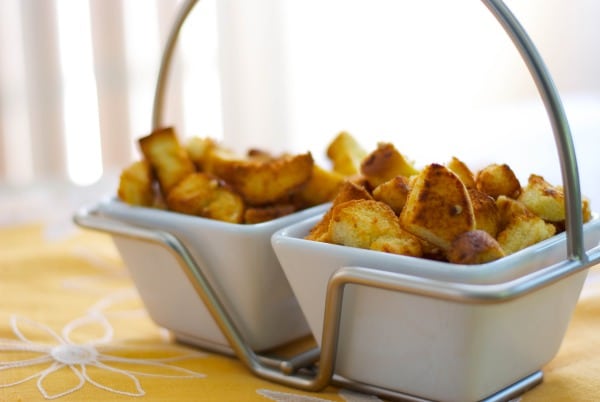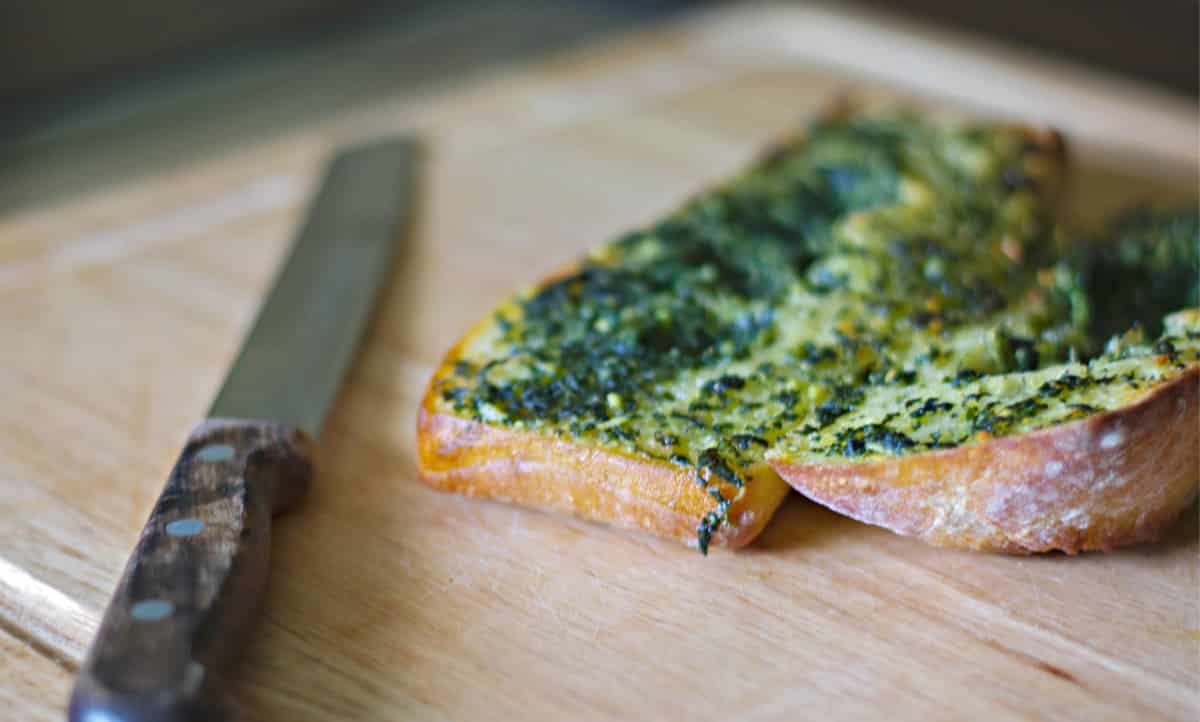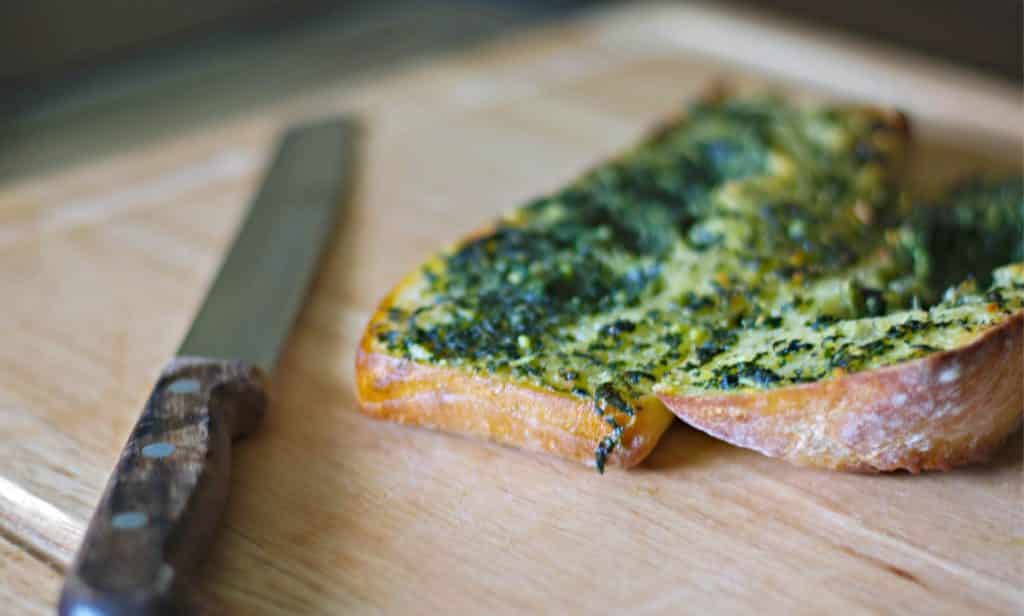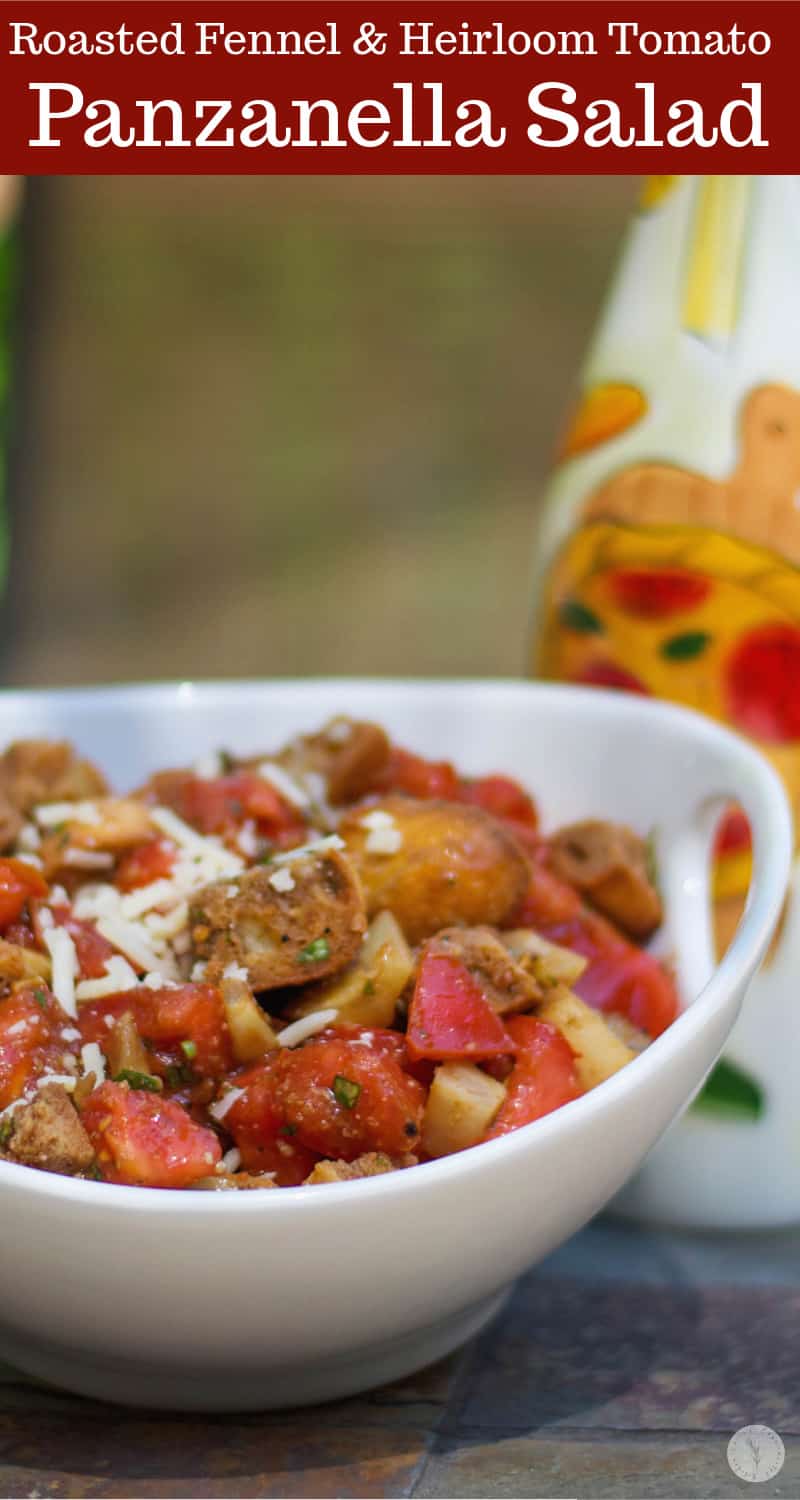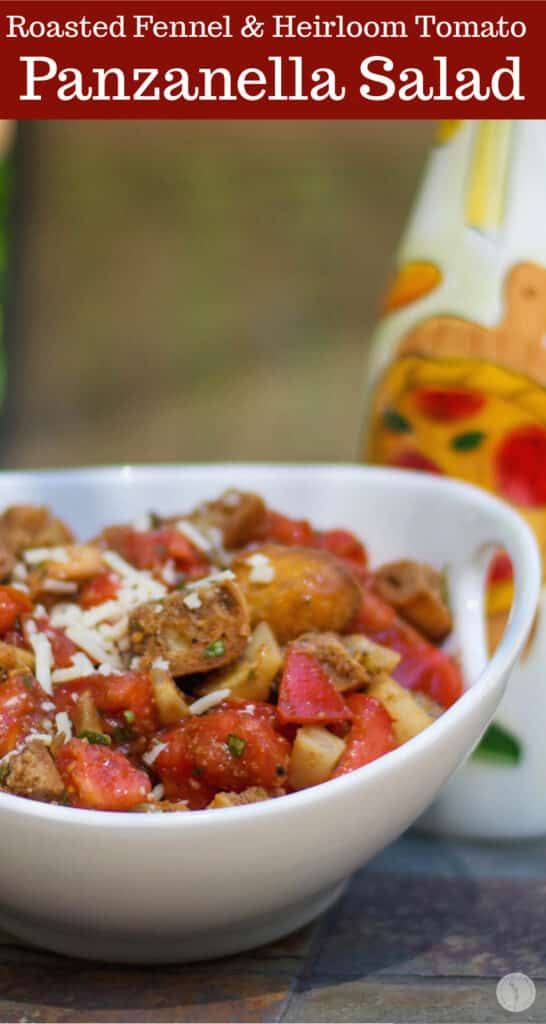 Connect with me on Social Media
*Updated July 2017