I'm warning you now, the next few recipes will have lime in them as I made them all together for dinner on the same night. 🙂 I like to have the same flavors with my side dishes and vegetables so that it complements the main course of the meal. For those of you that follow me on Facebook, THIS is the meal I made that had everyone drooling on Tuesday night. Along with this chicken, I also made Twice Baked Lime Sweet Potatoes and Lime Roasted Zucchini and Shallots. I'll have these recipes posted for you by this weekend. 
While we were in FL last week for the competition, we were fortunate enough to have two days of "free time" beforehand.  And since we were in Orlando, we visited Mickey and friends at Magic Kingdom, Epcot, Chef Mickey and Downtown Disney. While shopping in the marketplace, I noticed some new selections in their cooking store. They now had an entire wall dedicated to sea salts, rices, teas, etc from The Spice and Tea Exchange Company. We don't have one of these in our area yet so I took my time and of course, lifted every lid imaginable to sniff out the new products. All the while, my brain was in overload with all of the wonderful things I could experiment with for each and every one of their product line. So, I reined myself back in and only purchased a couple of items to try out and took their card so that I can order online (which you can do
here
!
). 
I love marinating chicken (and pork) in a brine then grilling it. I normally only make this type of marinade in the summer but since it was close to 60 degrees this week, I couldn't wait! It was wonderfully light and extremely moist. The flavor of lime really shined through but if you don't have the flavored sea salt, you could also use regular sea or kosher salt.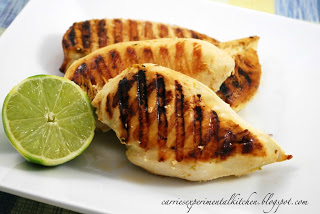 Grilled Chicken in a Lime Frost Sea Salt Brine
4-6oz. Boneless Chicken Breasts
3/4 c. Water
2 tbsp. Granulated Sugar
2 tbsp. The Spice and Tea Exchange Lime Frost Sea Salt
1 Lime, zest and juice


Trim any visible fat from the chicken then add to a resealable plastic bag. In a small bowl, whisk together the water, sugar, salt, lime zest and juice until the sugar and salt have dissolved. Add it to the bag of chicken and seal. Refrigerate for a minimum of 4 hours then grill to the appropriate internal temperature. Serves 4. 


Points+=6-7pts (7 includes all of the sugar but you discard 90% of it after marinating)


Enjoy!
Pin It
Shared at Amee's Savory Dish 3/2/12