Before we begin with today's post, let me start off with this disclaimer.  I do not practice the Jewish religion nor do we celebrate this holiday.  I'm no expert on this subject matter or any other Jewish tradition, so if anyone has anything to add, please comment below. I love learning about new cultures and traditions!Since I have quite a few friends that do celebrate this holiday, I thought I would share some ideas that can not only be used for this special occasion, but for any other holiday, special gathering or Sunday family dinner. Rosh Hashanah is observed for two days and this year falls on September 16-18, 2012. It is commonly known as The Jewish New Year; however, unlike the American New Year where we plan to make resolutions for a better life, Rosh Hashanah is a time to reflect and look back at the mistakes made from the past year and plan on the changes to make it a better year.
As for food celebrations, they generally start with apples dipped in honey to symbolize a sweet new year with good living and wealth. Some common foods include chicken soup, brisket, oven roasted chicken, roasted asparagus or broccoli, potato kugel, which is a Jewish pudding or casserole, oven roasted potatoes, honey cake and "new fruit", which is any new fruit that has just come into season like a pomegranate.
Here are some recipes that might make some great new additions to your dinner table. For those without the recipe listed, please click on the name to be taken to the original recipe post.
I can't take credit for this next method of cooking as I had never heard of it before my foodie friend Melissa from ChinDeep made her Citrus Spatchcock Chicken back in February. But it was so easy I had to give it a try for myself. This chicken was incredibly moist, sweet and tangy and by using this cooking method, it shortened the cooking time, which was an added bonus.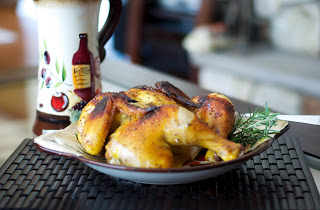 Spatchcocked Honey Mustard Roasted Chicken (New)
1 5-6lb. Roaster Chicken
1/4c. Honey
1 tbsp. Grey Poupon Dijon Mustard
1 tbsp. Stone Ground Mustard
1 tbsp. Spicy Brown Mustard
1 tsp. Fresh Rosemary, chopped
1/2 tsp. Kosher Salt
1/4 tsp. Fresh Ground Black Pepper
1/2 c. Low-Sodium Chicken Broth
Directions:
1. Remove giblets from inside the carcass and discard. Rinse the chicken with cold water and pat dry.
2. Place chicken on a hard surface (cutting board) and using sharp kitchen shears, cut down both sides of the chickens' backbone to remove the bone.
3. Turn the chicken over and press down so that the chicken is laying flat; then place in a roasting pan with the chicken broth.
4. In a small bowl, combine the honey, all three mustards, rosemary, salt and pepper and whisk together; then brush the marinade generously over the chicken.
5. Bake at 350 degrees for approximately 60 minutes or until the proper internal temperature is reached. Serves 6.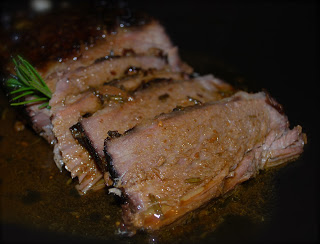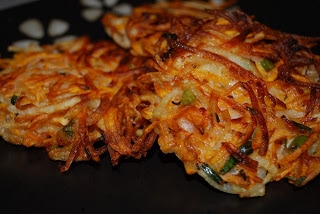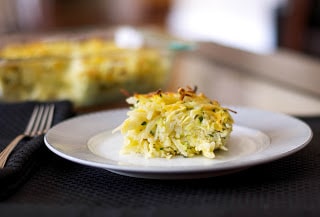 Cheesy Potato and Zucchini Kugel (New)
8 Russet Potatoes, peeled
1/2 Vidalia Onion
1 Zucchini, skin on
4 Eggs
2 tbsp. All-Purpose Flour
2 tbsp. Canola Oil
1/2 tsp. Garlic Powder
1 tsp. Fresh Rosemary, chopped
1/2 c. Colby Jack Cheese, grated
1/2 tsp. Kosher Salt
1/4 tsp. Fresh Ground Black Pepper
Cooking Spray
Directions:
1. Grate the potatoes, zucchini and onion using your food processor or hand grater. Place mixture in a cheesecloth or clean dish towel and wring out the excess moisture; then place in a bowl.
2. In a separate bowl, whisk the eggs then add in the flour, oil, garlic powder, rosemary, cheese, salt and pepper and mix well.
3. Add egg mixture to the potatoes and mix well.
4. Spray a 9″x9″ oven safe baking dish with cooking spray and pour in the potato mixture.
5. Bake at 350 degrees for 50-60 minutes until the inside is set (you can stick the tip of a knife in it to see if it's still wet). Serves 9.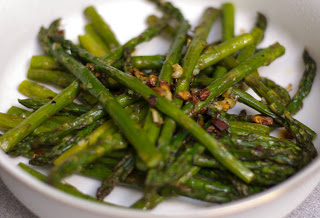 1-10oz. Package Fresh Baby Carrots