Getting dinner on the table just got that much easier with my Weekly Meal Plan geared towards creating family friendly meals that are easy to make at home using simple ingredients and directions. Check out my Weekly Meal Plan #6 including recipes for Tuscan Chicken, Teriyaki Grilled Pork Chops, Gluten Free Pasta with Herb Pesto, Chicken Pesto Panini and Cherry Tomato Calzones.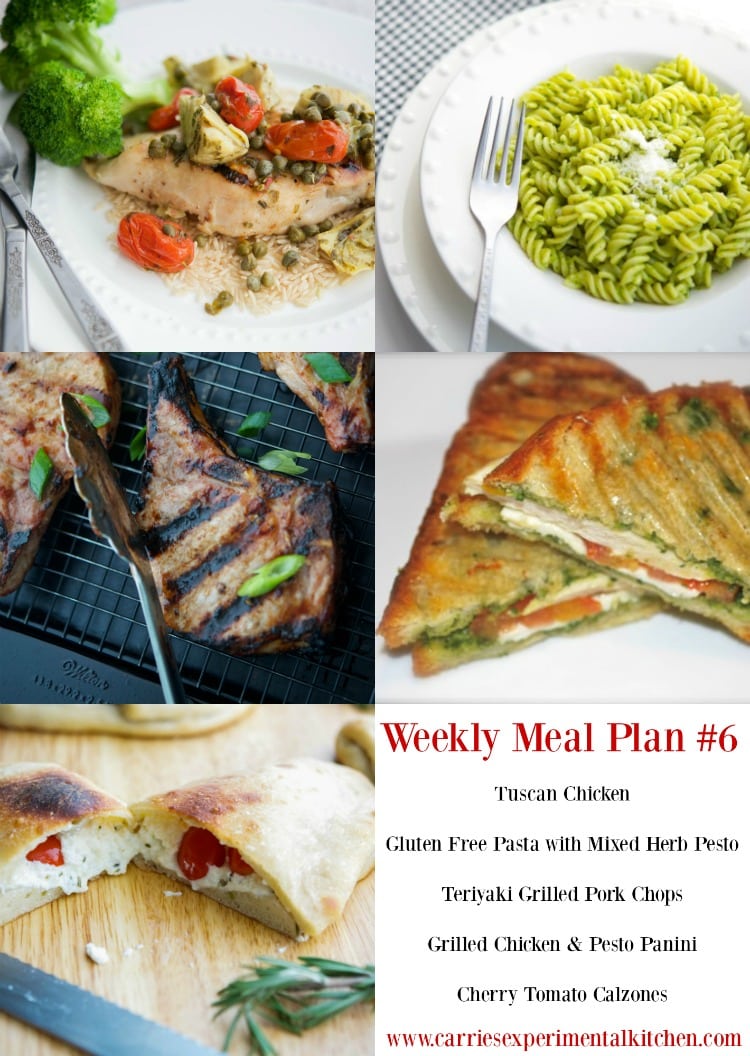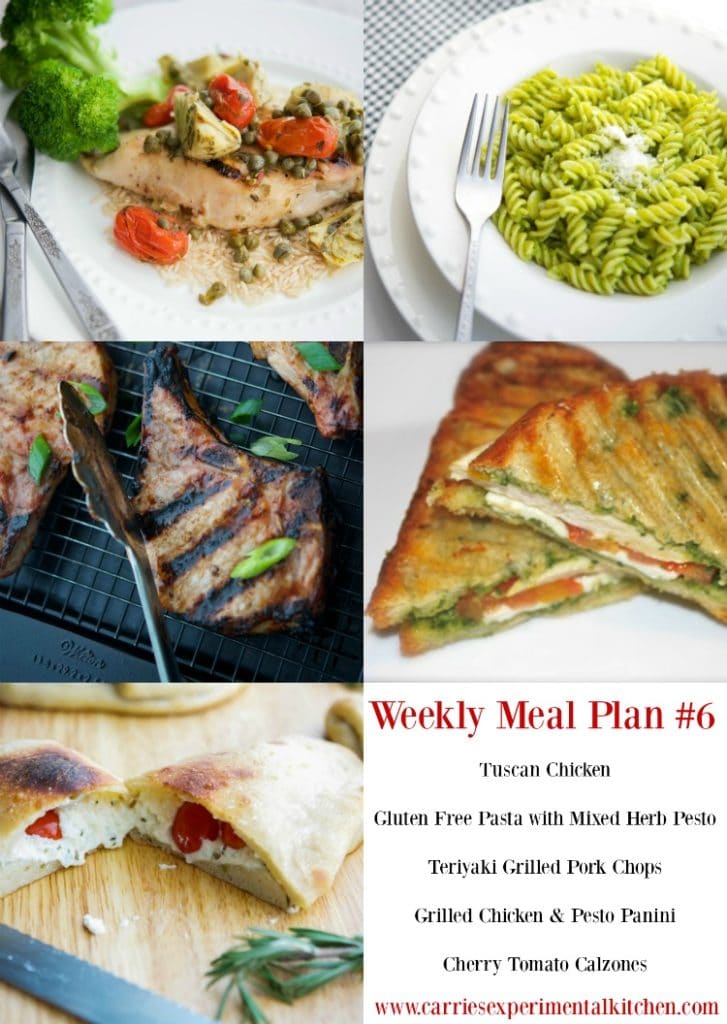 Save this Weekly Meal Plan #6 to your personal Pinterest boards as a reference and if you forget, you can always find all twelve weeks on my own Weekly Meal Plans board; where I also find meal plans from other bloggers as well. I hope you enjoy this new feature, let me know your thoughts below.
If you don't want to miss any new recipes that I post, sign up for my weekly newsletter; which is sent out every Friday morning with my latest recipes and meal plans. You're information is safe and will never be sold to a third party.
Weekly Meal Plan Week #6
Monday: Tuscan Chicken (The Cheesecake Factory copycat recipe)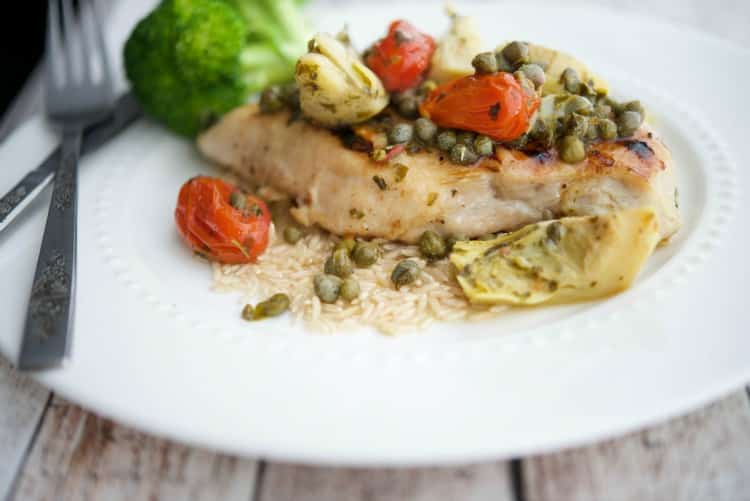 Just because The Cheesecake Factory has this Tuscan Chicken on their Skinnylicious menu, it is loaded with so many fresh, Mediterranean flavors you will not miss all of the extra calories. Tuscan Chicken is grilled chicken topped with tomatoes, artichokes, capers and basil; then placed on top of farro and served with a vegetable (usually asparagus). I served mine with brown rice and steamed broccoli, but you could also try another Cheesecake Factory copycat recipe and use the Suggested Sides below.
Suggested Sides: Santorini Farro Salad
Tuesday: Gluten Free Pasta with Mixed Herb Pesto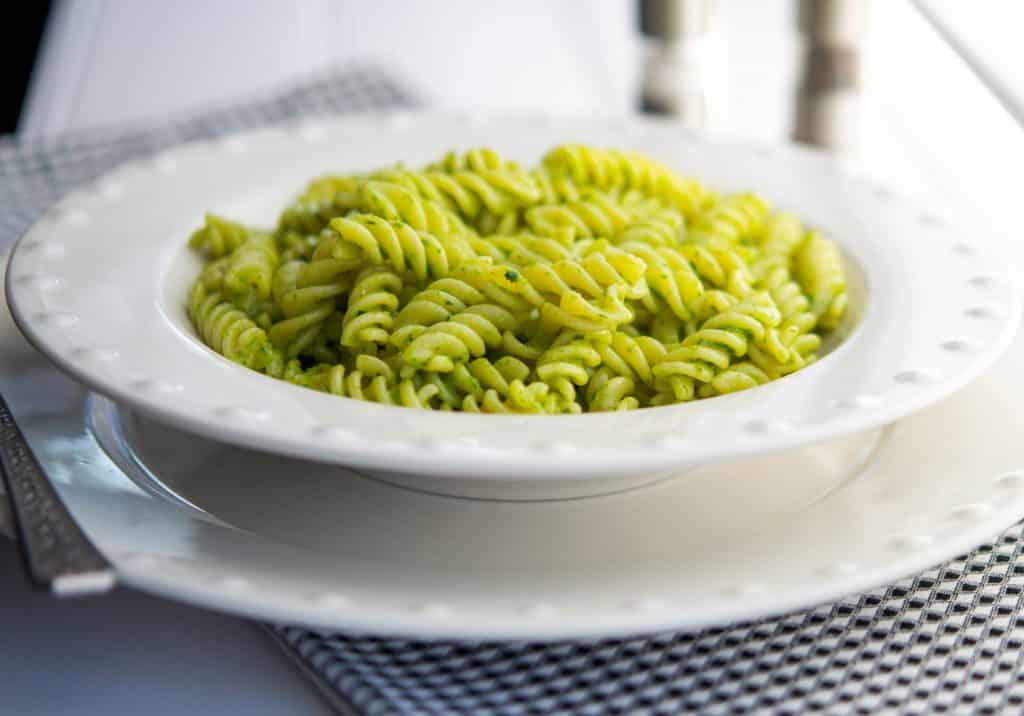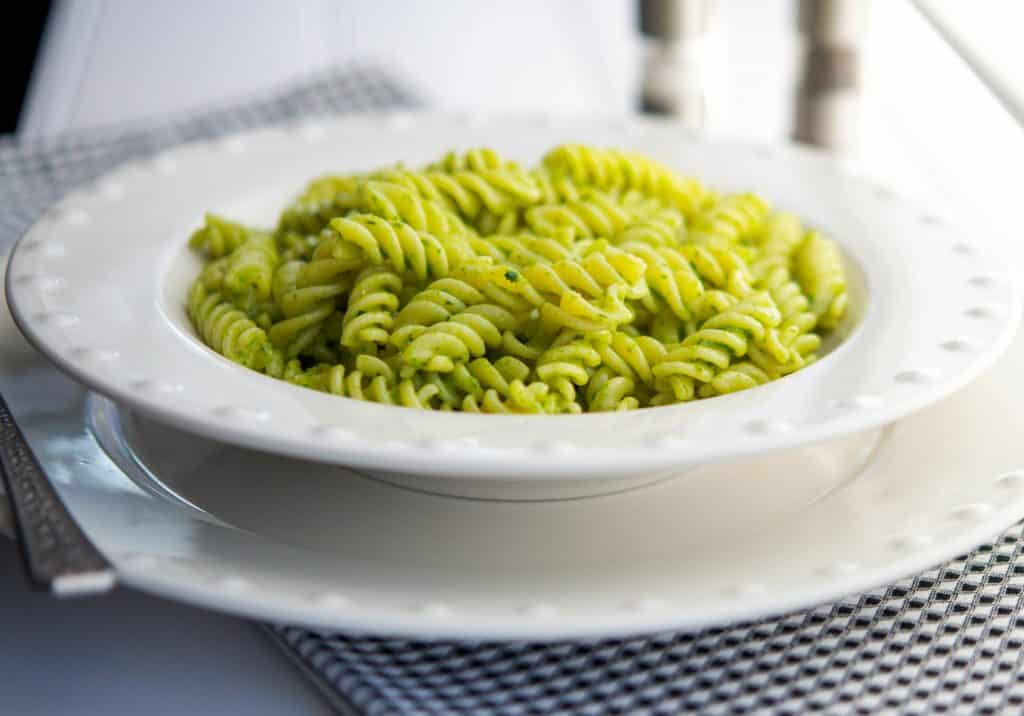 I love making pesto; especially on busy weeknights because they come together so quickly. In fact, this mixed herb pesto was done before the pasta was even cooked! Try this recipe with parsley, basil and tarragon like I did or mix it up a bit and add your favorite herbs instead like oregano, rosemary, sage, mint or thyme. The flavor will change based on the herbs and quantities of each herb you use, but that's the beauty of making pesto. My fresh herbs are out of control so I'll be making this with mostly parsley and basil. Oh and one more thing! Make some extra pesto and refrigerate it until Thursday so you can add it to the grilled chicken and pesto panini. Make once, use twice!
Suggested Sides: Tossed Salad
Wednesday: Teriyaki Grilled Pork Chops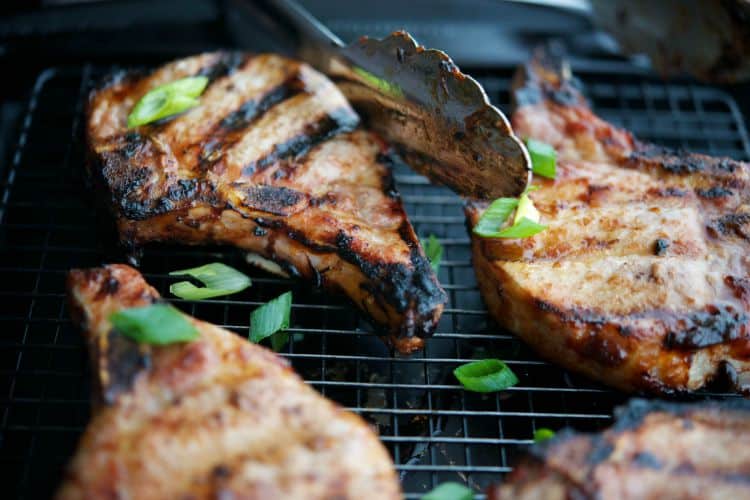 Make your own teriyaki glaze with a four simple ingredients; then baste on grilled pork, chicken, beef or seafood. I made these Teriyaki Grilled Pork Chops and they were AH-MAZ-ING!
Suggested Sides: Green Bean & Tomato Salad with Ginger Wasabi Vinaigrette and if you have some pork left over, try this recipe for Pork Fried Rice.
Thursday: Grilled Chicken & Pesto Panini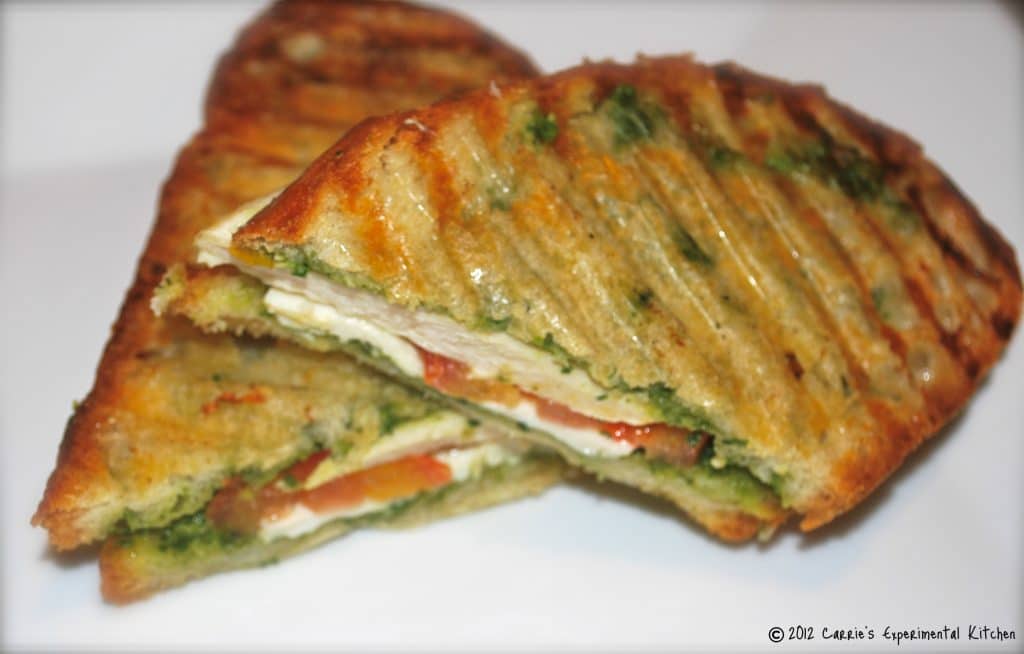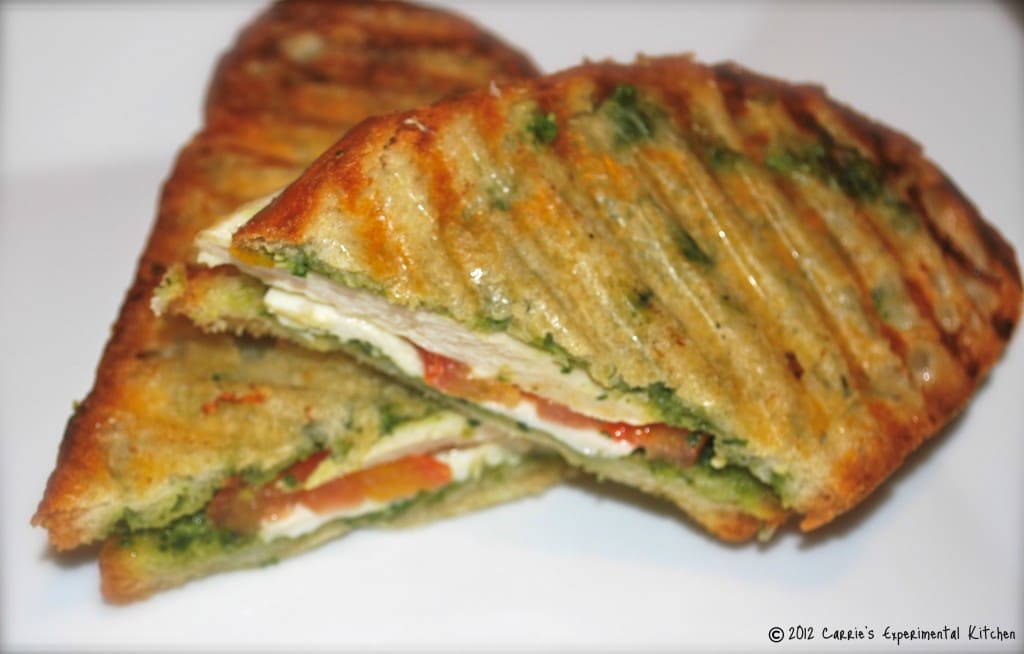 To make these Grilled Chicken & Pesto Panini sandwiches, you can use leftover grilled chicken or grill some just for this purpose. You can even use the store bought rotisserie chicken if you'd like. Either way, these sandwiches made with fresh tomato, mozzarella cheese and pesto are delicious and quick to make. Dinner is ready in under 30 minutes!
Suggested Sides: Tortellini Escarole Soup
Friday: Cherry Tomato Calzones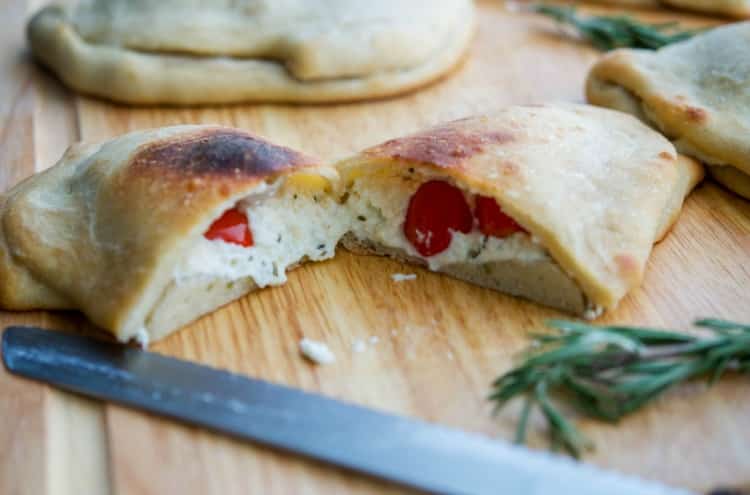 These Cherry Tomato Calzones were delicious and so filling; the family really enjoyed them as well. My first instinct was to add basil instead of rosemary, but I was out of that. Swapping fresh herbs really changes the flavor of your recipes and gives them a unique twist so experiment with your favorite flavors.
Suggested Sides: Tossed Salad and for dessert, try making Hazelnut Biscotti and dunking it into your favorite cup of tea, coffee or cappuccino. 😉
[bctt tweet="Looking for dinner inspiration? Check out Week #6 Weekly Meal Plan!" username="CarriesExpKtchn"]


Don't forget to check out all of my Weekly Meal Plans. Which recipes are you going to try this week?