Celebrate St. Patrick's day with some green colored recipes or host an Irish Bunco game night including table cards and score card printables.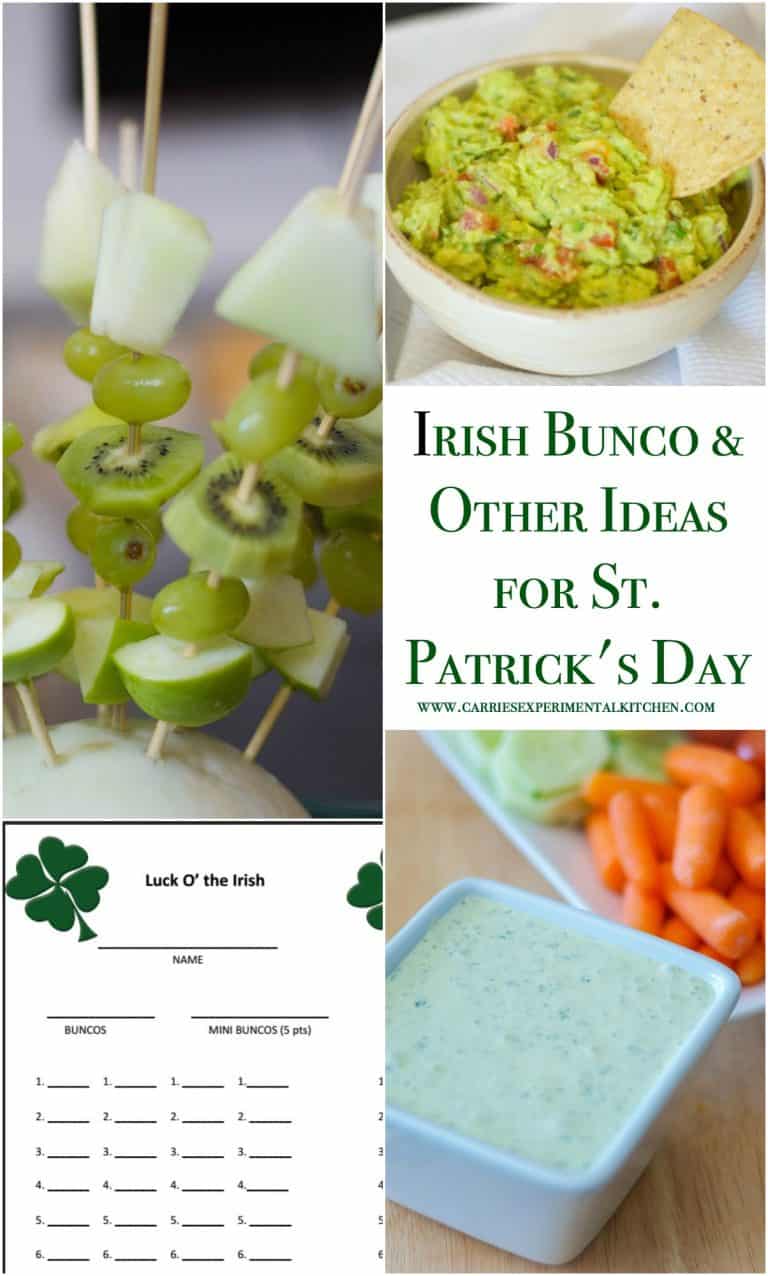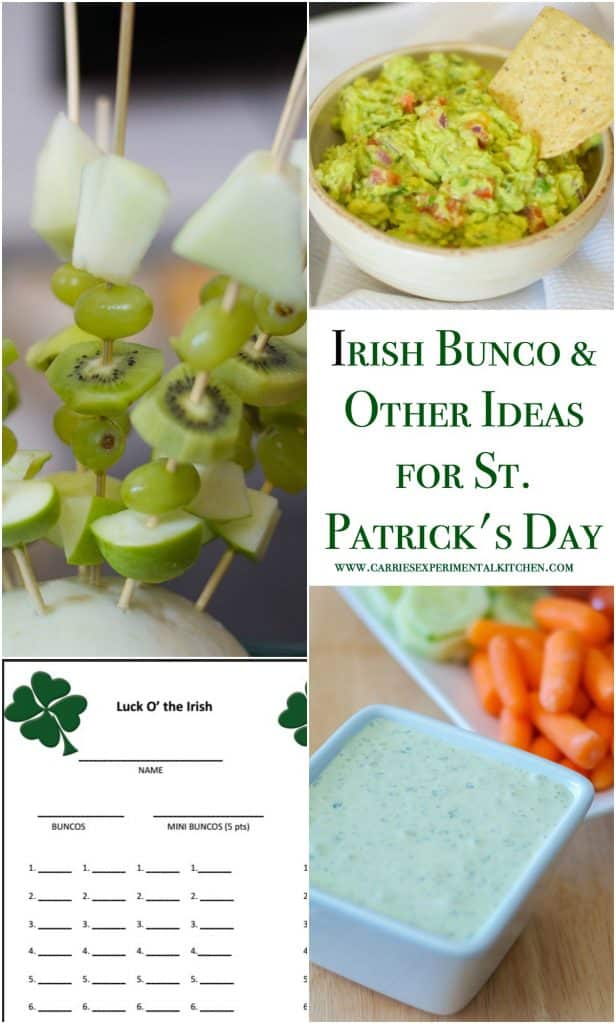 This past weekend, I hosted our monthly Bunco party. If you're not familiar with Bunco, you can read about it in this Beach Themed Bunco Party post. Since the game was being held in March, I decided to go with an Irish Bunco theme; including making all of the food green in color.
Everyone had a great time and stayed until 1am! Needless to say I was a little tired the next day, but I did manage to win $25 that night and we had a TON of laughs so it was all worth it!
Appetizers
When planning the menu, I always try to have some healthier options for my guests and usually make a crudité, but I was at a loss as to what type of dressing to use.
Then I remembered that Green Goddess Dressing was green, so I doctored up some store bought ranch dressing by adding fresh herbs to make it green.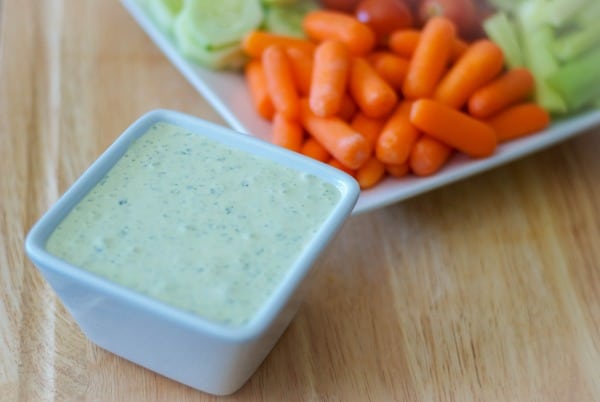 Next, I made Pesto and Goat Cheese Crostini. It makes a nice treat for a small get together like we had or an elegant passed hors d' oeuvre at a cocktail party.
I recommend spreading the pesto on the toasted baguette right before you're ready to serve because once pesto hits the air, it starts to oxidize and turn a deeper hue of green.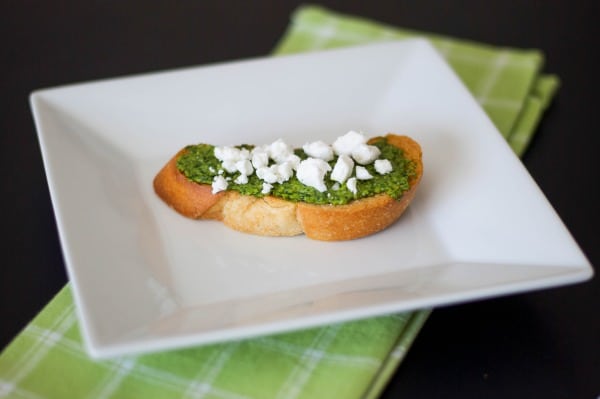 This next recipe for Hot Creamed Spinach Dip was a family favorite when I made it last March. I haven't made it since so it was time to bring it back. It's delicious and was a favorite with my friends as well.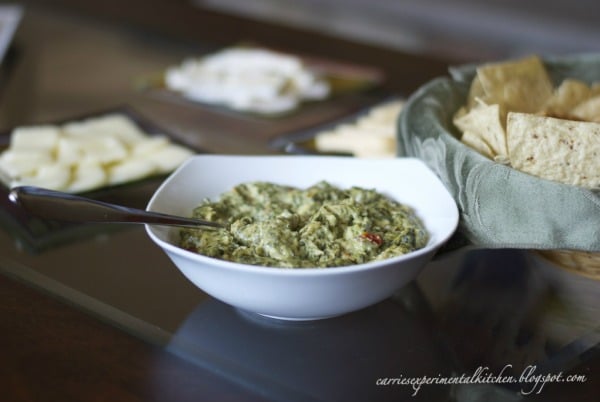 Every green themed party has to have Guacamole, right? My family and friends just LOVE it and it's no surprise that no matter how much I make, it's usually the first thing to go.
I served this with those Hint of Lime tortilla chips from Tostitos and they even added to the zesty lime flavor of the guacamole!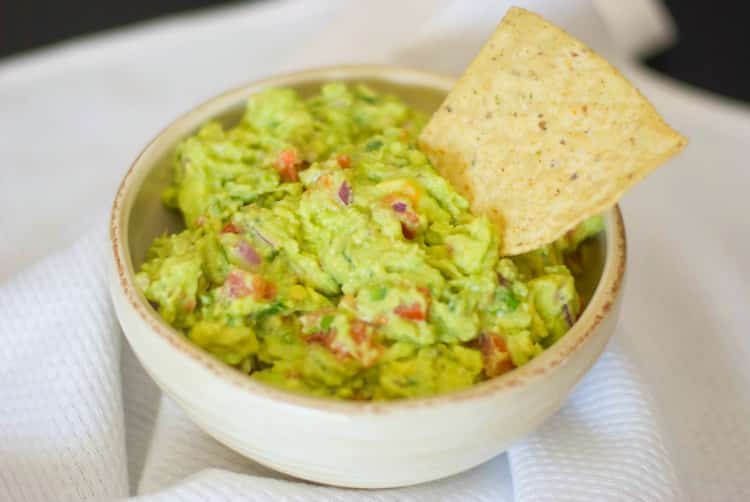 Some other great ideas to serve would be Irish Sliders, Reuben Tacos, Guinness BBQ Baked Chicken Wings or Blarney Fries.
Desserts
As for dessert, I chose two options: healthy and not so healthy, but delicious! For our healthy option, I made these fruit kebabs out of green fruit: honeydew melon, green grapes, kiwi and green apples.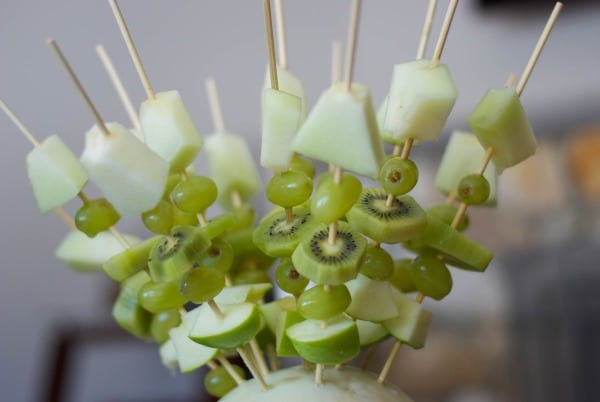 To keep the apples from turning brown I cored them, cut the apples into thick chunks; then placed them in a bowl with some cold water and the juice of one fresh lemon.
I let them sit for about 5 minutes before placing them on the skewers. For the base, I cut the top of of the honeydew melon and stuck the sharp part of the skewers into the flesh.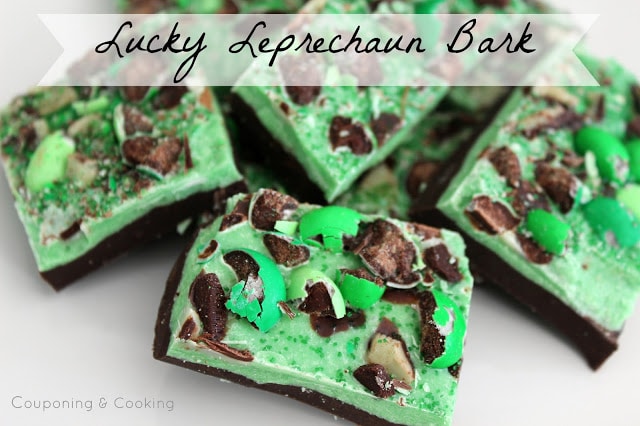 I found this next recipe for Lucky Leprechaun Bark on Pinterest and knew I had to make them for my party! This photo belongs to Tobin's Tastes (previously Couponing & Cooking).
However, I made a few changes to her recipe as I like mint, but only in small doses and of course, I forgot to take a picture of mine and they're all gone..go figure!
Change 1: Instead of layering the green chocolate on top of the chocolate, I dropped spoonfuls on top, then swirled it around with a butter knife to form a marbled look.
Change 2: I didn't use Andes candy or the green sprinkles; only the mint M&M's. It was just enough mint for my taste.
The last dessert I served were these special Irish Bunco Cookies that my sister in law Barbara made for us. I first saw something similar around Christmas time and showed them to her to see if she could make them.
She couldn't wait to try them out, but since I wasn't hosting Bunco that month, I kept it on my back burner for when I was.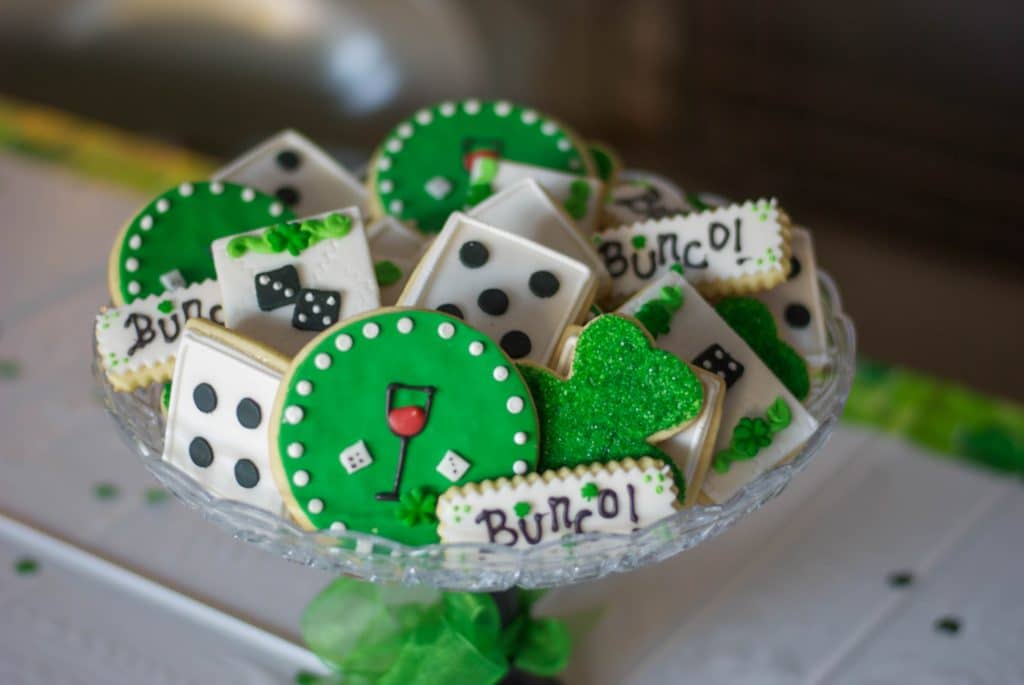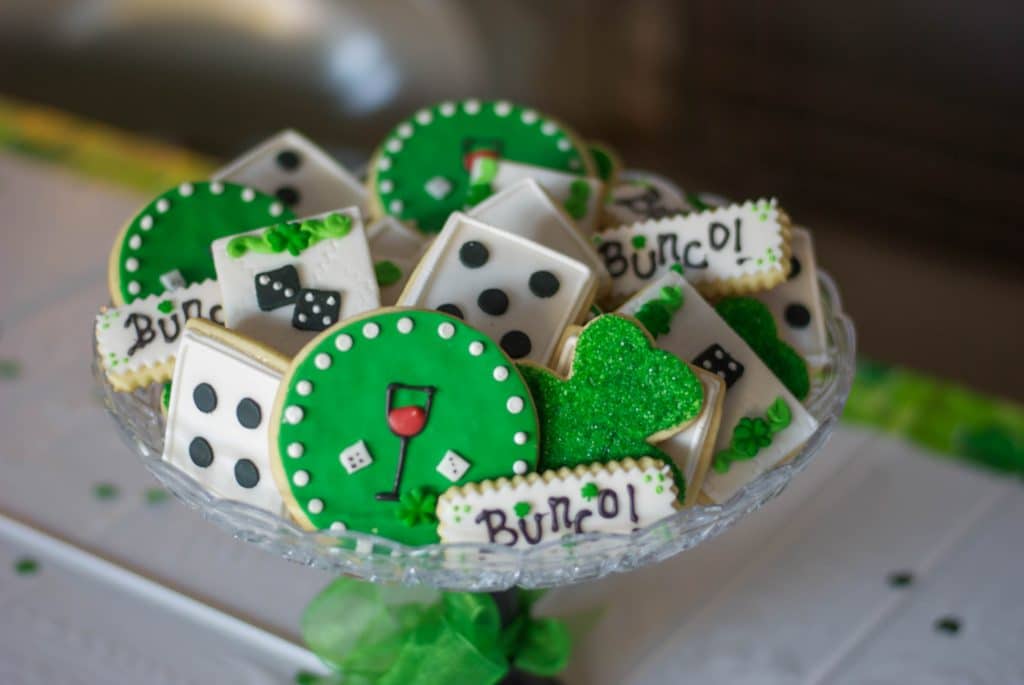 She was able to use the same premise as the Christmas looking ones and make them a green-theme for my Irish party and they were FANTASTIC! For more fun desserts, try Irish Cream Truffles, Irish Cream Rice Pudding, Chocolate Chip Mint Pie or Irish Cream Chocolate Chip Cookies
Drinks
You can't host Bunco without cocktails! Here is a fun, retro drink called the Grasshopper.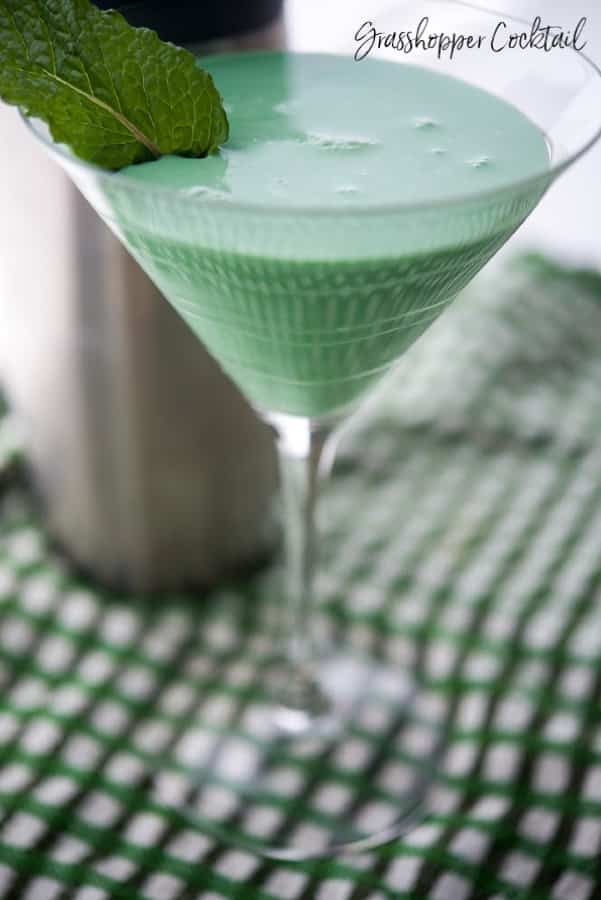 You can also put out some homemade Irish Cream, Chocolate Mojito or finish the night with some Irish Coffee.
For those that prefer non-alcoholic beverages, try this fun take on the McDonald's Shamrock Shake!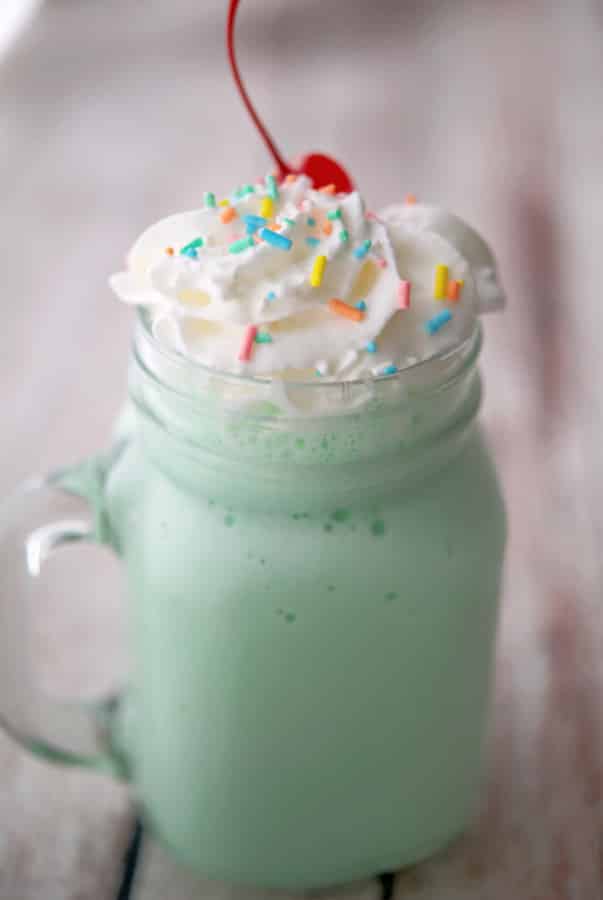 Sign up for my weekly newsletter
and receive
a FREE eBook!
Since I was hosting Bunco this month, I also made the Table Signs and Bunco Score Sheets to be a little more festive.
Here are some signs and score sheets in case you want to use them yourself. Click the title to download them for yourself. ~Enjoy!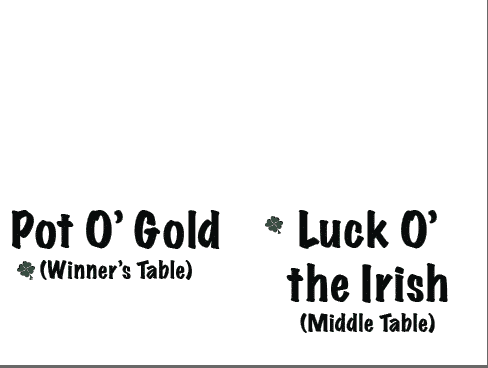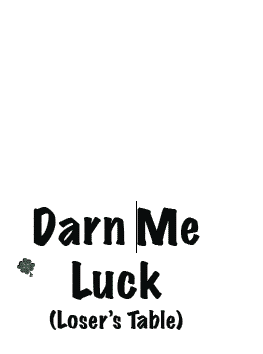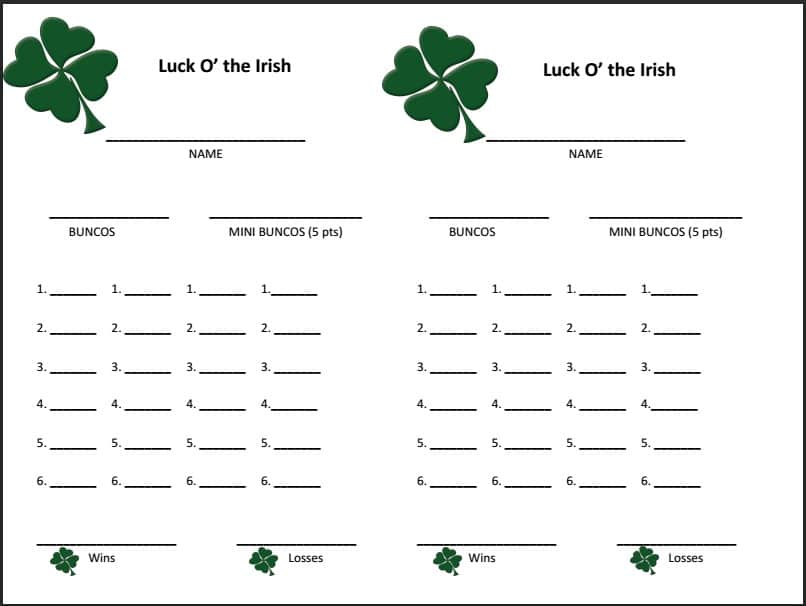 *Originally shared March 2013/Updated February 2022