Combine the ghoulish holiday of Halloween with a fun night of Bunco and you'll have a fun, Halloween Themed Bunco Party!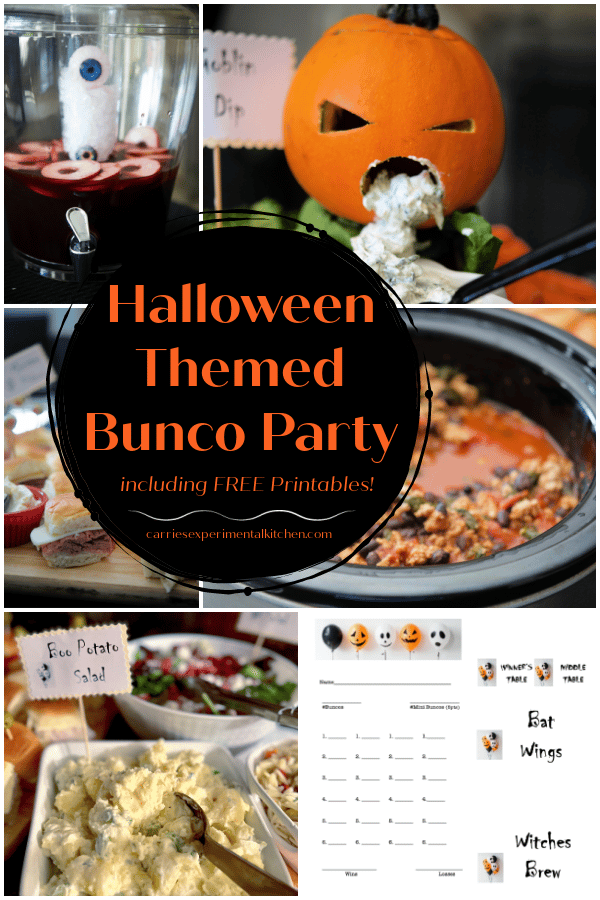 *This post may contain affiliate links.
Bunco
Bunco is a dice game played with twelve people made up of three tables of four people. You rotate, change partners and win prizes. Oh yeah and it's a lot of fun to get together and laugh too!
Before we get to the food, here are some tips to host a Halloween Bunco:
Tablecloths: I went with black and orange tablecloths, but you can use any festive Halloween themed tablecloths.
Candy on Tables: I used mini treat buckets that looked like pumpkins and black cauldrons. You can use any Halloween themed buckets like ghosts, witches or coffins too. Fill them with fun sized Halloween candy.
Decor: I picked the month of October by the luck of the draw, but unfortunately I don't have many Halloween decorations. Go all out and decorate to the hilt or let the food do all the work. Either way you'll have a blast!
Dress: I'm not a fan of dressing up, but if you get into that have people come dressed in their favorite costume or get fun shirts for all to wear!
Dice: I used white dice on the black tablecloths and black dice on the orange tablecloths to help them stand out and keep with the theme.
Travel Necklace: If you roll 3 two's, that's travel and there is a prize if you wind up with the necklace at the end of the game. You can use any inexpensive item like an orange or black beaded necklace, a Halloween themed one like witches, ghosts or skulls or even get a lighted headband to make it fun.
The Money Pot: Use a Halloween themed candy bowl or anything pumpkin related. I have a ceramic pumpkin which is where we kept ours until the winners were selected.
Halloween Themed Food
Whether you play Bunco or just want to have a fun Halloween Themed Party, these recipe ideas are sure to be a hit!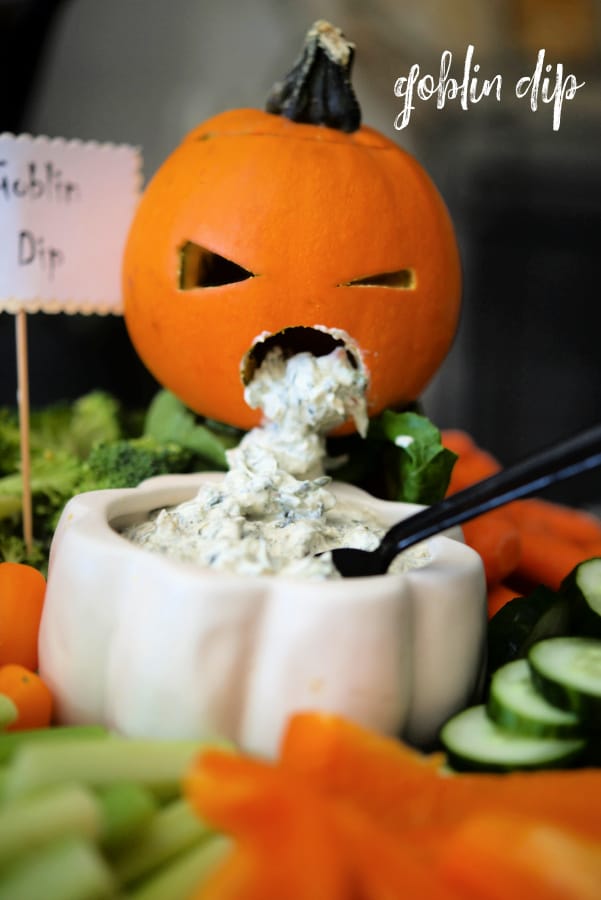 Goblin Dip
Simply put I made Knorr Vegetable Soup Mix Dip and served it with fresh vegetables. Carve a small pumpkin or a yellow or orange pepper for the vomiting effect.
I used fresh celery, cucumbers, carrots, orange grape tomatoes, broccoli and an orange pepper.
Monster Sliders
Make your favorite sandwiches on slider rolls; then top with green olives to look like eyes. I opted for ham, turkey and roast beef, but chicken salad, egg salad or tuna would be a good choice too!
If you want to make hot sliders, try these: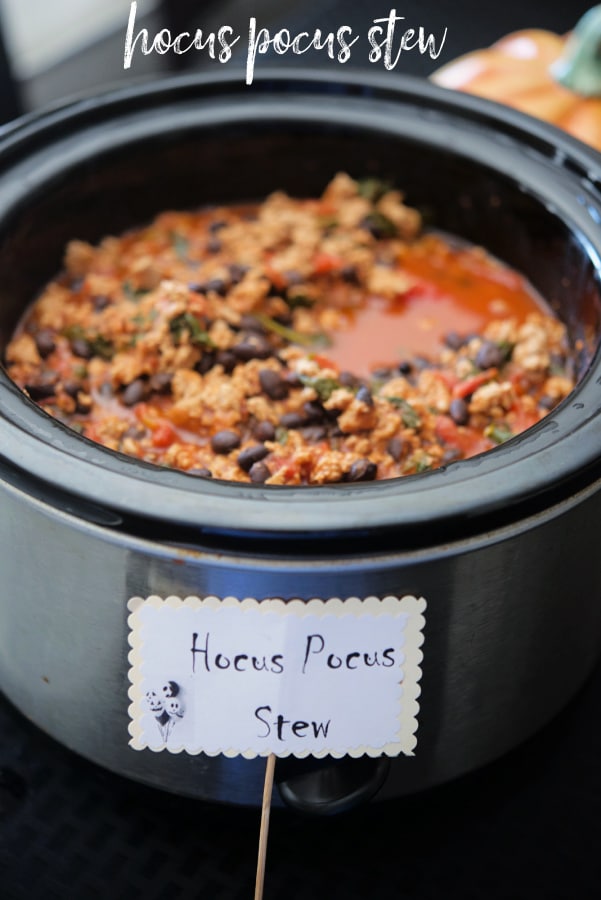 Hocus Pocus Stew
I made Black Bean, Chicken and Spinach Chili, but you can serve any chili or stew. Here are a few other options:
Bat Wings
You can make any type of chicken wing or a variety. I opted for my Asian Chicken Wings as they're always a hit!
Some other choices are: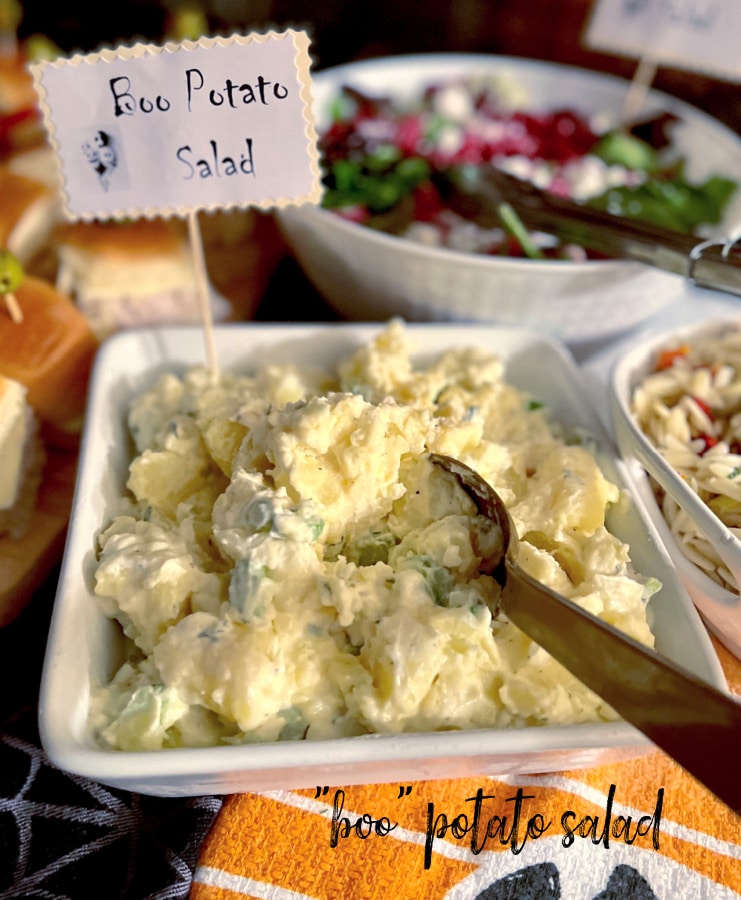 "Boo" Potato Salad
Like the pun? It's actually just my Classic Potato Salad, but definitely a favorite! I also served an Orzo Pasta Salad and an Arugula Salad with beets and goat cheese.
If you're not a fan of mayo, here are some other potato salads you can try:
VISIT THE

RECIPE INDEX

TO SEARCH FOR MORE RECIPES BY CATEGORY.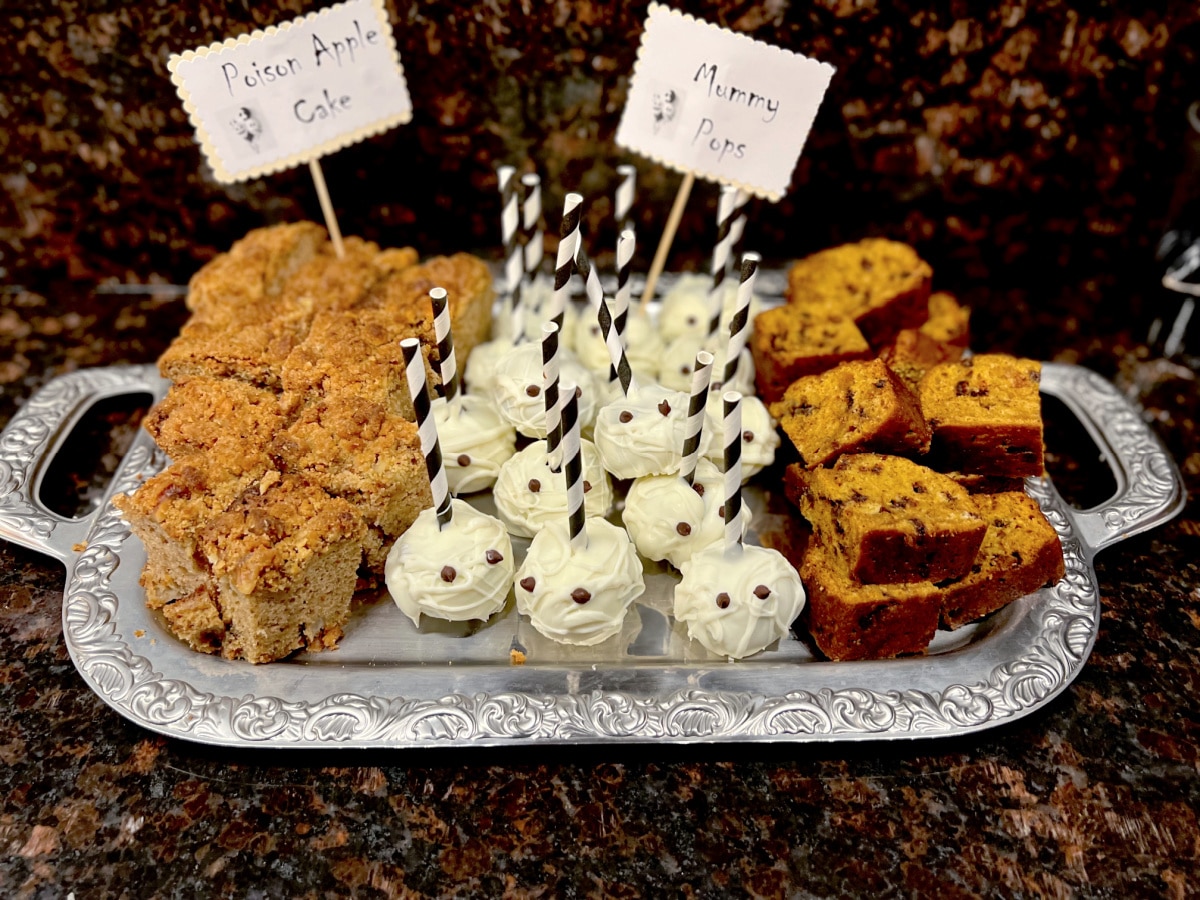 We don't eat a lot of desserts during our game as we also usually have candy or snacks on each table.
So I opted for a sampling of smaller desserts and included Apple Coffee Cake, Mummy Pops and Pumpkin Chocolate Chip Bread.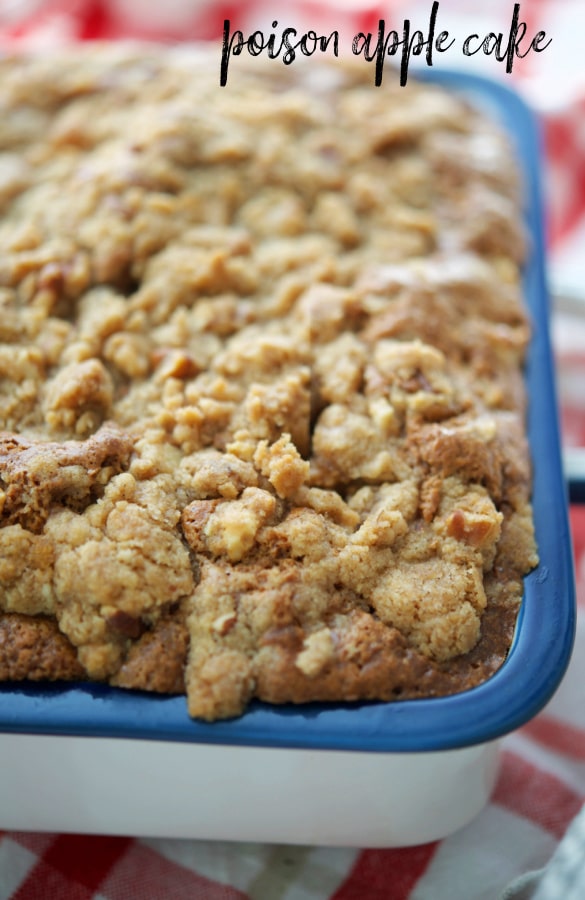 Apple Coffee Cake made with chopped apples and sour cream; then topped with a cinnamon walnut buttery topping is the perfect fall dessert.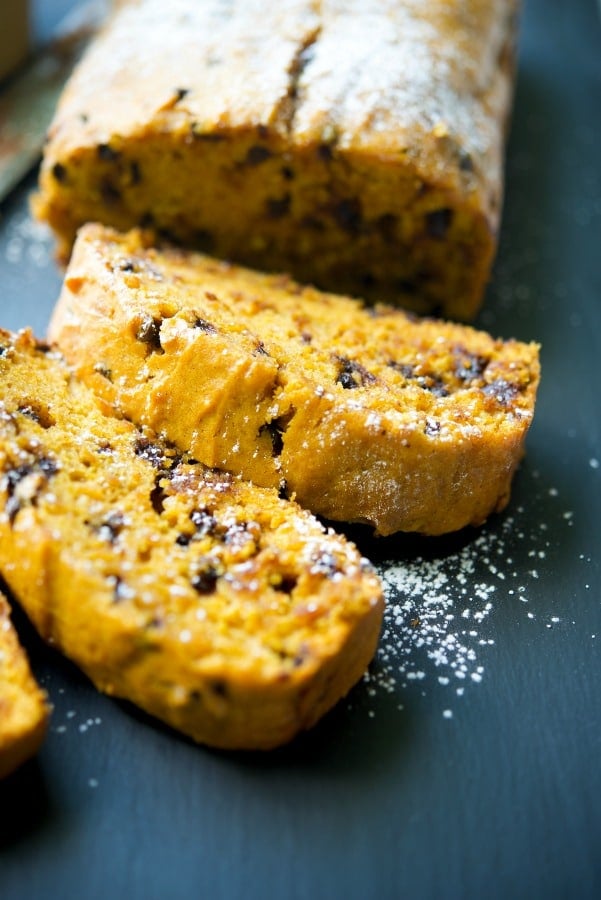 This Pumpkin Chocolate Chip Bread made with vanilla pudding makes this quick bread deliciously moist. Try it for breakfast or as an afternoon snack!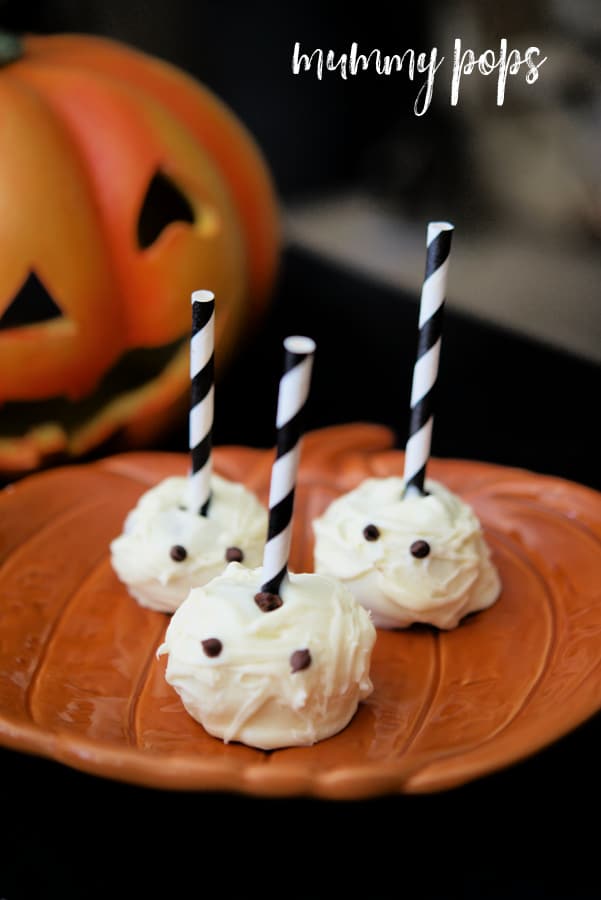 The Mummy Pops are made with prepared brownies dipped in white chocolate. They were a HUGE hit and so easy to make!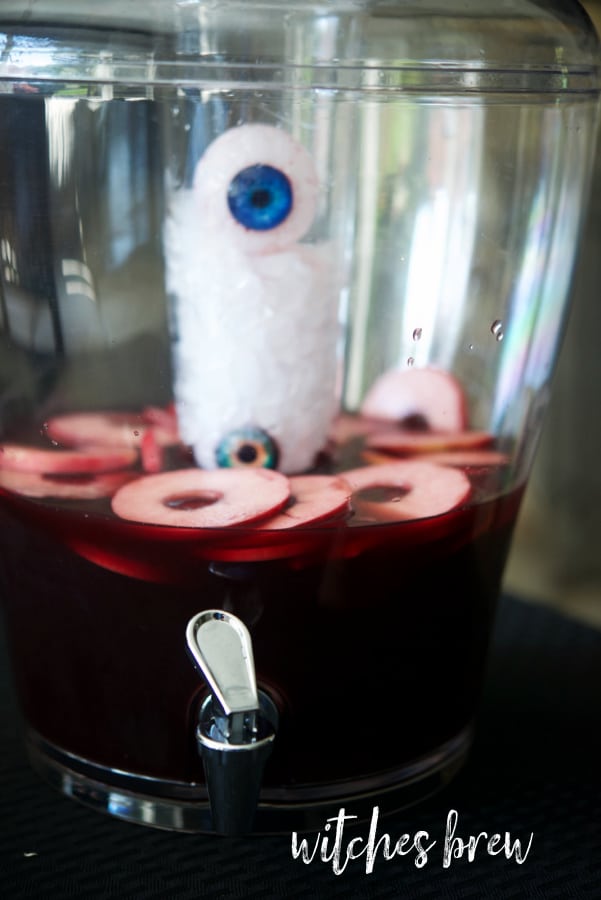 Witches Brew
For our Witches Brew I made Fireball Apple Sangria, but any other sangria or punch would work. To make it spooky, I added eyeballs in the chamber with the crushed ice to keep it cold.
Some other Witches Brew ideas are:
SIGN UP FOR MY WEEKLY NEWSLETTER
AND RECEIVE
A FREE EBOOK!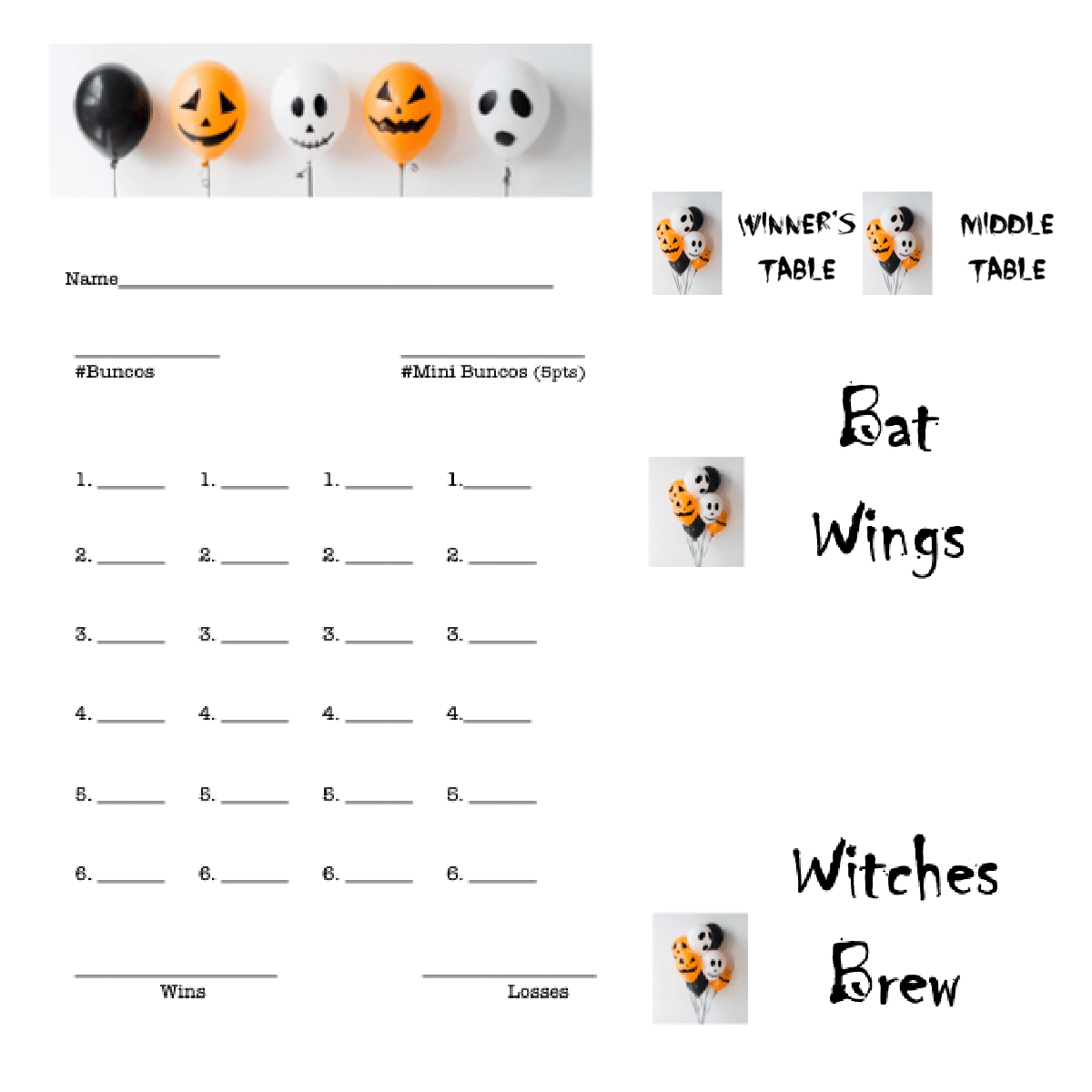 Download Printables
More Halloween Recipes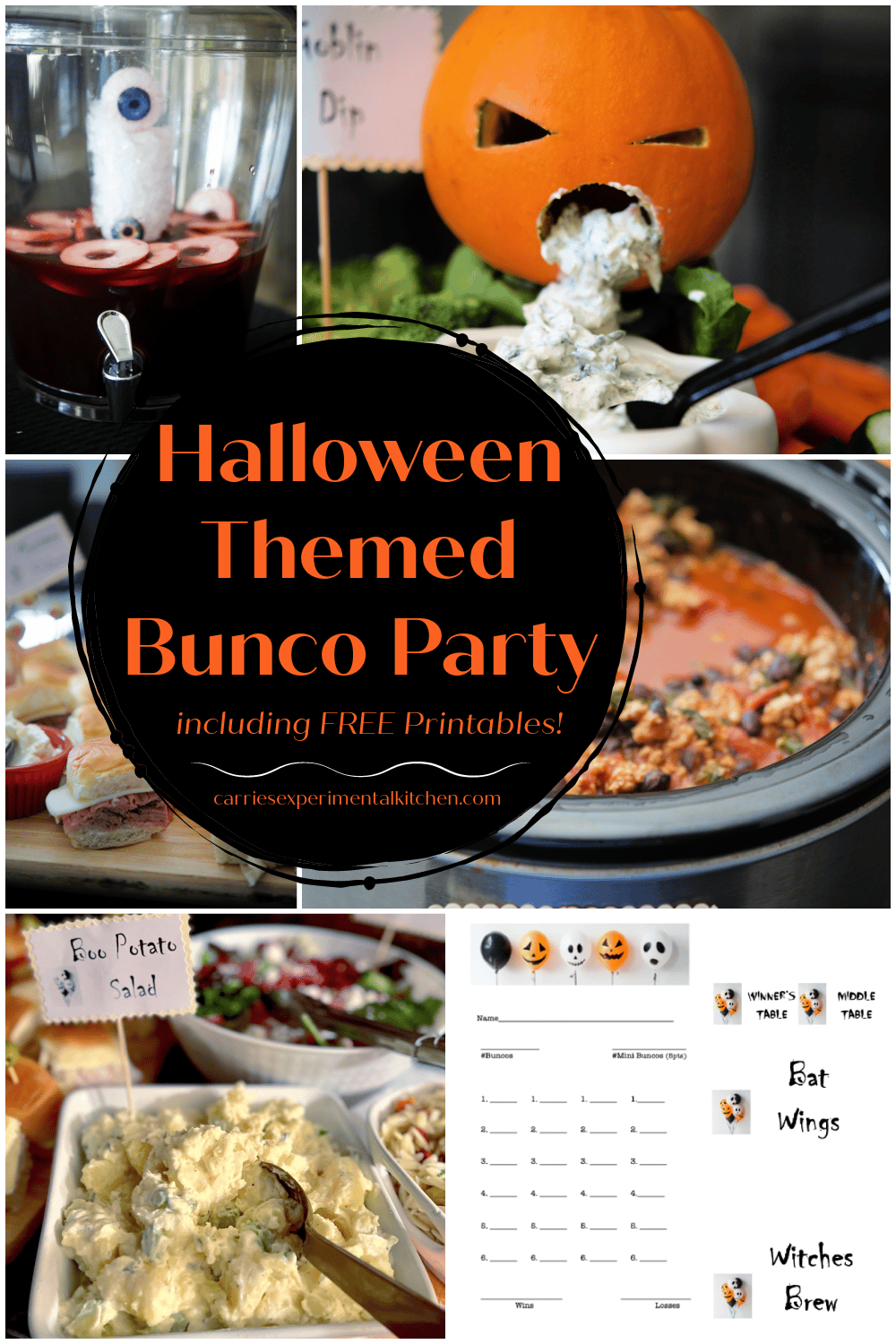 CONNECT WITH ME ON SOCIAL MEDIA